Nebraska needs a fullback.
To not have one? It's antithetical to the history of the program and everything Nebraska football stands for.
Toughness. Blue-collar grit. Times bring change, sure. The game evolves, no question. The rise of the spread offense is evidence of that. But we haven't moved past the need for the fullback. Especially at Nebraska.
Since football's inception at Nebraska in 1890, the Huskers had always had a fullback — until the dark ages of 2018-22.
There have been at least 151 fullbacks who've lettered at the University of Nebraska, according to the Athletic Department's records. Before the Scott Frost era, the only years in NU history where there wasn't a designated fullback letterwinner: 1891, 1903, 1913, 1925 and 1941. But there was at least one fullback on each of those rosters.
Under new head coach Matt Rhule and offensive coordinator Marcus Satterfield? The fullback's back, baby.
And that, my friends, is a beautiful thing — even if we aren't quite sure how in-game fullback usage will look just yet.
Don't just take it from me. Take it from four former Nebraska fullbacks and the man who coached several of them.
"I'm pretty stoked about it, really," said Andy Janovich (2012-15). "Everyone's phasing them out, whether it's high school, college, NFL. It's kind of depressing, really. But it's an old-school thing.
"You just have to have coaches that have used fullbacks in the past or have been a part of a staff that uses them and appreciates them. And if you've never used them before, it's like, 'What the hell does that even mean?' But it's pretty cool that they're going to bring it back."
Of course, Frost getting rid of it in the first place caused a stir then.
It's a choice that still boggles the mind, especially with how NU struggled in short-yardage situations in recent years, and how Frost's collegiate success came alongside fullbacks. But, I digress.
"I believe Nebraska, if they want to get back to where we want to get to, we have to be a physical football team, and that means on both sides of the line," said Joel Makovicka (1994-98). "It starts there. A physical offensive line, be committed to running the football, committed to being physical, having great tight ends and then having lead blockers, such as fullbacks."
It's an unsung position, one that oftentimes goes without the grandiose accolades or eye-popping statistics on the box score. With that, fullbacks are "pretty unselfish," said Brian Schuster (1992-96) said.
That comes with the territory.
The general purpose of the fullback is lead blocking for the running back in specific situations, but they're in the backfield rather than on the line of scrimmage. That gives them a 5-yard head start, which helps provide them better angles to find the first hole for the running back.
But they also can't be counted out as an offensive weapon, like with the fullback dive or on screen plays as a receiver.
"You can't get away from lead blocking and blocking out on the edge and pass protection," Makovicka said. "A lot of people say it's a glorified offensive lineman, but we've gotta be athletic enough to do it all."
That complicates things for a defense — especially in the age of 00, 10, 11 and 12 personnel packages. Throwing a curveball with 21, 22 or, phew, even 23 personnel, that's advantageous to an offense.
"A lot of teams, because they don't see a lot of 21 personnel with the fullback in there, they don't work it," said Tom Rathman, former Husker fullback (1981-85) and retired NFL running backs coach. "And you may have an advantage going into a football game."
Before we get in too deep, a quick refresher on personnel packages.
With five offensive linemen and a quarterback on the field, that gives teams five spots for playmakers and/or extra blockers. When referring to specific offensive personnel packages, the first number equals the number of running backs on the field, while the second represents the number of tight ends. So, 10 equals one running back with zero tight ends, which means there are spots for four receivers. A 21 personnel grouping has two running backs and one tight end, so there are spots for two receivers.
"The thing that I've noticed over time is that so many teams really have one running back, and that makes the defense's job a little easier," said Tom Osborne.
So, with the running back (or the I-back, in Nebraska vernacular), the fullback and a dual threat at quarterback — the holy trinity in football known as the triple option — opposing defenses oftentimes were caught flatfooted. Nebraska used the triple option out of the I-formation for decades, and it worked. Three national titles, 23 straight bowl berths from 1980-2003.
The traps, the dives, the multiple options off those aforementioned actions and play-action possibilities "made it pretty complicated for the defense to stop all three," Osborne said. "It adds a dimension and you're doing something that not everybody is doing. Any time you can do something and do it well that people are not seeing consistently week after week, I think gives you an edge.
"Now, how Matt will do this, how he'll employ the fullback, I don't know. But it's something he's traditionally worked with and has a good idea of what he wants to do. So it will be a little different, and that could be advantageous."
Nebraska's storied history at fullback predates Osborne's tenure, with Jerry Brown in the 1950s and Frank Solich and Dick Davis in the 1960s. But they — and all the fullbacks before them — helped set the foundation for all to come.
For Dan Schneiss. Maury Damkroger. Andra Franklin. Roger Craig. Jim Kotera. Mark Moravec. Tim Brungardt. Rathman. Dan Casterline. Ken Kaelin. Bryan Carpenter. Sam Schmidt. Lance Lewis. Tim Johnk. Lance Gray. Cory Schlesinger, Jeff Makovicka. Schuster. Billy Legate. Joel Makovicka. Ben Kingston. Willie Miller. Paul Kastl. Judd Davies. DeAntae Grixby. Steve Kriewald. Dane Todd. Thomas Lawson. Tyler Legate. C.J. Zimmerer. Janovich. Luke McNitt. So many more.
"There was a certain standard that you had to live up to when you were a Nebraska football player," said Rathman, who still holds the NU fullback record for net yards rushing in a season (881, in 1985). "You knew that going in. That's how great of an organization it was back in the late '70s, '80s, '90s, they were top-notch.
"The standard was so high that it was one great fullback, then the next great fullback, then the next great fullback. They always had a fullback that was an elite player. I just tried to follow the trend and tried to put my stamp on it."
Janovich added: "I can't say I would ever compare myself to those guys, but they are some tough sons of guns. Very tough."
What that looks like, as of right now, who's to say. But it is promising to hear that the next iteration of whatever Nebraska football looks like will be committed to running the ball and committed to physicality.
Two of the most important tenets of what NU football was built upon in the first place.
50 of the greatest moments in Husker football history
Brook Berringer vs. Colorado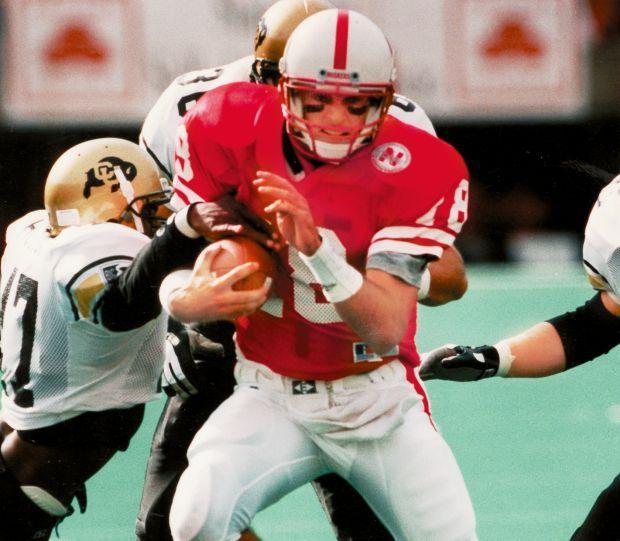 Oct. 29, 1994
Brook Berringer already had established himself as Nebraska's quarterback after starter Tommie Frazier was sidelined with blood clots early in the season.
Still, critics doubted whether Berringer, who twice suffered a partially collapsed lung after replacing Frazier, could lead Nebraska to victory against a top-notch team.
Berringer silenced those critics by going 12-of-17 passing for 142 yards and a touchdown in a 24-7 victory against No. 2 Colorado before the 200th consecutive sellout at Memorial Stadium.
Nebraska was dominant from start to finish, taking a 24-0 third-quarter lead when Berringer caught Colorado ripe for a play-action pass, which he completed to Eric Alford from 30 yards for a touchdown.
Nebraska vs. Rice, Sept. 15, 2001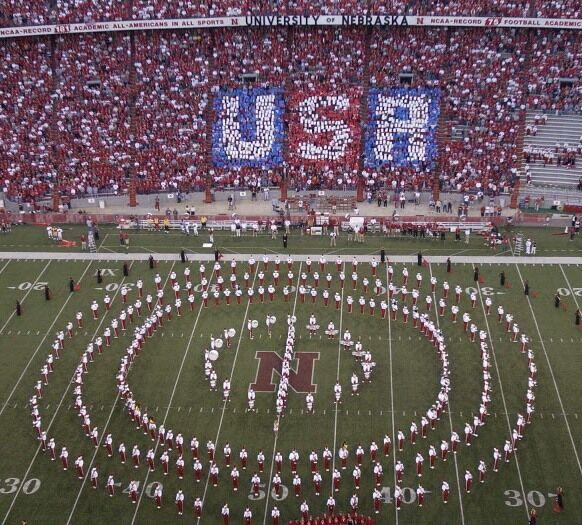 A stirring Tunnel Walk was one of the vivid memories of the first Nebraska game played following the Sept. 11, 2001, terrorist attacks.
Nebraska and Rice were scheduled to play on Saturday, Sept. 15. Rice was not comfortable putting its team on a plane so soon, and the game was moved to the following Thursday.
Instead of the usual Tunnel Walk, law enforcement and fire officials made the traditional walk carrying an American flag. It was an honor for them, and a heartwarming scene for the fans. The players walked onto the field in silence.
For the first time in years, NU had a card section, spelling out USA.
NU scored on its first three possessions and won 48-3. Eric Crouch had a part in five touchdowns.
Kenny Walker's goodbye to NU fans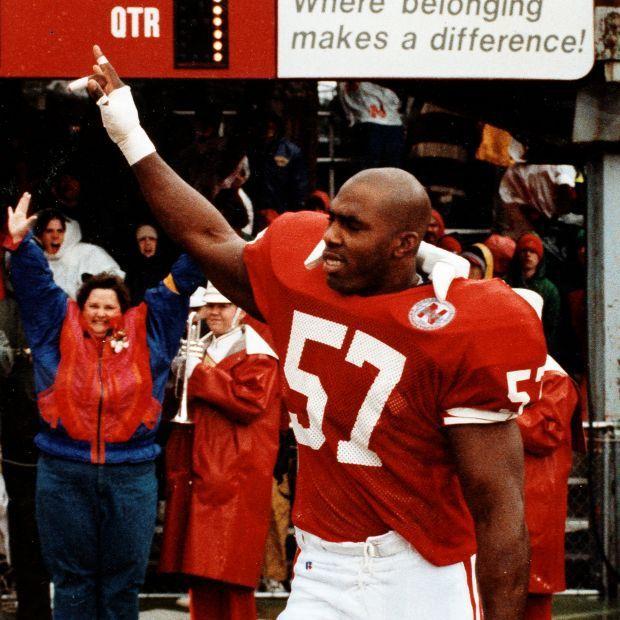 Nebraska fans gave the loudest ovation that nobody heard on Nov. 3, 1990.
Their tribute on Senior Day included a pregame "deaf clap" for beloved defensive tackle Kenny Walker, who became deaf at age 2 after he contracted spinal meningitis.
When Walker ran onto the field during senior introductions, fans responded by raising their arms in the air and turning their hands back and forth — the sign-language signal for applause.
"I saw all the hands. That was wonderful," Walker said after the game.
Mimi Mann, a sign-language interpreter, helped Walker conduct interviews and also with translating and signaling plays during his Husker career.
Rozier covers field on 2-yard run, 1983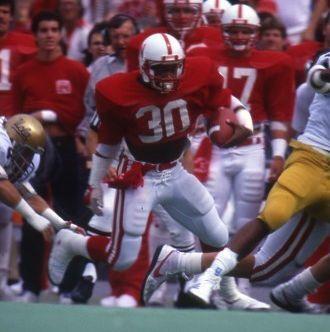 Sept. 24, 1983
Mike Rozier filled his Heisman Trophy-winning season in 1983 with many highlights, but the most memorable may have been the 2 yards he ran for a touchdown against UCLA on Sept. 24, 1983, at Memorial Stadium.
With the Huskers holding a 14-10 lead against the Rick Neuheisel-led Bruins, Rozier took a pitch from Nebraska quarterback Turner Gill and headed for the corner of the end zone only to find a wall of UCLA defenders. He reversed his field, doubling back as far as the 19-yard line before picking up some blocks — including two key ones by Gill — and finding daylight on the other side of the field. By the time he crossed the goal line, he covered more like 80 yards instead of 2.
The Huskers went on to win 42-10, with Rozier gaining 159 yards on 26 carries en route to his Husker-record 2,148 rushing yards that season.
The Prayer, 2011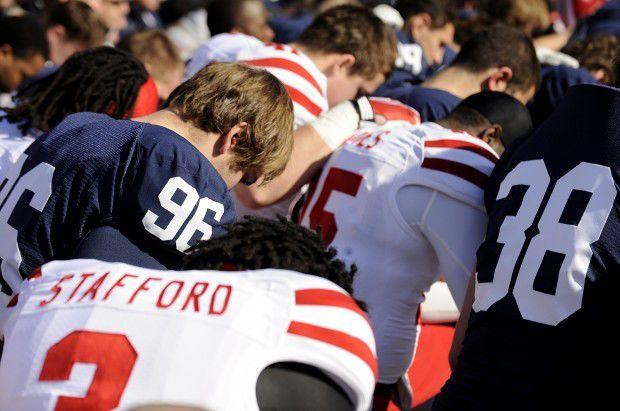 Nov. 12, 2011
You know what's more powerful than witnessing 107,000 people make a stadium rock? Witnessing 107,000 people fall into total silence. Witnessing two football teams gather at midfield, hold hands, bow their heads and pray.
No one in the Nebraska program would have ever wanted to be part of the storm, but there the Huskers were in the midst of it, Penn State's opponent in the days after a monster was found in Happy Valley. The monster who preyed on children is not worth naming. But the memories from that game remain.
It was a game coach Bo Pelini would later say should never have been played. But it was, with national news outlets showing the pregame events live at Beaver Stadium. Everyone wondered how both teams would respond. What they chose to do was hold hands and pray, led by Husker assistant Ron Brown. "I think the thing that probably struck me the most was how silent the stadium got," Brown said when it was over.
Alberts doesn't let bad elbow stop him vs. FSU, 1994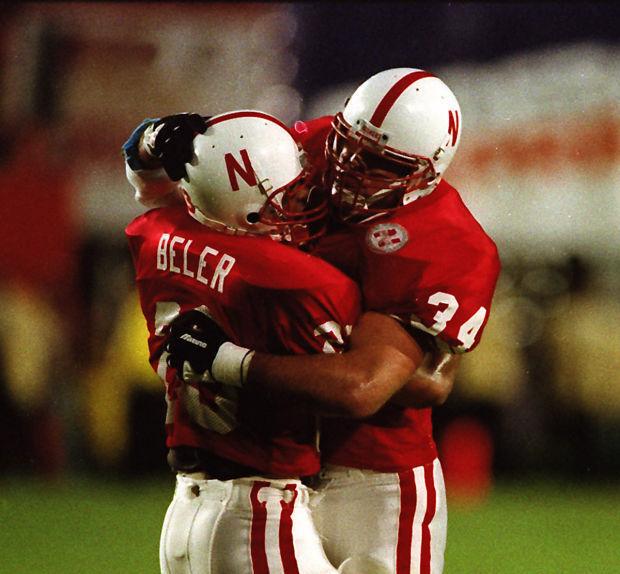 Jan. 1, 1994
Trev Alberts didn't let a bum right elbow — injured in the final regular-season game against Oklahoma — keep him from what may have been his most amazing performance as a Blackshirt.
With a cast on his arm, Alberts and his teammates relentlessly harassed Florida State's Heisman Trophy-winning quarterback Charlie Ward in the 1994 Orange Bowl, sacking him five times, including three by Alberts. The Seminoles had given up just 10 sacks all season.
The Huskers lost a heartbreaker, 18-16, but the team's performance — NU was a 17½-point underdog — proved to be a sign of things to come, and Alberts' decision to play hurt (and play well) endeared him even more to Husker fans.
The day the streak began, 1962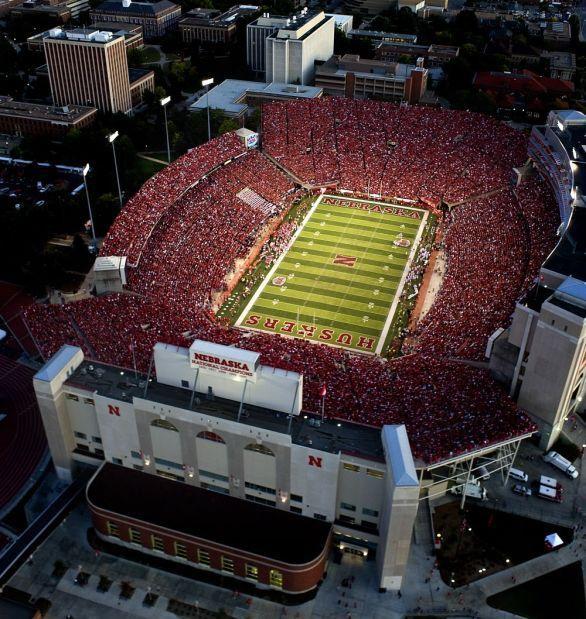 Nov. 3, 1962
It began even before Beatlemania and has taken you through 10 presidents. Some of us were not even around that day when Missouri was in town and a sellout crowd was announced at Memorial Stadium. No one could have known then the day was the beginning of something big.
The stadium kept growing and people kept filling the seats. From the 36,501 who attended the game vs. the Tigers on Nov. 3, 1962, to the more than 91,000 who packed the stadium a year ago. Through rain, sleet, snow, glory and heartache, Husker fans have sold out the stadium 333 straight times. Notre Dame is a distant second at 239 in a row.
Even in the leanest of years, like 2007, fans kept the streak going, filling the place during a 45-14 loss to Oklahoma State. They showed up to keep the streak alive, then many left at halftime.
And to think the streak began on a day the Huskers lost. Mizzou won that game 16-7. 
48 points in third quarter vs. CU, 1983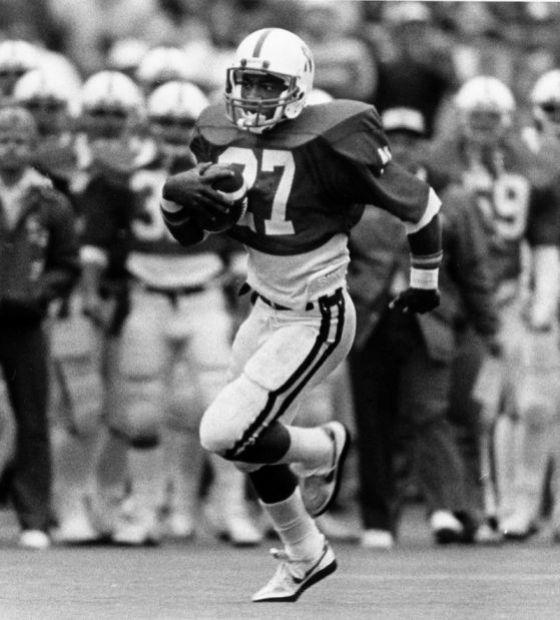 Oct. 22, 1983
Nebraska's vaunted "Scoring Explosion" offense of 1983 didn't need any help from its opponents.
Colorado obliged, anyway, contributing to the Huskers' highest-scoring quarter in school history.
The Buffaloes failed on a fake punt, fumbled two kickoffs and had a screen pass intercepted, and top-ranked Nebraska took advantage, scoring seven touchdowns in the third quarter en route to a 69-19 victory on Oct. 22, 1983.
The 48 points — NU missed an extra point — fell one shy of the NCAA record for points in a quarter.
Within the first 10 minutes of the second half, Nebraska had run 13 plays, possessed the ball 2 minutes, 56 seconds … and scored six touchdowns.
Bobby Reynolds' dazzling run, 1950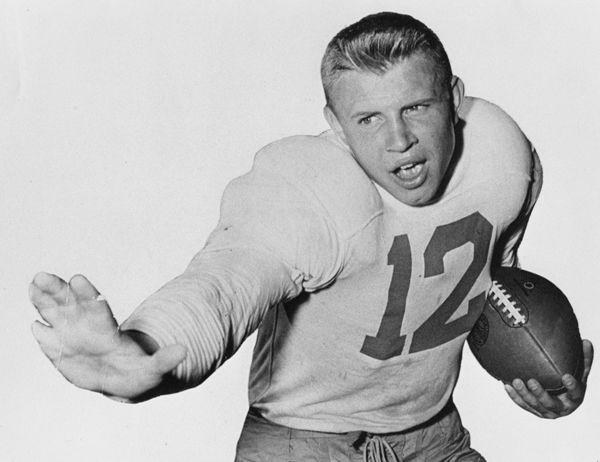 Nov. 4, 1950
It officially was scored a 33-yard touchdown run. Those who saw it, however, will tell you sophomore Bobby Reynolds covered much more ground on the fourth-and-1 play against Missouri.
In the former NU halfback's official Husker bio, the athletic department writes: "Reynolds easily covered over 100 yards as he ran backward, forward, and side-to-side, reversing field an astonishing three times. …"
Former Husker QB Fran Nagle concurs.
"The whole thing took about five minutes," Nagle recalled. "That was one for the books. There was never anything like it again."
Reynolds ran for 175 yards on 25 carries and scored 22 points on three touchdowns and four extra points in NU's 40-34 triumph.
Strasburger saves the day, 1982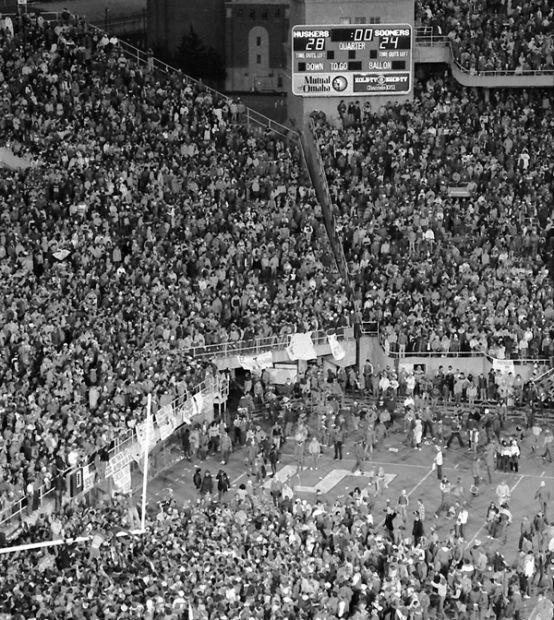 Nov. 26, 1982
Nebraska linebacker Scott Strasburger wasn't surprised to make an interception against Oklahoma, but he was surprised to be nearly trampled as Husker fans swarmed the field in the final seconds of NU's 28-24 victory at Memorial Stadium.
"I remember we had practiced the play all week — their tackle barely touched me and I dropped back, drifted to the outside and there was the ball. The next thing I knew, three of my frat bothers and Steve Damkroger were standing over me and trying to help me up in the crowd on the field."
Strasburger, a walk-on sophomore defensive end from Holdrege, intercepted a Kelly Phelps pass at the Oklahoma 24-yard line and was seemingly tackled by stampeding Nebraska fans at the 1 with 26 seconds to play. The Huskers took a knee to end the game and more fans stampeded the field, knocking down OU coach Barry Switzer in the process.
The game featured the bouncerooski, when Turner Gill bounced a backward pass to Irving Fryar, who then thew the ball to Mitch Krenk.  
Steve Pederson fired, 2007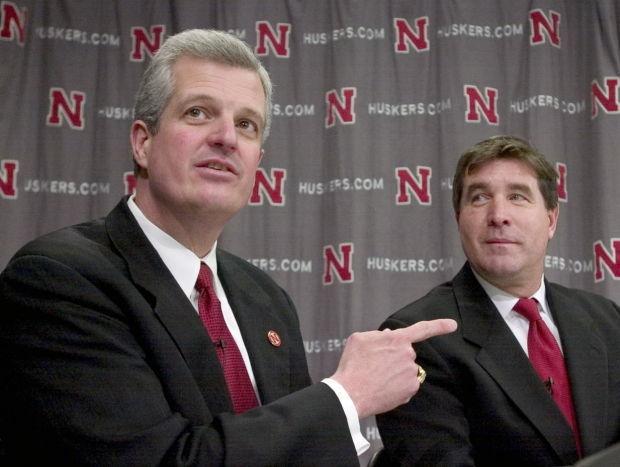 Oct. 15, 2007
Nebraska chancellor Harvey Perlman said there was no joy in his heart for having to fire athletic director Steve Pederson.
But with the NU athletic department's culture eroding and Bill Callahan's football program sliding at an alarming rate, the move suddenly seemed inevitable.
Never mind that Perlman, at the end of July of '07, had extended Pederson's contract by five years. It cost $2 million to buy out Pederson.
In announcing Pederson's firing, the chancellor said he'd noticed a decline in morale and growing concern about keeping key personnel in the athletic department. Paul Meyers, a key fundraiser, was among several people who departed.
Thus ended the Pederson era, a stunning fall from grace for the North Platte native.
Frost lobbies after Orange Bowl win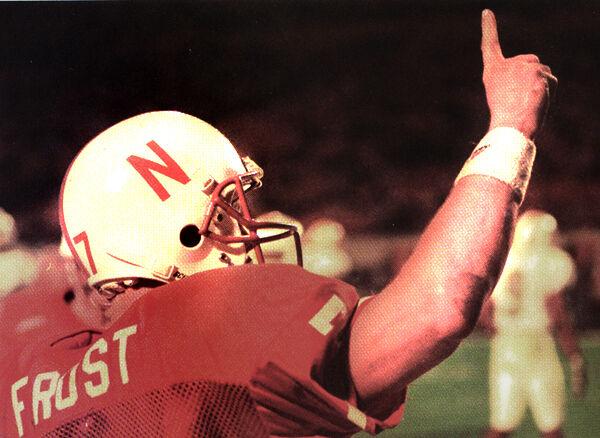 Jan. 2, 1998
Nebraska had crushed Texas A&M in the Big 12 Championship Game, then squashed Peyton Manning-led Tennessee in the Orange Bowl 42-17 to finish 13-0.
Husker quarterback Scott Frost gave an emotional postgame speech over the Orange Bowl PA system that was carried on national TV. Many believe it helped get Nebraska the necessary votes for a third national title in four years. 
"I don't think there's anyone out there that can say with a clear conscience that Nebraska, and especially Tom Osborne, that great man, doesn't deserve a national championship," Frost said. "At least a share."
Frost's words became prophetic a few hours later when the USA Today coaches poll came out with the Huskers No. 1. 
Beating Red Grange, 1925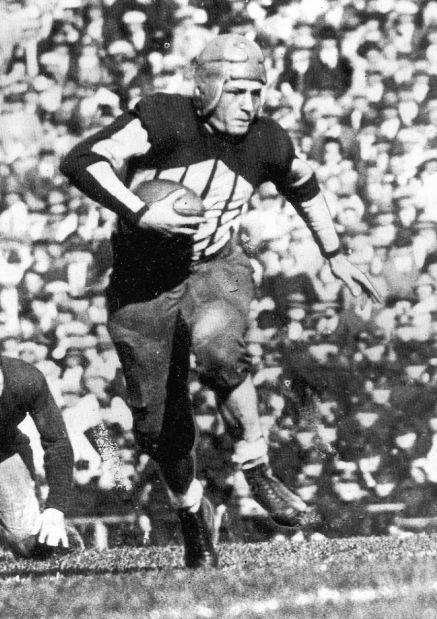 Oct. 25, 1925
All-America halfback Red Grange could barely breathe, much less gain anything of note against the "sturdy sons" of Nebraska in the Huskers' 14-0 upset of Illinois in Urbana, Ill.
Frank Dailey of Alliance intercepted a Grange pass and returned it 40 yards for a touchdown. Later, John "Choppy" Rhodes of Ansley scored on a 1-yard plunge.
"Grange failed utterly in his efforts to advance the oval against a hard-fighting aggregation of Cornhuskers who tackled fiercely and quite frequently dumped the Illinois marvel to the turf back of his scrimmage line," Cy Sherman wrote in The Lincoln Star.
"Those pesky Nebraskans, fast chargers, sharp tacklers, didn't seem to realize that the mob was there to see 'Red' run," the Chicago Herald Examiner wrote. "They stopped him as if he were Rufus McConigle of the East Liverpool YMCA second team."
Tom "Train Wreck" Novak, 1947
Oct. 18, 1947
Tom Novak earned his nickname "Train Wreck."
Against Notre Dame in 1947, the sophomore from Omaha South was all over the field and played so well in NU's 31-0 loss that Notre Dame coach Frank Leahy shook his hand after the game and said he was the best linebacker the Irish faced that year.
The Huskers returned to Lincoln to a large crowd of fans at the train station and were paraded around town in convertibles.
Novak had served in the Navy before going to NU — turning down a scholarship from Notre Dame. He played center and in the middle of the defense, missing just 30 minutes in an eight-game schedule in 1947.
In 1949, he capped his career with All-America honors and was the first Husker to have his jersey retired. He is NU's only four-time all-conference player. He also was a three-year letterman in baseball.
Each year, Nebraska presents the Tom Novak Award to a player who "best exemplifies courage and determination despite all odds in the manner of Nebraska All-America center Tom Novak."
It's a fumble! Now, wait a minute ...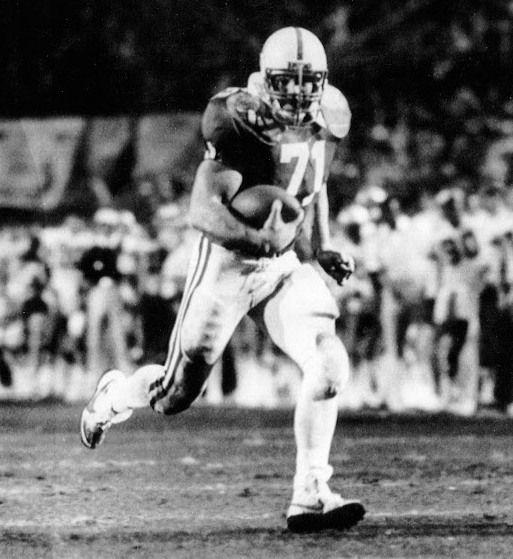 Nov. 24, 1979
The Huskers trailed archrival Oklahoma by 10 points late in the game that would determine the Big Eight champion, forcing Tom Osborne to dig deep into his bag of tricks.
With the ball at the Oklahoma 15-yard line, NU quarterback Jeff Quinn took the snap from center Kelly Saalfeld — and immediately put the ball on the ground underneath Saalfeld. Guard Randy Schleusener scooped up the ball, headed in the opposite direction of the play and rumbled into the end zone, scoring on one of Nebraska's most famous plays — the "fumblerooski."
Nebraska lost that game 17-14. NU ran the "fumblerooski" two more times — by Dean Steinkuhler for a 19-yard touchdown in the 1984 Orange Bowl against Miami and by Will Shields for 18 yards against Colorado in 1992. That was the last use of the "fumblerooski" in Nebraska or anywhere, as the play was banned by the NCAA in 1992.
NU's Stiehm rollers, 1911-15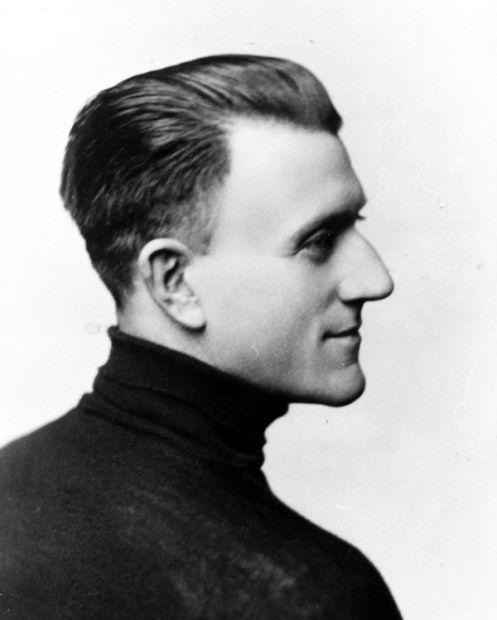 Ewald "Jumbo" Stiehm despised his nickname. But that didn't keep the Nebraska coach from having the top winning percentage in school history.
Stiehm's teams went 35-3-3 in his five years (1911-15) at NU. He was given his release from Nebraska when school officials turned down his request for $4,250 to coach football. He accepted $4,500 from Indiana.
His Nebraska "Stiehmrollers" were among the best in school history, finishing undefeated in his final three seasons at NU.
He told The Lincoln Star in August 1911 his players should "start training without the use of tobacco and other deleterious substances and take a short run every day." One of his best moves was to convince Guy Chamberlin, "the most feared ball carrier in the Midlands," to transfer from Nebraska Wesleyan to NU in 1914. NU went 15-0-1 in Chamberlin's two years under Stiehm.
Jack's run, 2013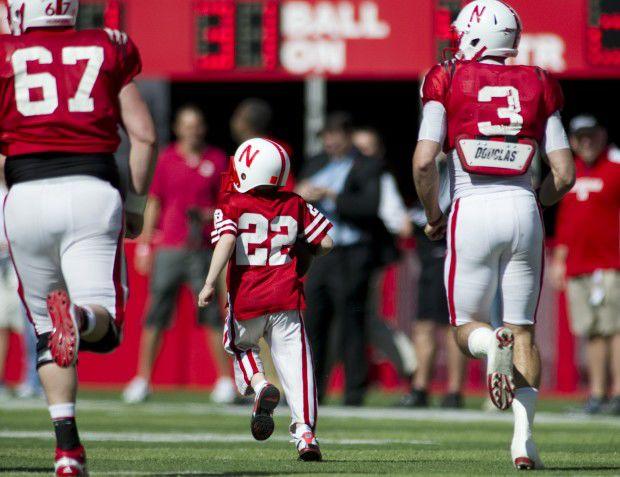 April 6, 2013
It was a 69-yard run by maybe the toughest running back to ever set foot in Memorial Stadium. It was a touchdown run that turned Jack Hoffman into an inspiration, a rallying cry: #TeamJack on T-shirts and Twitter and everywhere. More than that, really. It was a run that made a 7-year-old a rock star.
A little boy battling pediatric brain cancer had become best buddies with Rex Burkhead. Soon, the entire Husker team knew Jack. Loved Jack. And so why not let Jack take a handoff in the Spring Game and show off his moves? Bo Pelini thought it was a pretty good idea. And so out came Nebraska's secret weapon. As the great ones do, he improvised at first, running left even as the blocking suggested he go right. But soon, guided by Taylor Martinez, young Jack found the right hole, the crowd rising to its feet, fans wiping away tears, the entire team chasing after him, until there was a party in the end zone.
They'd play it over and over again on ESPN for days. It'd win an ESPY. It'd be viewed more than 8.5 million times on YouTube. It'd result in donation upon donation in the fight against pediatric brain cancer. Try finding a better play in the playbook than that.
Klein kicks record seven field goals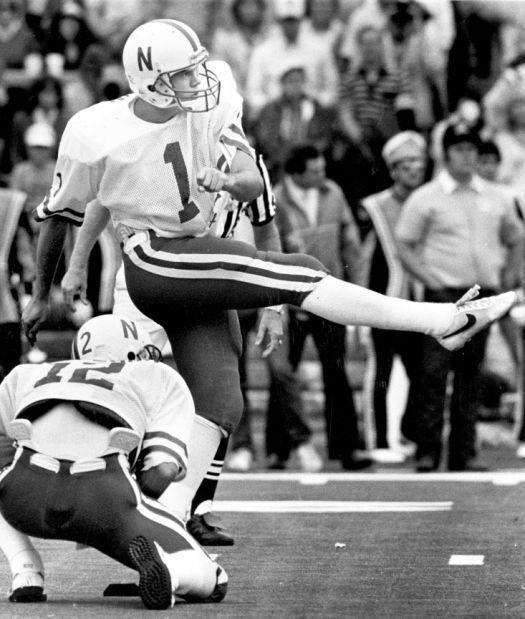 Oct. 19, 1985
What's more remarkable than Dale Klein setting an NCAA record by making seven field goals in seven attempts in one game?
Perhaps that seventh-ranked Nebraska needed Klein to make seven field goals in seven attempts to defeat a winless Missouri team that sported a porous defense.
But the Huskers, despite a career-high 199 rushing yards from Doug DuBose, didn't find the end zone until the fourth quarter of their 28-20 victory before 62,733 fans at Faurot Field and a regional television audience.
Klein, a junior walk-on from Seward, connected from 32, 22, 43, 44, 29, 43 and 43 yards. He also kicked a PAT for a Big Eight-record 22 points by kicking.
Said an understated Tom Osborne after the game: "Dale deserves a lot of credit for this win."
Turman to the rescue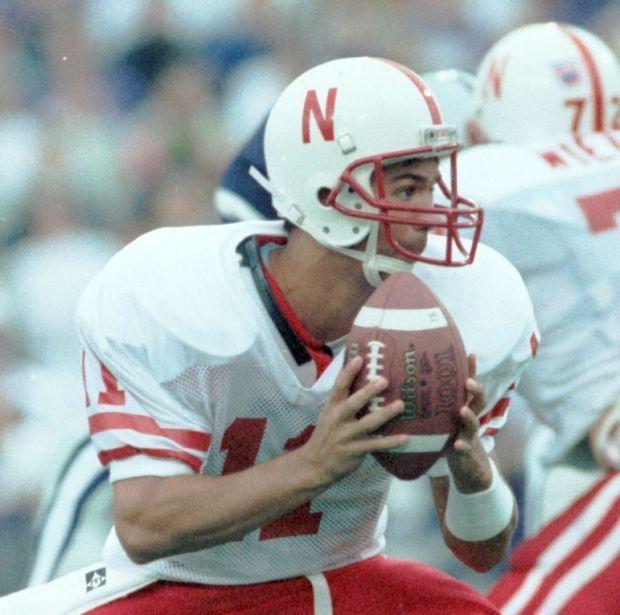 Oct. 15, 1994
No one could have conceived in August 1994 that Nebraska's national title hopes would rest on the shoulders of 5-foot-11 walk-on quarterback Matt Turman.
But that's exactly what happened on Oct. 15, 1994, when the former Bishop Neumann standout made the only start of his Husker career.
Coming into the season, Turman was third on the depth chart. But Tommie Frazier was sidelined because of blood clots, and his backup, Brook Berringer, had suffered a collapsed lung the week before against Oklahoma State.
So Turman got the start against the 16th-ranked Wildcats in Manhattan, Kansas. It wasn't flashy, and he mainly handed the ball to Lawrence Phillips, but the No. 2 Huskers won 17-6 and continued their quest for a national championship.
"Coming down here, I thought it (a win) was a 50-50 proposition," NU coach Tom Osborne said.
Eric Crouch wins the Heisman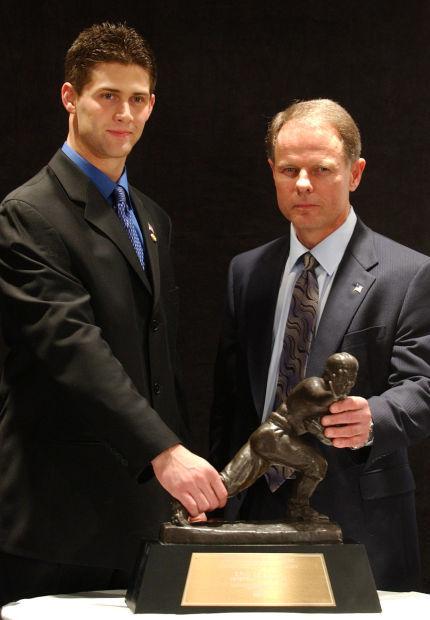 Dec. 8, 2001
Eric Crouch was a wizard running the option, pure and simple.
He was extremely fast — he was once clocked at 4.3 seconds in the 40-yard dash — and tough as a leather boot.
Those are among the main attributes that helped the Nebraska quarterback win the Heisman Trophy in 2001.
"If you get just a little out of position, he makes you look like a fourth-grader," Kansas State coach Bill Snyder told Sports Illustrated in November 2001.
Former Iowa State coach Dan McCarney once said Crouch was the best offensive player he ever coached against.
Crouch finished the 2001 season with 1,115 rushing yards (5.5 per carry) and 18 rushing touchdowns. He completed 105 of 189 passes (55.6 percent) for 1,510 yards and seven touchdowns, with 10 interceptions.
Beating the Bear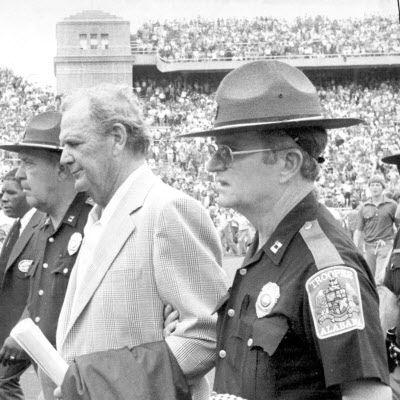 Sept. 17, 1977
For the first time under fifth-year coach Tom Osborne, Nebraska entered a football game unranked, having lost its season opener to Washington State 19-10.
Then Osborne went against his conservative nature in outsmarting coaching legend Bear Bryant. Osborne called three trick plays, including an I-back pass and a fake field goal, during a fourth-quarter touchdown drive that lifted the Huskers to a 31-24 victory against No. 4 Alabama at Memorial Stadium.
Two years earlier, Osborne was overheard calling Bryant a "son of a buck" for allegedly ducking Nebraska in a bowl game, a comment Osborne said was "not meant for print" and blown out of proportion.
"To beat a team coached by Bear Bryant is a great feeling — out of respect for him, not animosity," Osborne said.
Buffs put up no fight in 1992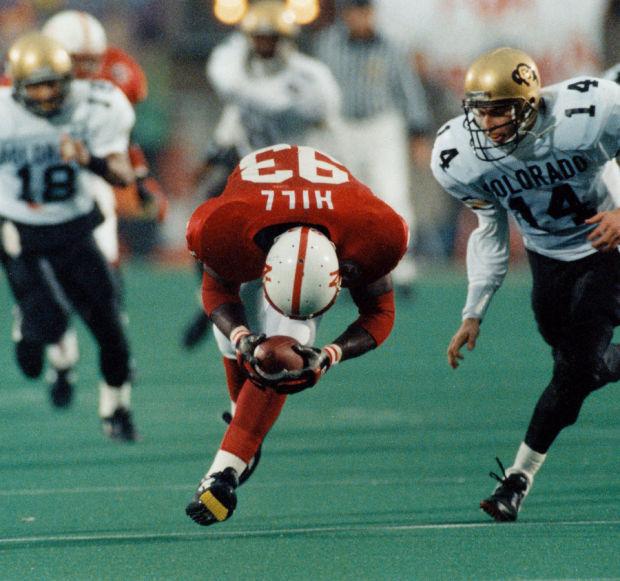 Oct. 31, 1992
In one of the most zany, delirious environments ever in Memorial Stadium, a pent-up Nebraska team took out its frustrations on upstart Colorado, bludgeoning the Buffaloes from beginning to end on a dreary, cold Halloween night.
Linebacker Travis Hill intercepted freshman quarterback Koy Detmer on the game's first play, setting up a touchdown in Nebraska's 52-7 victory between the nation's co-No. 8 teams. Nebraska held a 428-144 advantage in total offense and controlled the ball for almost 43 minutes while holding Colorado to 7 passing yards in the second half.
Nebraska had been 0-8 against top-10 teams since 1988 — also the last time the Huskers had defeated Colorado, which was staking claim to this annual game as a rivalry.
"I wouldn't say it's a rivalry," Hill said after the game. "I think things are back to normal now."
Beating the Four Horsemen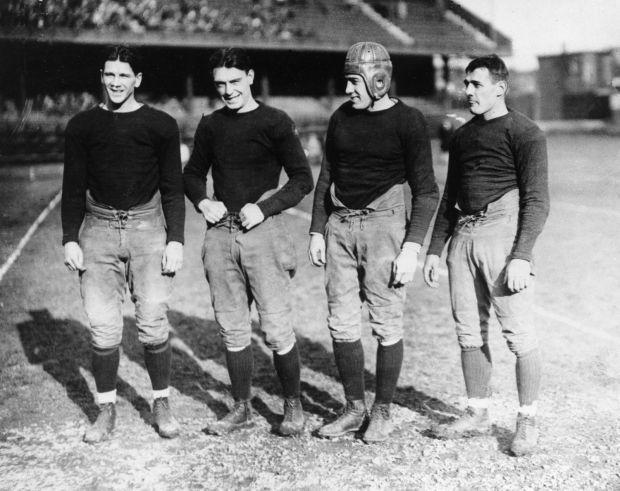 Nebraska played many college football greats in the 20th century, but the Huskers' success against the "Four Horsemen" of Notre Dame is among the most memorable.
Harry Stuhldreher, James Crowley, Don Miller and Elmer Layden were regarded as the greatest backfield ever. The "Four Horsemen" lost just two of the 30 games they played together, and both losses came at the hands of Nebraska. In 1922, the Huskers won 14-6 in Lincoln, then defeated the Irish 14-7 in Lincoln the next season.
Cy Sherman of The Lincoln Star wrote of the 1923 game: "Notre Dame, rated as the 'wonder team' of all the pigskin realm, was overwhelmed by a powerful, smashing Cornhusker eleven. ... The vaunted 'Irish' offensive, which has smothered the Army mule and twisted the tail of Princeton's tiger, was turned back and made impotent by the scarlet-jerseyed athletes in Nebraska moleskins."
How to win a Heisman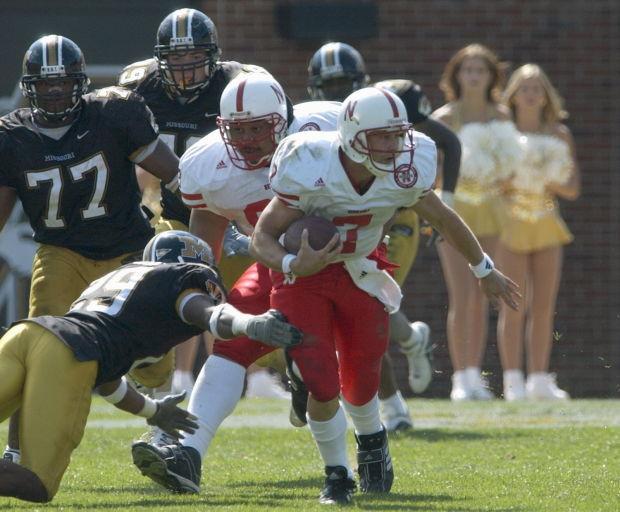 Sept. 29, 2001
Eric Crouch should have been sacked for a safety; a Missouri defender had the Nebraska quarterback in his grasp in the NU end zone at Faurot Field in Columbia, Mo.
And then it happened.
Crouch shrugged off the would-be tackler and headed upfield. He juked a Missouri defender at the 10-yard line, another at the 16 and one more at the 30 before kicking on the jets and outrunning everybody for a 95-yard touchdown and a place in the Husker record book with the longest TD run.
"I was kind of able to just bob and weave and get the touchdown," Crouch said.
The TD run gave Nebraska a 22-3 lead en route to a 36-3 victory. Crouch added a 15-yard TD run later for good measure.
But most importantly, the run — like Johnny Rodgers' punt return against Oklahoma and Mike Rozier reversing his field for a 2-yard TD against UCLA — clinched the Heisman Trophy for Crouch.
Red sea overruns Notre Dame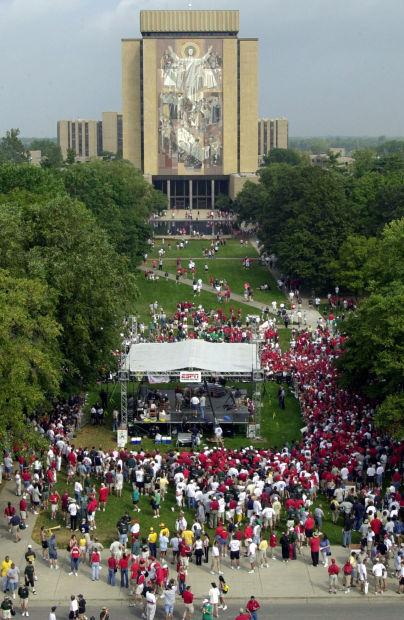 Sept. 9, 2000
They came from the west, clad in red, heading toward Touchdown Jesus and one of the meccas of college football. They got tickets from season ticket-holders, single-game sales and paying scalpers as much as $500 for a $36 ticket. They packed the bars of South Bend, Indiana, and roamed the campus.
Then the Husker fans, some 30,000 strong, took over Notre Dame Stadium, creating a sea of red in the 80,000-seat venue. Nebraska fans filled much of one side of the stadium, the upper reaches of the end zone, and 10,000 Big Red supporters who couldn't get in gathered outside to cheer the Huskers to a 27-24 overtime win.
"It looked like there was a big fight outside for tickets and Nebraska fans won," Husker quarterback Eric Crouch said after the game. "You don't see that at many schools."
Fitting end to Devaney's career
Jan. 1, 1973
Having lost the chance at a shot at three consecutive national championships with a season-opening loss to UCLA and a season-ending loss to Oklahoma, Nebraska rolled into the Jan. 1, 1973, Orange Bowl ranked ninth in the country with a Heisman Trophy winner to showcase.
But more than simply playing for pride, the Huskers were driven to win the game for Bob Devaney, who was ending his program-making 11 years at Nebraska.
The Huskers did so in spectacular fashion, overwhelming No. 12 Notre Dame 40-6 in a game that wasn't as close as the score indicated. The Huskers outgained the Irish 560 yards to 207, led by Heisman winner Johnny Rodgers.
Rodgers pulled off the scoring trifecta, running for touchdowns of 8, 4 and 5 yards, throwing a 52-yard TD pass to Frosty Anderson and catching a 50-yard pass from Dave Humm.
Devaney, who got his 101st win at Nebraska and the 136th of his career, was carried off the field on his players' shoulders, a legend going out the right way.
It was some kind of hire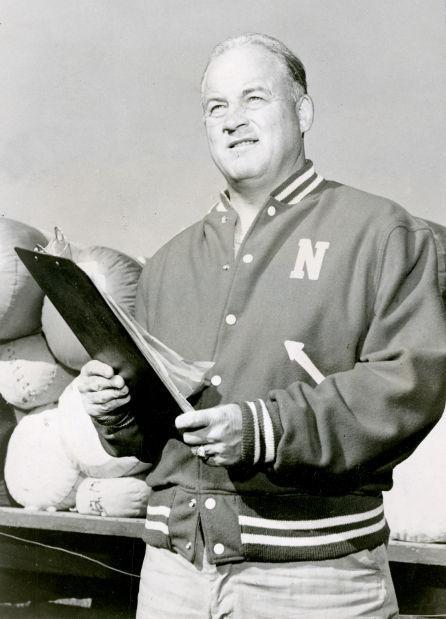 Sept. 29, 1962
Bob Devaney never had a losing season in five years coaching at Wyoming, but he faced a real challenge after taking the Nebraska job in 1962. The Cornhuskers had had six straight losing seasons, including a 3-6-1 record the year before.
Nebraska learned early it had made the right decision in hiring Devaney, when the coach took his team to Ann Arbor, Mich., in the season's second game and upset the heavily favored Michigan Wolverines.
Fullback Bill Thornton scored two touchdowns, and quarterback Dennis Claridge completed 6 of 12 passes for 89 yards, including a fourth-and-8 strike to Dick Callahan for a first down late in the fourth quarter. Thornton scored on the next play, and Nebraska won 25-13.
More than 2,500 fans welcomed the Huskers home at the airport that night, and the win landed Nebraska at No. 19 in the UPI coaches poll. Better yet, Nebraska won its first six games en route to a 9-2 season, which included a 36-34 victory against Miami in the Gotham Bowl.
Osborne gets 250th win in big way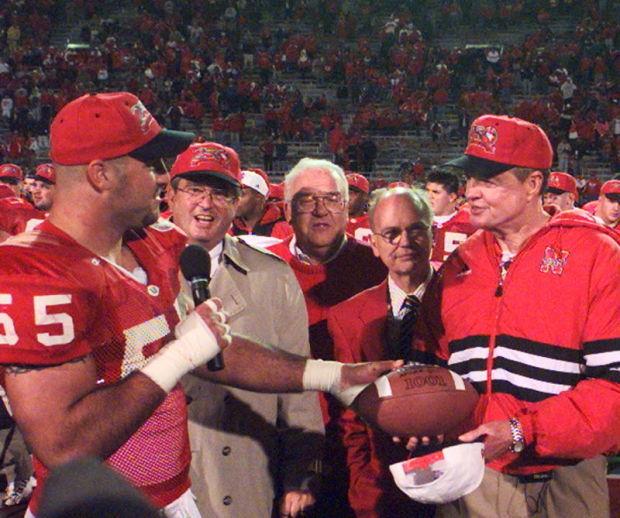 Nov. 1, 1997
Nebraska made short order of Oklahoma, scoring early and often to blow out the overmatched Sooners 69-7 as the Huskers worked their way toward their third national championship in four years.
But the mismatch is memorable for more than just being the most lopsided win in the teams' 78-game series. It was Tom Osborne's 250th win as coach of the Huskers.
Osborne, who ended his 25 years with 255 wins, reached the 250-win plateau faster than any coach in college football history at that time. Appropriately, Osborne was presented with a game ball by team captain Jason Peter after the Huskers dispatched their biggest rival.
Stopping Sooners' streak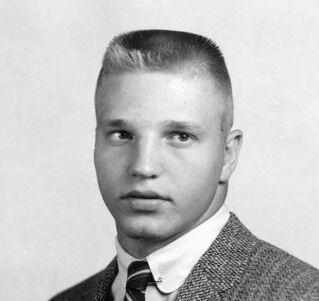 Oct. 31, 1959
Oklahoma became a victim of an opportunistic Nebraska team in this Halloween classic, with the Sooners seeing their historic 74-game conference unbeaten streak snapped in a game they dominated everywhere but the scoreboard.
In Lincoln, they called Nebraska's 25-21 win the "greatest upset ever," with Husker fans tearing down the Memorial Stadium goalposts afterward and school officials calling off school the following Monday.
"The thing about our team was we could beat anybody, and we could lose to anybody," guard Lee Zentic told Huskers.com years later. Zentic, who went on to coach high school football at Lincoln East, scored NU's second touchdown, returning teammate Jim Moore's blocked punt 36 yards.
It was that kind of day for the Sooners, who logged more first downs (19-8), rushing yards (240-127) and passing yards (100-34) than Nebraska, which finished the season 4-6 under coach Bill Jennings.
Bennett's miss leads to 'Unfinished Business'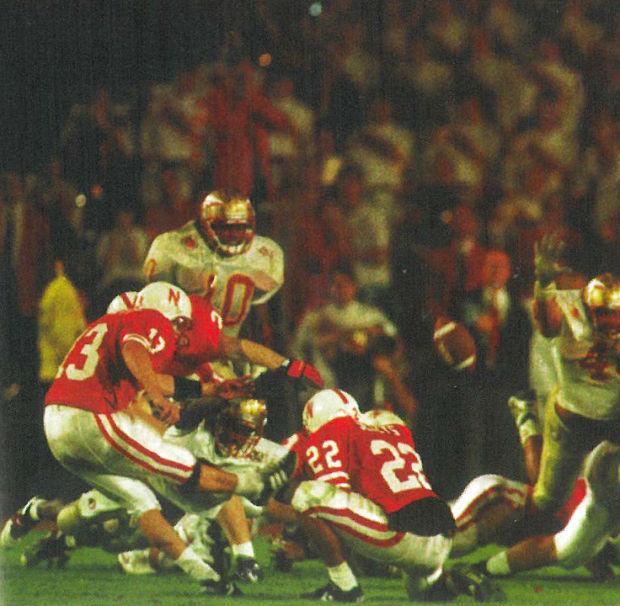 Jan. 1, 1994
It was one of the wildest finishes in Nebraska football history. Byron Bennett lined up for a 45-yard field goal with one second left in the 1994 Orange Bowl.
The Husker kicker had put NU ahead of heavily favored Florida State 16-15 with 1:16 left in the game for the national championship. But Florida State, which had a history of missing key field goals, counted on Scott Bentley to give the Seminoles the lead on a 22-yard field goal with 21 seconds left.
Tommie Frazier moved the Huskers to the FSU 28-yard line with a pass to Trumane Bell. FSU fans stormed the field, but officials said there was one second left. Bennett lined up to kick, but still breathless from the excitement of putting NU ahead, he pulled the kick wide-left.
"You wait all your life for a chance to kick the winning field goal and it just didn't happen," Bennett said.
He's out of bounds!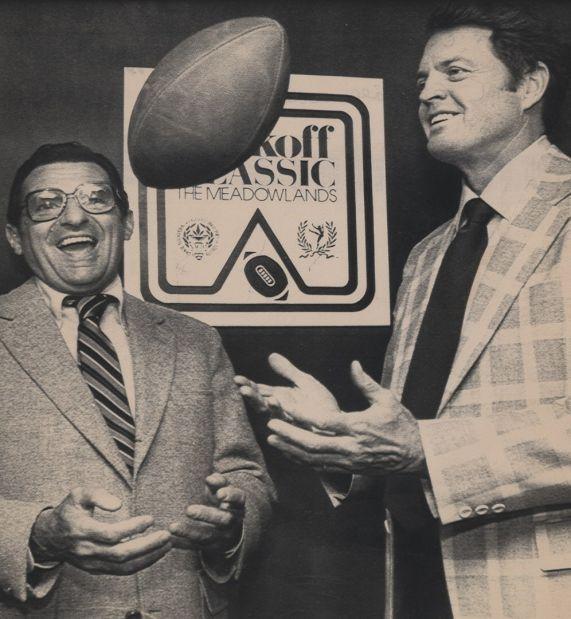 Sept. 25, 1982
The T-shirts showed the crooked sideline on the Penn State field, where Mike McCloskey appeared to catch a pass from Todd Blackledge with 13 seconds left in the game against Nebraska.
Footage and later admissions by those involved revealed that the Nittany Lion tight end was clearly out of bounds on the play, which helped Penn State to a 27-24 victory against one of the best NU teams in history.
After the "catch," Blackledge hit Kirk Bowman on a 2-yard pass in the back of the end zone.
Sixteen years later, while speaking at Boys Town, McCloskey admitted he was out of bounds. Coach Joe Paterno said later that the pass might have been incomplete. Even Blackledge, who went on to a TV career, laughed that the worst call in Nebraska history was a break for the Nittany Lions, who went on to win the national title.
First bowl game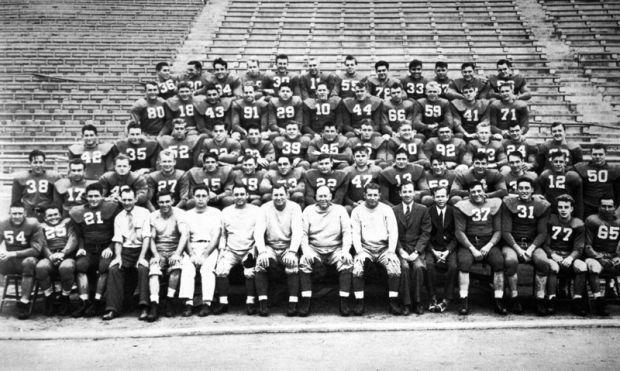 Jan. 1, 1941
For most of the past 45 years, Husker fans have taken bowl trips for granted.
But back in 1940, getting a bowl bid was a big thing. In fact, it had never happened before at NU. The 8-1 Huskers, who tied for the Big Six Conference title and whose only loss was to Minnesota in the opener, were invited to play Stanford in the Rose Bowl.
According to newspaper reports, celebration of NU's bowl bid lasted 24 hours and the university canceled classes.
Coach Lawrence "Biff" Jones' team featured All-Americans Warren Alfson and Forrest Behm, but came up short 21-13 against Stanford and its T-formation offense. The crowd of 92,000 at the Rose Bowl was the largest to watch the Huskers until the 2001 Orange Bowl.
Mizzou bursts NU's bubble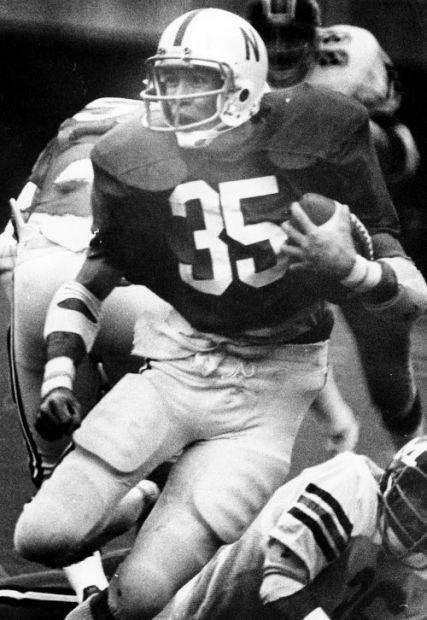 Nov. 18, 1978
The Nebraska football team and its fans were euphoric. The Huskers had defeated top-ranked Oklahoma and Billy Sims 17-14 the week before and were featured on the cover of Sports Illustrated. They were ranked No. 2 and on the verge of playing Penn State for the national championship.
Then coach Warren Powers brought his Missouri Tigers to town and burst NU's bubble. Despite a school single-game-record 255 rushing yards by Rick Berns, the Tigers and James Wilder were too much for Nebraska. Wilder ran for 181 yards and four touchdowns in Missouri's 35-31 victory.
"We didn't want to get into a scoring contest with them," NU coach Tom Osborne said, "but that's what happened. They had trouble stopping us, but we couldn't stop them."
The loss consigned the Huskers to an unenviable fate — a rematch with the Sooners in the Orange Bowl. NU lost 31-24.
The fumble that wasn't a fumble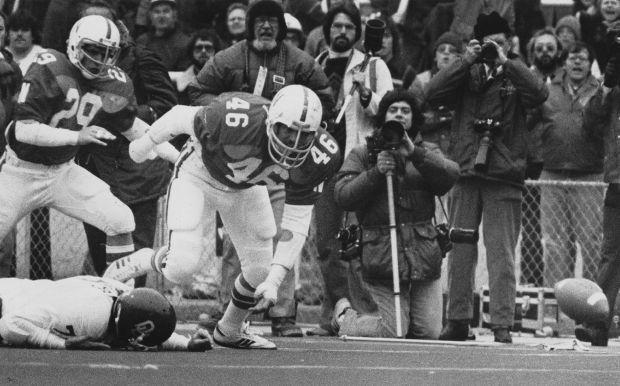 Nov. 11, 1978
Top-ranked Oklahoma lost five fumbles in the game, but the biggest fumble didn't count after Nebraska's John Ruud blasted OU's Kelly Phelps on a fourth-quarter kickoff.
Ruud's hit, called by some the best of all time, came after No. 4 Nebraska took a 17-14 lead.
Phelps, a freshman, took the kick near the OU sideline at the 10-yard line. Ten yards up the field, Ruud drove his helmet into Phelps' right shoulder, the ball popped loose and NU's George Andrews recovered at the 14. "Wait a minute, OU gets the ball," radio announcer Lyell Bremser said as the crowd of 76,015 let its displeasure with the call known.
Nebraska won the game, giving Tom Osborne his first victory against OU. Fans tore down the goal posts. 
Ruud said he still gets asked about "the hit."
Hello, Helu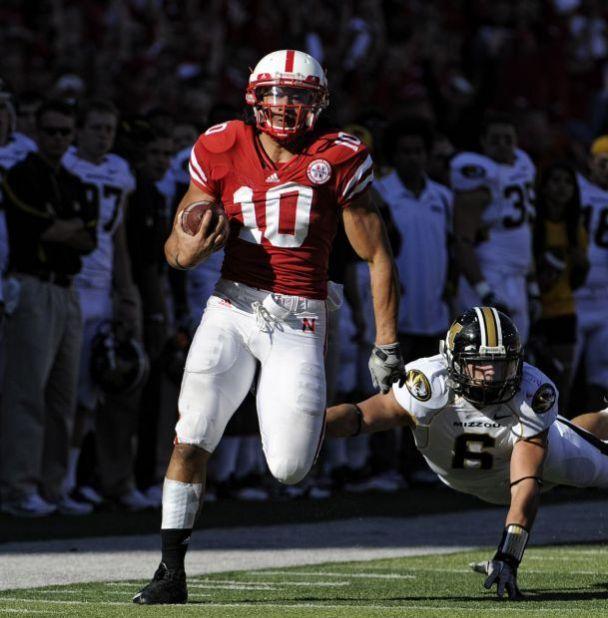 Oct. 30, 2010
The first carry went 66 yards. Roy Helu around the left side. No Tiger touched him.
Surely this day wouldn't be that easy. Or maybe it would. The Husker running back made it look that way on one brilliant Saturday as Nebraska ran a top-10 Missouri team out of the stadium 31-17. That was the day Helu set the school record for most yards in a game — 307 on 28 carries and three touchdowns. Every score covered at least 53 yards.
But it was the final drive that was as impressive as any. Starting from their 6-yard line, the Huskers ran Helu, then ran him again, and again, eating up the final 9 minutes of the clock in 14 plays. By the end of the drive, Helu had the stadium chanting his name.
Of all the great Husker running backs, no one had ever had a better day. Coach Bo Pelini recognized what it meant immediately after the game.
"I just said to the team, you break a school record for single-game rushing at this place, with all the tradition around here, it's a pretty big deal."
Glover is everywhere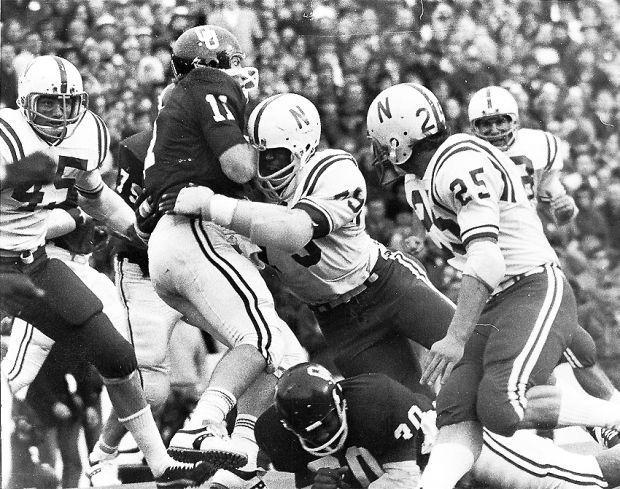 Nov. 25, 1971
As if making 22 tackles against Oklahoma in 1971 wasn't enough, Nebraska middle guard Rich Glover also recovered a fumble.
But it was his knockdown of Jack Mildren's final pass attempt on fourth-and-14 with 70 seconds left that preserved the Huskers' 35-31 victory in the Game of the Century.
Glover lined up against Oklahoma's All-America center Tom Brahaney and took him to school.
"Glover just ate his lunch the whole game," NU defensive tackle Larry Jacobson said. "A lot of times when Brahaney did knock him off the ball, he'd come back and make plays off the sideline because he was quick enough to do that."
Of Glover's 22 tackles, 19 were assisted. That's still a school record.
Glover said defensive line coach Monte Kiffin told him "to take care of the dive, then work on the quarterback."
Did he ever.
Rodgers against the Tide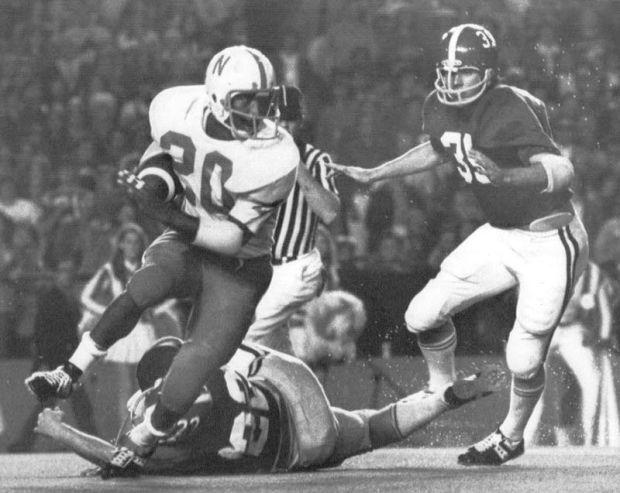 Jan. 1, 1973
Bob Devaney really wanted to beat Bear Bryant's Crimson Tide after losing to the legendary coach twice in bowl games.
Johnny Rodgers made sure that happened in the 1972 Orange Bowl. And unlike NU's previous Nos. 1 vs. 2 matchup (the Game of the Century), there was no doubt this time.
The Husker junior set the tone with a 77-yard punt return for a touchdown on the final play of the first quarter as NU took a 14-0 lead.
"Johnny's punt return broke their back," Husker quarterback Jerry Tagge said. "It was a big mental breakdown for Alabama."
Rodgers' return gave him the NCAA single-season record with his fourth punt return for a score.
Rodgers said he nearly didn't return the punt.
"When the ball was rolling I was going to let it go ... but I figured I might just as well give it a try," Rodgers said.
Luckily for NU he did.
A funny thing happened after halftime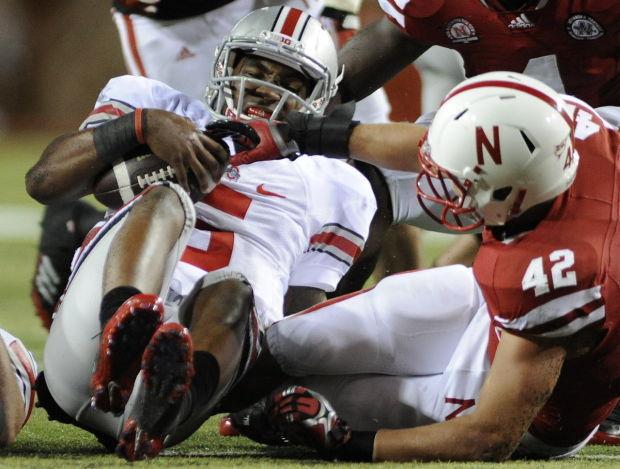 Oct. 8, 2011
Coming off a 48-17 loss at Wisconsin in their Big Ten debut, the Huskers returned home to a fan base full of angst. And perennial Big Ten power Ohio State coming to town.
Things didn't look good in the first half against the Buckeyes, who racked up 246 yards and led 20-6. Ohio State expanded its lead to 27-6 midway through the third quarter. That's when NU linebacker Lavonte David made the play of the game, ripping the ball from OSU quarterback Braxton Miller. 
NU went on to score 28 unanswered points for the largest comeback in school history.
Veteran Husker assistant coach Ron Brown said it best: "Because of all the adversity that swirled around in the week and how people were so willing and so quick to chop guys off, and cut guys off. And to see guys fight through it and say, 'You know what? We're going to be like a rock.'"
And they were. 
George Flippin first black player at NU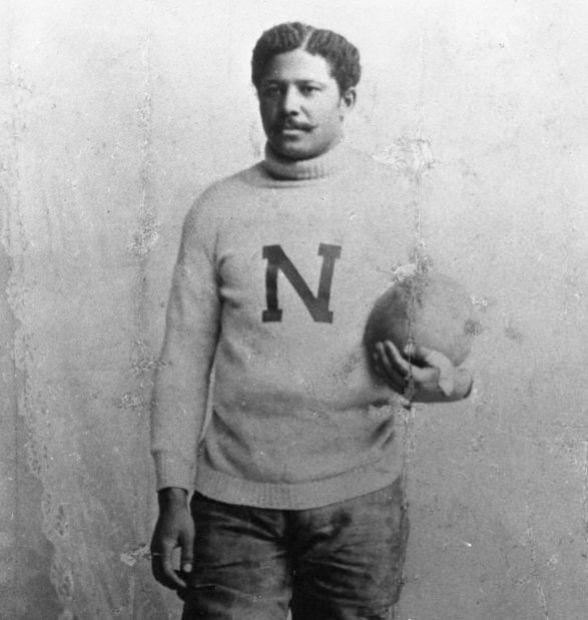 In 1891, Nebraska's second year with an official football team, George Flippin — the son of a freed slave — became the first black player at NU and only the fifth black athlete at the predominantly white university.
Because of Flippin's presence on the team, Missouri refused to play Nebraska in 1892, losing the game 1-0 on a forfeit. Flippin also competed in wrestling, baseball and track. He was inducted into the Nebraska Football Hall of Fame in 1974.
In 1892, Flippin led Nebraska to a 6-0 victory against Illinois in the first game NU played against a big opponent, scoring the game's only touchdown after recovering a fumble.
Flippin graduated from Henderson High School. He went on to become a well-known doctor and practiced in Stromsburg, where he died in 1929.
Trapping the Hurricanes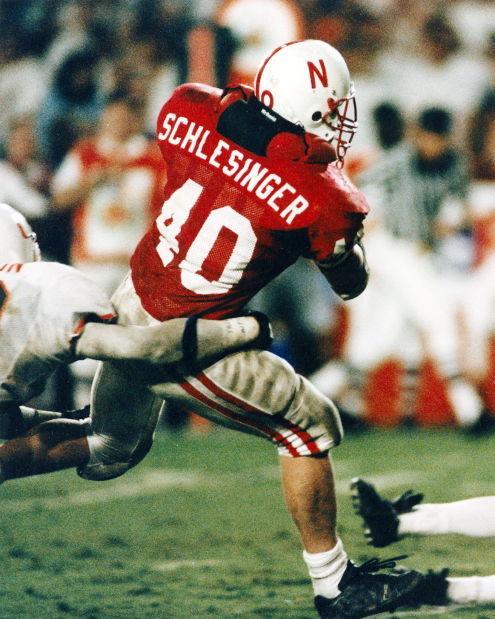 Jan. 1, 1995
Tom Osborne's offense wasn't built entirely around the fullback, but the legendary coach wasn't afraid to give him the ball.
That was definitely the case when the chips were down in the 1995 Orange Bowl against Miami.
Cory Schlesinger scored twice on fullback traps in NU's 24-17, come-from-behind victory that gave Osborne his first national championship.
Schlesinger's first TD, from 15 yards, pulled Nebraska to 17-15 with 7:38 left in the game. A two-point conversion pass tied it.
"We figured it was time for a trap play because they were looking outside for the run, and we got them good with Cory," NU offensive guard Brenden Stai said.
Schlesinger added the game-winning TD with 2:46 to play on — you guessed it — a fullback trap.
No. 10: Tick, tock. One second on the clock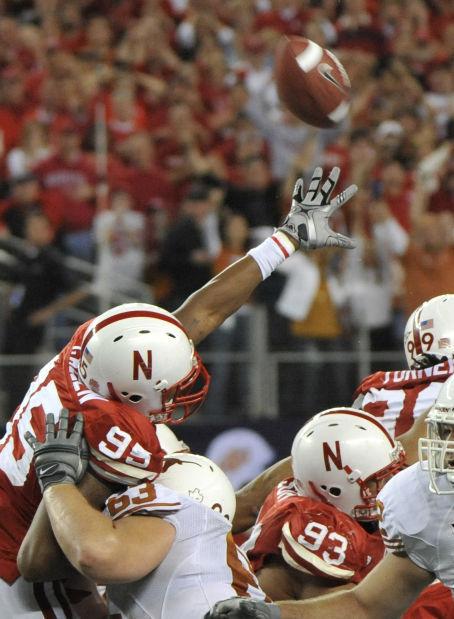 Dec. 5, 2009
Ndamukong Suh did everything in his power to give Nebraska the Big 12 title in the league championship game against Texas.
But game officials had other ideas, putting an additional second on the clock at game's end. That allowed Hunter Lawrence to come on and kick a 46-yard field goal, and Texas pulled out a 13-12 victory.
The Huskers sacked Longhorn quarterback Colt McCoy nine times, with Suh accounting for 4½ of them. But it was the last play (well, not really the last play), when McCoy heaved a pass out of bounds as the clock expired, that is still talked about.
The Huskers thought they had won their first league title since 1999. But officials ruled the ball hit a railing with one second left, giving the Longhorns life and sending the Huskers from exhilaration to the depths of despair.
"I'm not going to answer any more questions about officiating or about that call," NU coach Bo Pelini said. "Ask me about the football game. It was a hell of a football game."
No. 9: A prayer answered by Kellogg, Westerkamp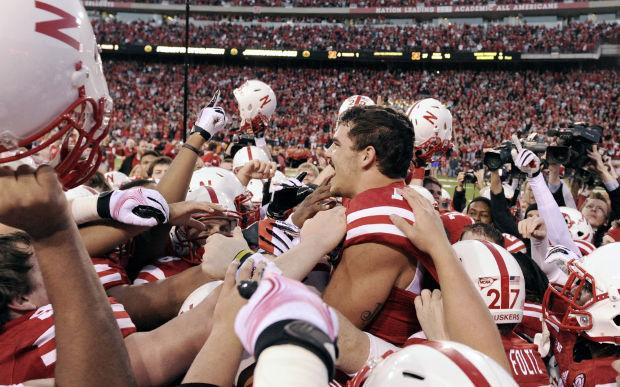 Nov. 2, 2013
Nebraska appeared to be without a prayer.
Coming off a loss at Minnesota the week before, the Huskers found themselves trailing Northwestern 24-21 with 4 seconds remaining at Memorial Stadium.
But a final prayer was answered when a 49-yard touchdown pass from Ron Kellogg was tipped at the goal line by a Northwestern defender before falling into the arms of freshman Jordan Westerkamp.
The play, giving Nebraska a 27-24 victory, set off an explosion within the stadium.
"It was a roar that ..." Husker coach Bo Pelini said, searching for the words to describe the jolt of noise. "It kind of reminds me of the Colorado game (in 2008). It was very similar."
Said Kellogg: "It sounded like thunder."
As the thunder echoed, the walk-on quarterback took off his helmet and ran in the other direction, while teammates mobbed Westerkamp.
 "I saw Westy kind of flash and then I saw the crowd react, and when I looked down and the referee put his arms up, I was a little bit in disbelief," Pelini said. "Pretty cool."
No. 8: 'It was a good kick, I guess'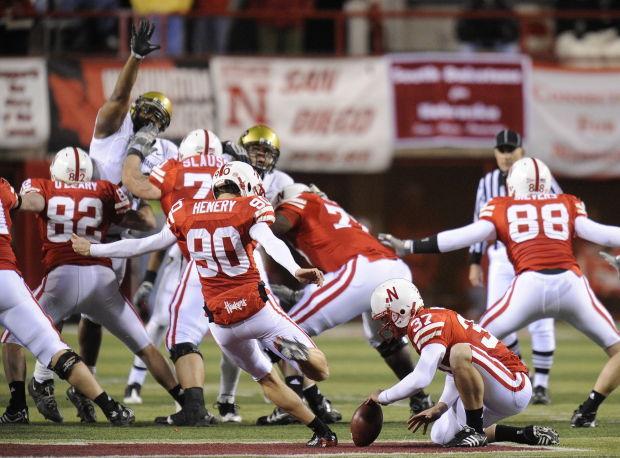 Nov. 28, 2008
The 85,319 fans in Memorial Stadium thought Nebraska's chances of beating Colorado were doomed when Joe Ganz was sacked for a 15-yard loss with about 2 minutes left in the game.
But that was before Alex Henery, a skinny sophomore walk-on from Omaha, convinced coach Bo Pelini to take a chance.
"I just wanted him to look me in the face and tell me he felt he had it in him," Pelini said. "He looked at me and said, 'I made it in warmups. I've been hitting it good."
Pelini gave him a chance and Henery came through, blasting a school-record 57-yard field goal with 1:34 left to give NU a 33-31 lead and send the crowd into delirium.
After the game, Henery still didn't seem to realize he'd become part of Husker lore.
"It was a good kick, I guess," he said.
Was it ever.
No. 7: Going for two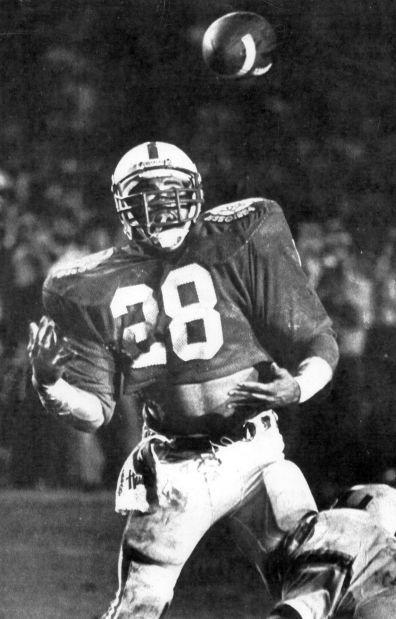 Jan. 2, 1984
It's a funny thing: Nebraska's failed two-point conversion in the 1984 Orange Bowl can be viewed as both one of the greatest and toughest moments in Husker football history. It was the ultimate punch to the stomach for Nebraska fans, with Turner Gill's pass deflecting off Miami's Ken Calhoun just enough to keep Jeff Smith from hauling it in. "If the throw's 4 inches the other way, we're 13-0 and national champs," Gill said. Instead, a 31-30 win for Miami. Another national championship opportunity denied for Tom Osborne's Huskers.
And yet, even in the moments after the game ended, and certainly in the years afterward, the play is worn as a badge by the Husker program and those who follow it. "Tom Osborne made this decision a long time ago. Don't think that this situation caught him by surprise," NBC commentator John Brodie said just seconds before the play. "He's decided to go for two and take a shot at winning, and I commend him for it." A tie would have given Nebraska the title. But going for the win won people's respect. Of course, the decision to go for two never really was viewed as a decision by Osborne. After a dramatic 24-yard touchdown on a fourth-and-8 option play, the NBC cameras immediately found Osborne sending in the play. "Football is a game, and you play games to win," Osborne said when it was over.
Eleven years later, in the same Orange Bowl Stadium, Osborne got that monster win against Miami. Patience has its rewards.
No. 6: Billy Sims fumble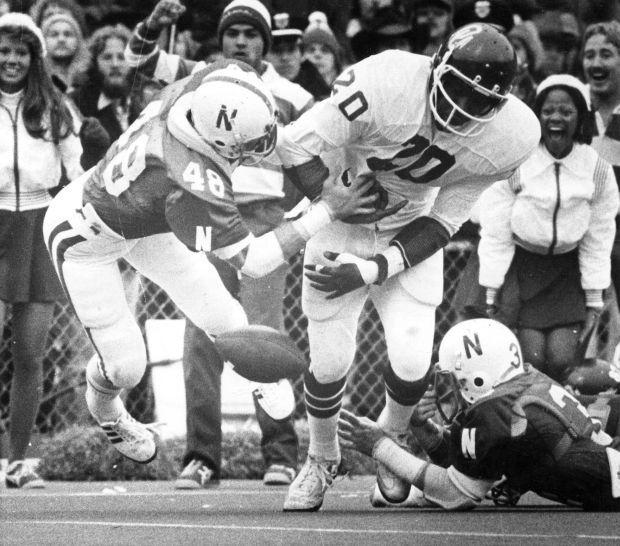 Nov. 11, 1978
Sooner Magic? This was more like Sooner Tragic.
Undefeated and top-ranked Oklahoma was driving for the winning touchdown on a bitterly cold November day at Memorial Stadium when Nebraska safety Jeff Hansen jarred the ball loose from OU running back Billy Sims. Nebraska linebacker Jim Pillen recovered inside the NU 5-yard line, and the Huskers ran out the final 3½ minutes for a 17-14 victory — Tom Osborne's first victory against Oklahoma in six tries.
Sims, who had run for more than 200 yards in each of his previous three games, also lost a fumble deep in Nebraska territory on the Sooners' previous possession. For the game, Oklahoma fumbled nine times, losing six. Billy Todd's 24-yard field goal early in the fourth quarter — the Huskers' first fourth-quarter points against OU since the 1971 Game of the Century — broke a 14-14 tie.
Of course, Oklahoma would get its revenge. Nebraska was upset at home the following week by Missouri, and was pitted in a rematch with co-Big Eight champion Oklahoma in the Orange Bowl. The Sooners won 31-24.
Sims? Yeah, he won the Heisman Trophy.
No. 5: Jerry Tagge completes comeback vs. LSU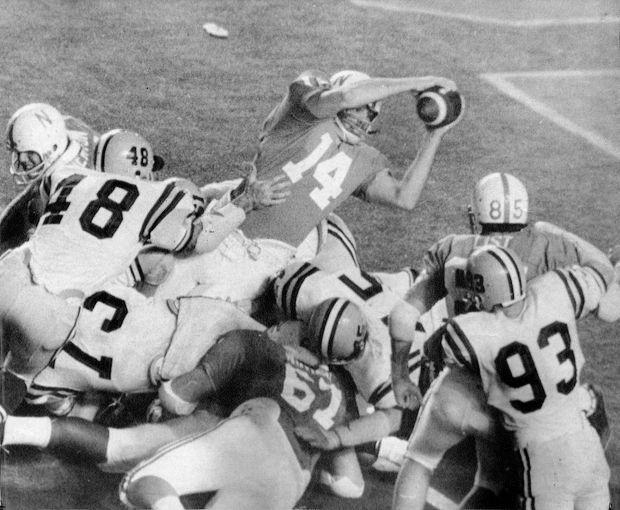 Jan. 1, 1971
Nebraska caught a couple strokes of luck as it spent a suspense-filled Friday waiting to play in the Orange Bowl the night of Jan. 1, 1971.
The Huskers entered their game ranked No. 3 with the knowledge that top-ranked Texas and No. 2 Ohio State had lost earlier in the day.
Only No. 5 LSU stood between Nebraska and its first national championship.
The Tigers proved to be formidable. They had the Huskers on the ropes, leading by two points entering the fourth quarter, before NU quarterback Jerry Tagge and running back Jeff Kinney rallied the offense.
Nebraska used 12 plays to drive to the LSU 2-yard line. From there, the 6-foot-2, 215-pound Tagge used his second sneak of the night over the right guard to give the Huskers a 17-12 lead with 8:50 remaining.
LSU had the ball three more times, but Nebraska's defense held firm.
NU coach Bob Devaney obviously was elated with the day's events.
"This was a hell of a football team, the best we've had," he said.
Turns out, it was the first of several elite Husker teams.
No. 4: Black 41 Flash Reverse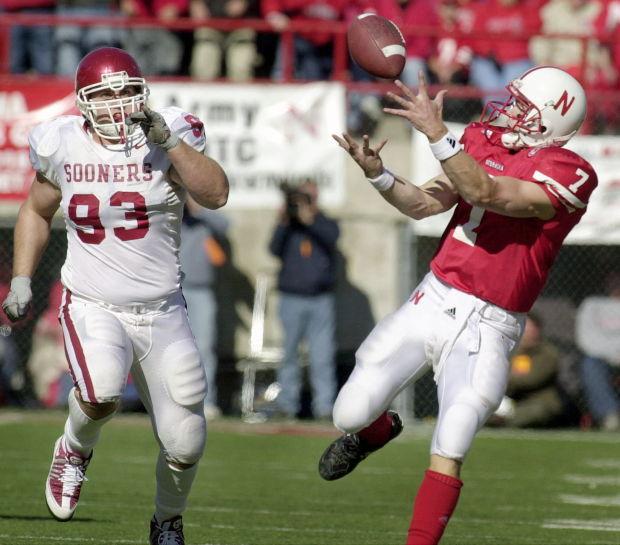 Oct. 27, 2001
Nebraska threw play-by-play announcer Warren Swain for a loop when freshman Mike Stuntz hit his receiver in full stride down the left sideline against No. 2 Oklahoma at Memorial Stadium.
"He's got a man out there!" Swain says during the call of the first-down play from the NU 37-yard line. "It is (a very, very long pause) Eric Crouch!"
Sure enough, the Husker QB, who, after handing off to running back Thunder Collins, slipped out of the backfield past the Sooner secondary and hauled in the Stuntz pass for a 63-yard, game-clinching touchdown.
Nebraska coach Frank Solich served up some razzle-dazzle with third-ranked Nebraska clinging to a 13-10 lead in the fourth quarter.
On the play — called Black 41 Flash Reverse — Collins lined up as a receiver, came in motion, took the handoff from Crouch and lateraled the football to receiver Stuntz heading in the opposite direction. The left-handed Stuntz, who played quarterback in high school, then tossed a perfect strike to a wide-open, streaking Crouch.
Nebraska won 20-10 to remain unbeaten and move to No. 2 in the polls.
No. 3: 'How many tackles can one man break?'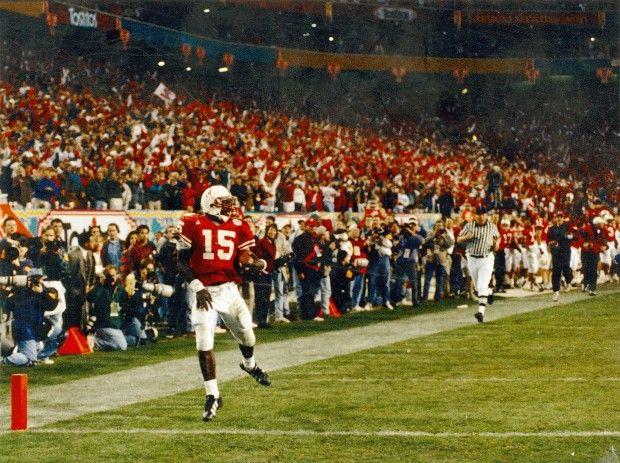 Jan. 2, 1996
Football coaches at all levels drill into ball carriers a basic concept: Keep your legs churning at all times.
Tommie Frazier evidently listened.
In the 1996 Fiesta Bowl, the Nebraska quarterback made what's regarded as one of the best runs in the history of college football, a 75-yard touchdown burst when at least seven Florida defenders got a hand on him.
It didn't matter. His unforgettable run led to a 62-24 throttling of the Gators that gave the Huskers back-to-back national championships.
About 40,000 Nebraska fans were at the game in Tempe, Arizona. Others listened to the Husker radio broadcast, with Kent Pavelka ending his call with "Holy cow! He's going to go! Touchdown, Tommie Frazier!"
Many other fans will remember CBS play-by-play man Jim Nantz wondering aloud, "How many tackles can one man break?"
Frazier's run was a show of strength and sheer will befitting one of the most dominating teams in college football history.
No. 2: The Flea-kicker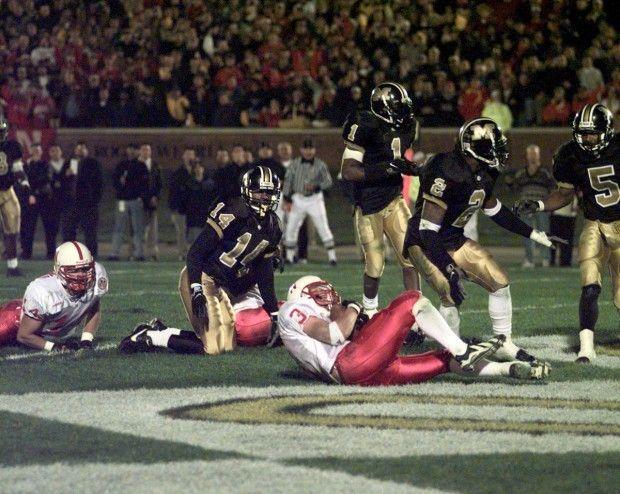 Nov. 8, 1997
Matt Davison tells the story of the first words he heard from Nebraska coach Tom Osborne after Davison's miraculous catch helped Nebraska to an improbable overtime victory at Missouri.
Davison, a true freshman receiver from Tecumseh, was sitting on the team bus, when Osborne later boarded and spotted Davison.
"Nice catch, Matt."
Three deadpanned words that couldn't be more understated.
In what became famously known as The Flea-kicker, Davison dove and barely got his hands underneath a Scott Frost pass that had deflected off the foot of NU receiver Shevin Wiggins in the end zone. Ruled a catch, Davison's reception with no time remaining in the fourth quarter, combined with Kris Brown's PAT kick, forged a 38-38 tie. Nebraska dominated overtime, with Frost scoring on an option keeper, and the Blackshirts sending Missouri and quarterback Corby Jones backward on the Tigers' ensuing possession.
Nebraska won 45-38 to remain unbeaten, yet lost its No. 1 ranking. The Huskers, though, finished undefeated and shared the national championship with Michigan. All because of a nice catch.
No. 1: Man, woman and child ...
Nov. 25, 1971
Fans attending the "Game of the Century" in Norman, Oklahoma, had barely settled into their seats when No. 20 fielded a punt at his 28-yard line.
And what Johnny Rodgers did next, well, it continues to defy description to this day. But we'll try.
After breaking a tackle at the 30, planting his hand on the ground to maintain his balance, he pinballed his way upfield, darting right, then left, then right, then left again, leaving Sooner defenders grasping nothing but air in his wake.
"Holy moly!" Nebraska play-by-play announcer Lyell Bremser exclaimed after Rodgers crossed the goal line. "Man, woman and child did that put 'em in the aisles! Johnny 'The Jet' Rodgers just tore 'em loose from their shoes!"
The punt return gave the top-ranked Huskers an early 7-0 lead against the No. 2 Sooners en route to an exciting 35-31 victory. It also proved to be the biggest of the game's many big plays, with Dan Jenkins of Sports Illustrated writing "In essence, what won it was a pearl of a punt return in the game's first 3½ minutes. Everything else balances out, more or less …"