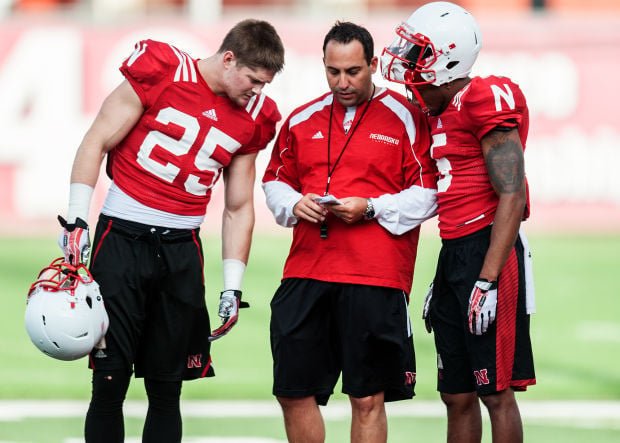 Nate Gerry played on all of Nebraska's special teams units last season as a true freshman. But he's never been a long snapper, a position he expects to fill Saturday when Nebraska opens the season against Florida Atlantic.
"Coach (Ross) Els said I'm supposed to, but you never know," Gerry said after Tuesday's practice. "We'll see."
Gerry and walk-on Josh Faulkenberry have been competing throughout fall camp to replace returning starter Gabe Miller, who's out indefinitely with a back injury.
Despite having never been a long snapper, Gerry said he's pretty comfortable at the position.
"It's something that takes a lot of practice, takes time to get used to. But I feel pretty good right now," he said.
"I feel like there's really nothing much to it. I mean, you just kind of snap the ball back, take a couple of steps back, and block somebody. People see it differently than I do."
* IMMEDIATE IMPACT: A clearer picture is forming about true freshmen who might forgo a redshirt season and be called into action right away.
Defensive coordinator John Papuchis named off defensive backs Kieron Williams, Chris Jones and Josh Kalu, as well as defensive tackle Jerald Foster, as those in the mix to see the field.
"Whether they do or not is still a little bit to be determined, but we're planning on those guys right now," Papuchis said.
Offensive coordinator Tim Beck was not sure of what true freshmen would be called on this year, but said wide receiver Demornay Pierson-El, also a potential return man, "has a chance to be helping us quite a bit."
The Lincoln Southeast grad Foster might be the most interesting case of all, having just moved a week ago from offensive line to defensive tackle after Aaron Curry transferred.
"Like I told him the first day he moved over, we're not going to put him in a position where he's not going to be successful," Papuchis said. "So if he feels like for whatever reason that he's not ready, then we won't play him. But as long as he stays on track, then we'll see what happens."
* DAVIE'S COMEBACK: Despite suffering a serious knee injury against Michigan State just about nine months ago, and missing all of spring ball because of it, junior cornerback Daniel Davie seems poised to make the first start of his career Saturday.
Nothing is locked up, but Davie appears to have a slight edge over Jonathan Rose to get the start against the Owls, though both are expected to play.
"We're going to let them compete and battle it out the rest of this week and see what happens, and let it be determined on the field," Papuchis said. "But (Tuesday), Daniel lined up with the first group."
The Beatrice graduate said this week that would be a special moment to be out there on the first snap after all that has occurred.
"It's really big. I've been thinking about it since the dog days of rehab," he said. "I'm going to have a lot of family here and they're going to be proud of me. I'm just ready to put on a show for everybody."
* EAGER TO RUSH: Junior defensive end Randy Gregory said it's hard to know exactly what scheme Nebraska will show on that first third-and-long opportunity on defense.
"It may be four down linemen, go all out after the quarterback. It may be three guys and have me standing up," Gregory said. "The good thing this year is we have a lot of guys who can do a lot of different things, so it makes it a little bit easier when we're calling plays on that third down."
As you'd expect, Gregory is looking forward to that situation.
"It's something I think about every day since the last play we played last year," he said.
* BITS FROM BECK: Offensive coordinator Tim Beck was pleased with Tuesday's practice, saying he saw a "bounce in their step" and noting the execution was really sharp.
Asked about the right side of the offensive line, where Chongo Kondolo and Mike Moudy are battling for the starting guard position, and either Givens Price or Matt Finnin will start if injured Zach Sterup is unable to play, Beck said all of the aforementioned players would play.
"They've all worked extremely hard. I've got confidence in all those guys," Beck said. "We'll just see as the season goes and how they progress, really, who's going to end up being the guy who wants it or takes the job from the other guy."
* HIGH TEMPO: It was a fall camp of fast work for the Huskers, but the pace was maybe the fastest it's been Tuesday since Nebraska began game prep.
"Today was probably the highest tempo, highest energy day on getting the most work in on Florida Atlantic," Papuchis said. "I thought they came out focused and ready to roll today coming off the day off yesterday. I feel good about where we're at. We still have a lot of cleaning up to do before Saturday, but that's not any different than any other game week."
* BACK AT IT: Defensive tackle Kevin Williams, wide receiver Brandon Reilly, fullback Andy Janovich and tight end Greg Hart were all in pads on Tuesday after being sidelined with injuries.
* QUOTABLE: "I'm going to be out there as many plays as they want me to be out there. That will be my play count." — sophomore defensive tackle Vincent Valentine