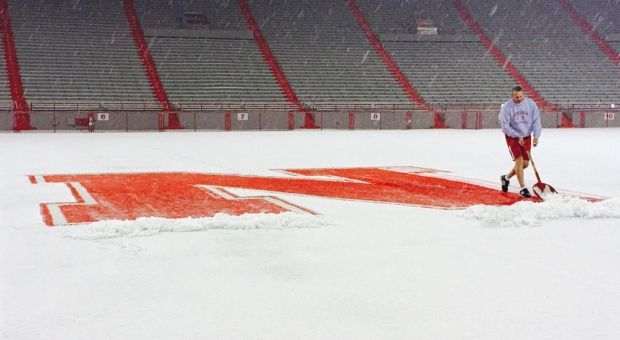 Several inches of snow on a pivotal recruiting weekend doesn't have to be a bad thing. You shovel it off the midfield logo and the red 'N' glistens even more. You get staffers down on the field and have a snowball fight with recruits.
You can still close the deal.
The Huskers did so with four recruits on Sunday, with defensive end Alex Davis, linebacker/safety Antonio Reed, wide receiver Lavan Alston and long snapper Jordan Ober all giving their commitments to Nebraska three days before Signing Day.
Davis is from West Palm Beach, Florida, and had never seen snow before this weekend. "I like it. I could see where it could be annoying at times, but I don't find anything wrong with it."
Reed is from Southaven, Mississippi, and yet his reasons for picking Nebraska involved Mother Nature. "The weather, the environment and the Blackshirts," he texted the Journal Star.
Alston? From Ventura, California. The 5-foot-11, 175-pound receiver had never seen snow either. Wasn't as cold as he actually thought it was going to be. "It was a great experience," he said. "I'm actually enjoying it." He wasn't even mad that the snow had him and his parents still stuck at the Omaha airport as the Super Bowl was about to begin.
Perhaps part of that is because he was sure of the decision he had just made.
"The environment, the people, the coaches the players, the fans, I think everything about this school made me want to commit," Alston said. "It's a great program and they're going to build a legacy there I want to be a part of."
Alston is aware of some of the great wide receivers that have played for Husker coach Mike Riley and offensive coordinator Danny Langsdorf at Oregon State, including Brandon Cooks and Markus Wheaton.
Attractive? Sure. "But I also know that I'm my own player. I want to build my own legacy. At Nebraska they've never had a Biletnikoff Award winner at that school, and they've never had that type of offense they're going to bring in now. It's always been a running school. So it's like a new legacy that I and all the incoming recruits can get a chance to be a part of."
Then came the announced commitment late Sunday night of the long snapper Ober, who comes from Las Vegas. Chris Rubio, who runs the Rubio Long Snapping program that Ober has participated in for two years, rates him as a five-star snapper and No. 11 among all long snappers in the class.
"He moves very well on his feet. He's definitely an athlete," Rubio said. "No. 2, he handles pressure extremely well. He won my Vegas camp last May out of 200 long snappers. Very, very smooth, and is just calm throughout the entire process, which a lot of others aren't."
The four additions bring Nebraska to 20 in the class. Other visitors, like 330-pound offensive lineman Darrin Paulo (considering Nebraska, Oregon, Washington State and Utah) and linebacker Terez Hall (considering Nebraska and Missouri, among others), still weren't sure of exact timetables on when they'd decide.
Davis, who visited with his parents, didn't need that long to choose.
"I had an idea of what Nebraska had to offer, but the final step to me was getting a chance to talk to these coaches," Davis said. "Once I did that, it was very good."
The 6-foot-5, 225-pound Davis has played football for only one year. Basketball had always been his game. He averages more than 12 points a game and almost nine rebounds a game for his high school team, which has a 20-4 record.
"I thought basketball was going to be it, but God had something different for me," he said.
Nebraska secondary coach Charlton Warren had shown interest in him soon after he started playing football. He has the kind of raw talent that makes you wonder how high his ceiling may be.
The Huskers backed off but then came back his way with an offer late in the recruiting process. So did Pitt, coached by defensive-minded Pat Narduzzi, and South Florida.
He'd previously been committed to Georgia Southern. It was quite the one-year ascension.
"It's a blessing," Davis said. "When I think about it, really gives me chills sometimes. But I really just got to step back and thank God for what happened and keep moving forward, just keep getting better, you know."
He was definitely impressive for a football rookie, with some highlights that reveal the type of athleticism that make it understandable why coaches at Nebraska and Pitt were intrigued.
"How would I describe myself? Quick," Davis said. "That's the one word I can say. Quick. I'm very aggressive. I don't give up on plays or anything like that. I'm coming on."
With his commitment, Davis gives the Huskers two defensive end recruits in this class, joining Omaha Central's DaiShon Neal.
Reed is an interesting recruiting case in his own right. Measuring 6-2 and 210 pounds, Reed told BigRedReport.com he could see himself projecting as "a hybrid nickel type of player."
He had been committed to Memphis and his visit to Lincoln was under-the-radar, with news not going public that he was in town until Friday night.
By Saturday night, Reed was calling Memphis coaches to tell them he plans on going to Nebraska.
In Alston's situation, he was previously committed to Oregon State, and becomes the third former Beaver recruit to join this Husker class. (Matt Snyder and Tyrin Ferguson are the others.) Alston had plenty of other interested parties, including offers from Pac-12 schools Arizona, Arizona State, Cal, Washington and Utah. His connection with Riley loomed large.
"I love all those coaches, man. They're very genuine, they're very real," Alston said. "They all have knowledge for years. I can learn a lot from them."
Alston described new Husker wide receivers coach Keith Williams as "exciting and explosive and talkative" with "a lot of energy and passion."
The recruit's commitment gives Nebraska two wide receivers, joining Stanley Morgan from New Orleans.
Whenever that plane finally lifted off to take him home, it would carry at least one very happy passenger.
"It felt like the place to be in my heart," Alston said. "They say, 'When you know where you want to be, you know where you want to be.' That's just how I felt when I came out here."