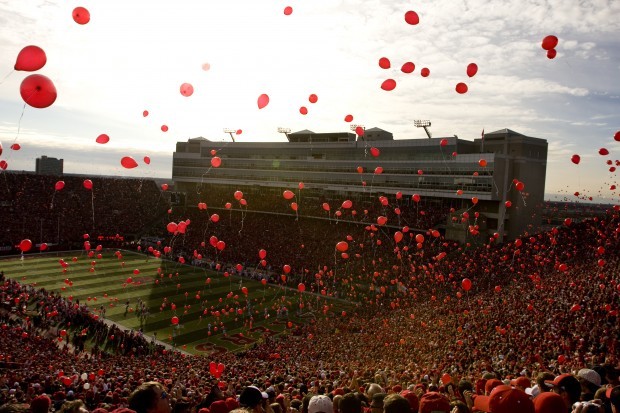 The skies will be empty after the first Husker scores later this year.
Because of a nationwide helium shortage, the 70-year tradition of releasing red balloons after the first touchdown is being put on an indefinite hiatus, according to the Nebraska athletic department.
There will be one last game for the balloons -- Nebraska's season-opener against Southern Mississippi on Sept. 1 -- but instead of the usual 4,000 to 5,000 balloons, there will be half that amount.
"That way, Big Red fans can take pictures with both their cameras and their minds while media and staff photographers commemorate the occasion with photos that just might define a historical footnote," wrote Huskers.com's Randy York.
The tradition has been around since the 1940s when a student-based women's group started selling the red helium-filled balloons on O Street, according to longtime sports information director Don Bryant.
"I remember them selling those balloons downtown hours before kickoff and then selling whatever they had left inside the stadium, along with food and popcorn," Bryant said.
The balloons, which were switched to a biodegradable material in the early 2000s to help the environment, have been found as far away as Illinois and Michigan. 
Matheson-Linweld, the largest supplier of helium in the Lincoln area and UNL's provider, doesn't have a supply for balloons.
Some local grocery stores and party supply companies have stopped filling balloons.
Helium, which is extracted from natural gas wells, has many more important applications than filling party balloons. 
Hospitals use liquid helium to cool MRI magnets, chemistry labs need it for experiments, the construction industry uses it in welding and it is used to find leaks in air conditioning coils and pipelines.
"We want to be good stewards," said Ethan Rowley, NU director of athletic marketing. "We don't want to take away helium from hospitals and industries that need it more than we do right now."
A spokesperson for Linweld said they stopped supplying tanks for balloons earlier this year because the demand is outpacing the supply.
"There are higher priorities than floating a balloon," the spokesperson said.
They get trucks every two weeks for medical or construction use, but often run out in the interim.
The shortage can be traced to overseas plants that are undergoing maintenance and a drop in natural-gas prices, which has affected helium production, according to U.S. Bureau of Land Management helium officials.
When natural gas prices are low, the process for making helium is not as profitable.
It may take months or years for the Husker tradition to return.
The athletic department does have ideas to preserve the tradition, however.
They have about eight tanks left that will inflate 2,000 to 2,500 balloons for the first game. 
The average tall tank, like the ones you see at a grocery store, will fill 300 to 350 balloons. It takes about 15 to 20 tanks per game.
After the season opener, NU's plan is to hold back one tank of helium for the remaining six games and then come up with a way to symbolize the balloon tradition for the rest of the season.
One idea is to feature a "Touchdown Balloon Kid of the Game."
Each honoree would release a small batch of about a dozen balloons from either the field or a corner of the stadium.
"That would allow us to keep a small measure of the tradition through the hiatus," Rowley said. "Whenever the helium supply is restored, we can explore the opportunity to restart our tradition, which seems to be a fan favorite and one of our most visible."
Rowley said it will be weird to not have the balloons after the first game, but they've heard a lot of ideas from fans, and he hopes a new tradition will grow out of fan ideas. 
"Those are the best traditions anyway," he said.