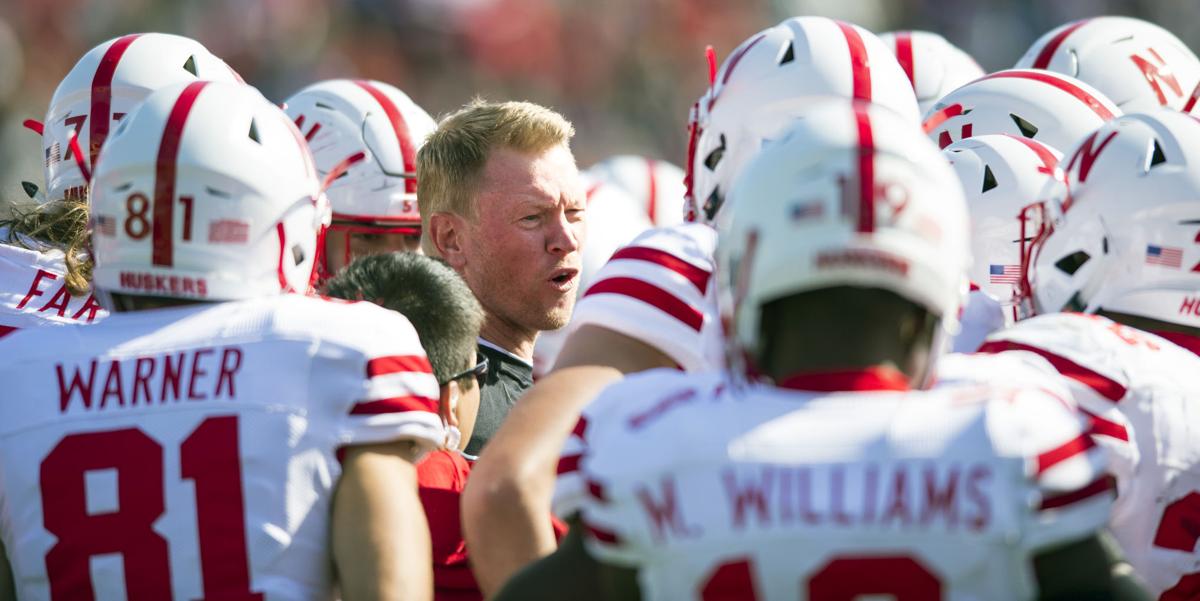 One of Nebraska's prized additions from the 2020 football recruiting class is poised to make his Husker debut Saturday against Northwestern.
Junior college transfer Omar Manning is "ready to play," Nebraska coach Scott Frost told reporters Thursday morning as his team wrapped up the heavy lifting of its game preparations.
Manning missed practice time both for injury reasons and personal reasons in the lead-up to the season and did not make the trip to Ohio State, but Frost gave the strongest indication yet that his debut could be at hand.
Manning, 6-foot-4, 225-pound Texas native, is a different type of receiver from a physical standpoint. He may well have played had the Huskers hosted Wisconsin last weekend.
"The key is getting him healthy and confident," receivers coach and offensive coordinator Matt Lubick said Oct. 27. "He is getting healthy. Confidence is knowing your assignment, repping it over and over, and that takes practice, and he's doing a good job of it."
Frost also said that freshman receivers Alante Brown and Marcus Fleming continue to make progress as well.
"Those guys are close," Frost said. "I think the younger receivers are doing a good job coming along and I think Coach Lubick is doing a good job bringing them along. For a bunch of different reasons, I think they all got set back a little bit, whether it was the virus or an injury or an absence, but they're getting close. Will Nixon is the one that was hurt in the spring and we'd love to have him, but he's out for the year. I think the rest of the guys are getting better every day and the old receivers are doing a good job of being good teammates and helping them and teaching them.
"I think we'll have a role for some of those guys this week or soon after."
Reimer ready: That wasn't the only good news on the personnel front for Nebraska on Thursday.
Frost said sophomore inside linebacker Luke Reimer is also set to make his season debut.
Scott Frost chats with reporters Thursday before Nebraska football travels to take on Northwestern on Saturday.
Reimer, the former Lincoln North Star standout and walk-on, had "a little bit of an ankle" injury that caused him to miss the Huskers' season opener, but he's back to work and should fit into a rotation with seniors Collin Miller and Will Honas against Northwestern.
"Luke Reimer is a guy I've been impressed with since he stepped onto campus," Frost said. "That's one spot where we don't have a ton of depth, so we have to make sure we stay healthy. It'll be nice to be able to rotate those guys and we have several good players that can go in."
The only other expected contributor who didn't play against OSU was defensive lineman Jordon Riley, who had a minor injury but was close enough to playing that he made the trip with the team. So, the Huskers could be closer to a healthy team defensively against the Wildcats.
Stoll avoids serious injury: Senior tight end Jack Stoll took a nasty hit to the left knee against Ohio State on Oct. 24, but Frost indicated Thursday that the senior from Colorado avoided a serious injury.
Asked if he was hopeful Stoll would return this season, Frost said "absolutely."
Whether that means he'll be back against Northwestern or if he'll miss a couple of weeks remains to be seen, but that certainly counts as good news for Stoll and the Huskers.
Travel roster considerations: Nebraska plays its second straight road game of the season, which means it will again be limited to bringing 74 players along to Evanston. Two weeks ago, the Huskers used 61 out of 73 in uniform — Riley was not suited up — and only had a few here and there that didn't see the field at some point. Part of that was due to the lopsided nature of the game in the second half, but the Huskers will have Manning and Reimer on the trip this time, too.
"It's tough every week," Frost said. "There's a lot of guys we'd love to take that we can't, whether it's for experience or depth. We have those meetings twice a week, Tuesday and Thursday, and we'll do the best we can."
10 Huskers most likely to have fans buzzing