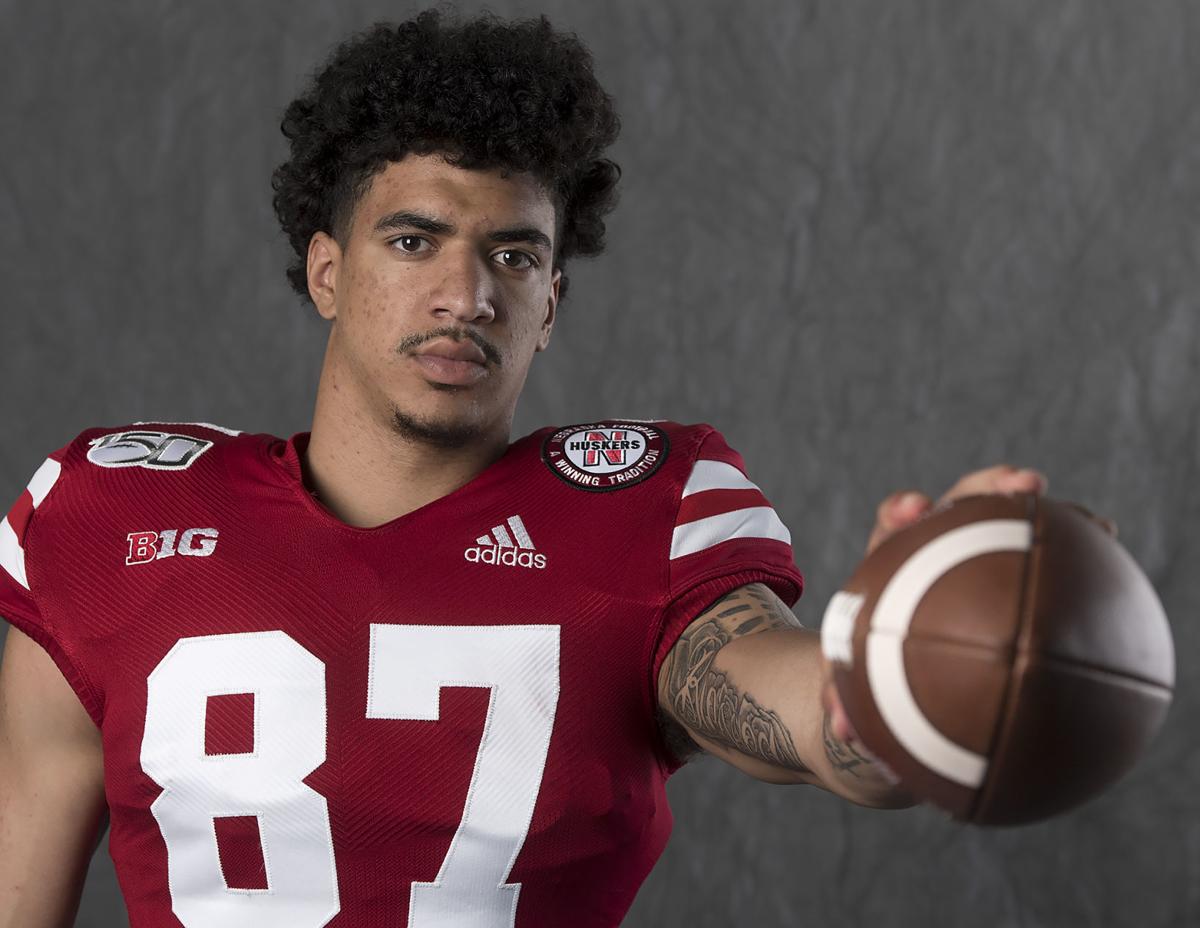 A year ago at this time, Chris Hickman was trying to get what he could out of his first Nebraska spring ball as a mid-year enrollee dealing with a shoulder injury.
Now, he's considered by many to be among the promising up-and-coming offensive players for the Huskers.
Consider the way Husker coaches' thoughts on Hickman — a 6-foot-6, 215-pounder who will likely continue to see time at wide receiver and tight end and perhaps as an H-back type, too — evolved between the beginning of spring and the end of fall last year.
Former Nebraska quarterback Joe Ganz recently took over as receivers coach at Northern Iowa.
In March 2019, tight ends coach Sean Beckton said, "Mentally, he's doing a great job of understanding what's going on, but physically right now, I don't feel good about him right now. He needs to put on some weight."
By August, Hickman was turning some heads.
"He's not scared to take on a 300-pound kid, and when a kid's doing that right there, you know they're going to end up being a good football player," said Beckton less than two weeks before NU's season opener. "He's worked extremely hard. Now, he knows he's got a long way to go to get his body where it needs to be, but he makes up for it with his tenacity at the point of attack and his fearlessness when he gets there. That's one of the things (head coach Scott) Frost and the rest of the assistants have seen."
Then by November, Nebraska was finding ways to get Hickman, an Omaha Burke graduate, on the field while retaining his redshirt, including playing time on offense against Purdue, Maryland and Iowa.
"We didn't play him as many snaps as we wanted to because of circumstances in the game and because of him being sick," Frost said after the first of those three games. "But when he was out there he did a great job. He has consistently been one of our best, if not our best perimeter blocker in practice so he was just able to show that in the game."
That kind of progress in Year 1 will make a lot of people excited about the future. Of course, Hickman's stat sheet production was modest to say the least — one catch for no gain — but he's one of those players that caught the eye when he was on the field.
And that, Burke coach Paul Limongi said recently, came as little surprise to him.
"With Chris it really didn't surprise me because he loves to compete. He's a competitor, he wants to win in everything he does and he's a confident young man," Limongi said. "He just wasn't going to be denied."
In fact, the fast track is a familiar place for Hickman.
"He did the same thing as a freshman in high school," Limongi said. "He was a kid that we saw great potential in, but he just outworked everybody and outcompeted everybody and that's how he got on the field as a freshman. I think he's doing that same thing down there.
"He's a tough kid; he ain't afraid to stick his nose in there and he won't back down from anybody. He loves playing football and he loves competing."
Dabo Swinney says "let's get to work." Although it's impractical for many right now, that sort of discussion should be had every single day.
Limongi caught Nebraska's second spring practice, which turned out to be its last before it was shut down due to concerns about the coronavirus pandemic, and said he saw more of the same from his former pupil.
"We knew he was going to be a factor whether it be tight end, wide receiver, H-back. He's a football player and we knew he would find his way to the field just because of how hard he goes," Limongi said. "He practices and trains very, very diligently. People might not know that about him, but he's an extremely hard worker.
"I was talking to him and he said, 'I can't wait to put the pads on.' He's determined to be a significant factor this year. Determined."
Be the first to know
Get local news delivered to your inbox!