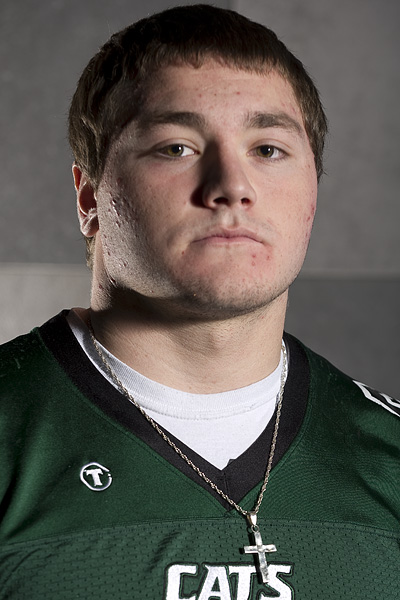 Harrison Phillips is a religious young man.
The Millard West defensive lineman leaned on his religion even harder than usual in recent days as he wrestled with his college decision.
Would it be Kansas State? Stanford? Nebraska?
Those were the finalists, he said.
"Every single night, I went to bed and prayed a bunch," Phillips said. "I'm a real religious, faith-based Christian. I just kept reading the Bible a little more than usual and praying a lot harder than normal.
"And every time I woke up in the morning, the first thing I would think of was Stanford."
There you have it. Phillips, a 6-foot-3, 245-pound senior, announced Monday that he will be headed to the campus nicknamed "The Farm," a place where the Cardinal football team is 35-5 during the past three seasons and just won its first Rose Bowl in 41 years.
Many Nebraska fans were hoping Phillips, also a standout wrestler, would join the Huskers' scholarship class of 2014. As it stands, NU has three in-state players verbally committed to the class -- D.J. Foster and Luke Gifford of Lincoln Southeast and Mick Stoltenberg of Gretna.
Nebraska wasn't too far from having a fourth. Phillips informed the Husker staff of his decision Sunday.
"They just said, 'We're sorry' and 'Why did you choose Stanford?'" Phillips said. "Nebraska's a great program. But the hardest call I had to make was to Kansas State. It was the first big program to offer me a scholarship."
Phillips informed Kansas State coach Bill Snyder of his decision in a 60-minute phone call.
"He was the head coach I had the strongest relationship with," Phillips said. "I've only talked to Bo Pelini twice in my life, for a decent amount of time. I've talked to Bill Snyder like 20 times. We have a strong relationship. We talked about faith and God's plan."
Phillips wasn't critical of the way Nebraska recruited him. He did say, however, that if the Huskers had offered him a scholarship earlier in the process, as was the case with Foster (April 2012) and Gifford (March 2013), he probably wouldn't have gone to summer camps at Stanford and Kansas State.
"I wouldn't have had to spend all that money on my own to go all the way out to Stanford," he said.
He participated in the Stanford camp June 19-20, and immediately received an offer.
Earlier in June, at Nebraska's camp, Phillips showed his versatility, as he worked out as a defensive end, defensive tackle, center, guard and even as a tight end. NU wasn't sure how it wanted to use Phillips. But it offered Phillips soon after Stanford did.
UCLA, Duke and Northern Illinois also were prominent in the battle for Phillips, who last season played defensive end and offensive tackle for Millard West. He made 81 solo tackles and had 35 tackles for loss, including 11 sacks.
He capped a perfect wrestling season (31-0) as the Class A heavyweight (285 pounds) champion and finished fifth in the discus at the state meet with a toss of 151 feet, 10 inches.
Former Husker defensive lineman Steve Warren, who has trained Phillips this summer as part of the Warren Academy, said he understood Phillips' choice of Stanford.
"This is a life choice," Warren said, citing the Cardinal's recent on-field success and sterling academic reputation.
Phillips said Stanford offered several key elements, ranging from his relationship with the coaches to the team's stout defense.
"And then the weight a degree from Stanford holds, and the connections you can build, with networking and career opportunities … If you were to take the definition of success, Stanford is the place," Phillips said.