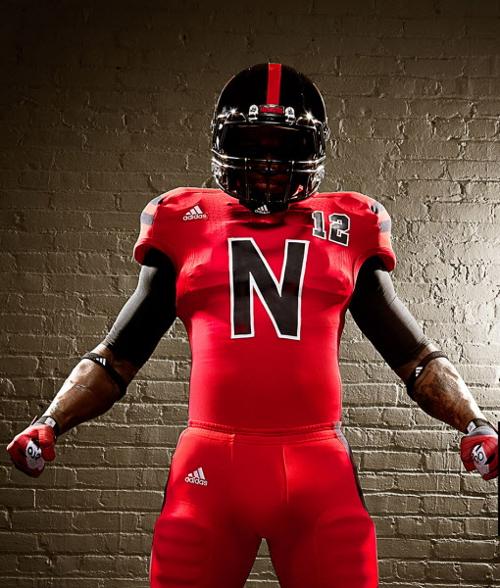 CHICAGO — The secret's out. Black helmets are in.
Granted, we weren't supposed to know all this just yet.
The Nebraska football program had planned on unveiling its alternate uniform design only after showing it first to players next week.
But the fashion show came early when a video leaked from an adidas account on Youtube on Friday morning showed the uniforms and the Sept. 29 date they would be worn — Nebraska's Big Ten opener against Wisconsin.
Some Husker fans wondered at first if the video was a fake.
But Nebraska coach Bo Pelini confirmed during a roundtable discussion at Big Ten Media Days in Chicago that it was the real deal.
"You guys have seen them now, right?" Pelini said to a group of local reporters.
Pelini's question was met with a bunch of shaking heads.
"It's on a video today," Pelini said. "Yeah, that's it."
"I had no clue what to expect," senior tight end Kyler Reed said. "I didn't know how extravagant it'd be, but it's a little more than I thought. I'll say that. It's a little more out there than I expected from what I originally heard."
The glossy helmet is black but otherwise styled much the same as people are accustomed to, with a red "N" on the sides and a red stripe down the middle.
The adidas "Unrivaled" TechFit jersey, though, is a big departure from the norm, featuring a huge black "N" across the middle with the number in smaller black print on the upper left chest. There are two black stripes on each of the shoulder pads.
The pants also are red — making it the first time the Huskers will don all red since the 20-17 loss to Oklahoma in 1986. There still are two stripes on the side of the pants, but they're black instead of white.
The shoes and socks are both black, though the socks also have red markings on them.
Wisconsin, which also is sponsored by adidas, will wear its own alternate jerseys to the showdown in Lincoln. In addition to designing the new duds, adidas has  given the game a theme name: "The Quick and the Red."
Pelini seemed mostly indifferent about the uniform, though he did say he felt it could potentially impress some recruits, who tend to like the edgy alternate uniforms schools are wearing more and more these days.
"It's just like everything else: There will be people who love it and people who hate it, especially here," Pelini said. "You know, (some people will say), 'Don't mess with the uniforms.' That's why I wanted no part of the decision. I didn't want to touch that."
Count the Husker players in Chicago — Reed, Rex Burkhead and Will Compton — in the "love it" crowd.
"I think they're cool," Reed said soon after seeing it Friday morning. "I think students will like them. I don't know what older fans will think. I'm thinking the team is really going to like them. I'm sure half the team back home found out that they leaked and saw them. Probably half the state already knows."
Indeed, much of the Husker talk to be found floating around in cyberspace Friday was not about what was being said at Media Days, but rather fashion critiques.
As for the critique from Nebraska's middle linebacker?
"I think it's awesome," Compton said. "The red. The big black lettering. The numbering. I think the black helmet's awesome. I can't wait to put that on. I just think it's going to be a cool experience. I think our fans are going to love it. It's going to make the environment that much more amped up for everybody else. I think our players are going to have fun with it. I think the high school players that are looking at Nebraska are going to like it. … I like the black helmets. I like that the most probably."