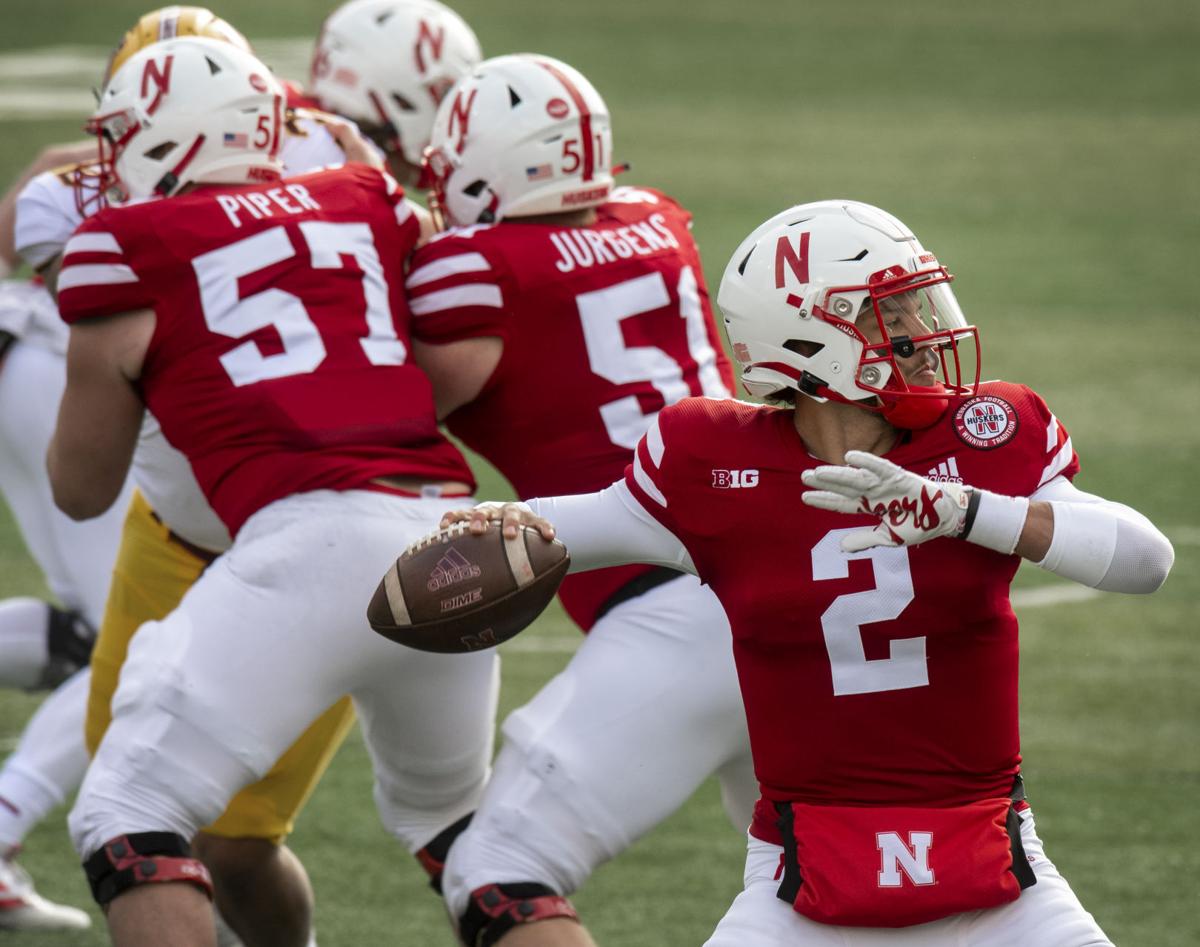 After the latest somber postgame locker room, it would be easy enough for the Nebraska football team to cry uncle, throw in the towel, pack up shop. Whatever turn of phrase suits you.
Even in the aftermath of an ugly 24-17 loss to Minnesota, however, that didn't sound like the Huskers' plan. Yes, the bitterness of the missed opportunity — and what a golden chance head coach Scott Frost and his team had in front of it — was only beginning to set in. But junior quarterback and captain Adrian Martinez said after the game that he thought his guys would be ready to go again for the final week of the regular season.
"I would say so. I would definitely say so," Martinez said Saturday. "This team's been hungry since the offseason, and I know there's plenty of guys who want to go play. Obviously we're expecting to play a game next week."
That will likely be the last game of the season for Nebraska, and that's part of the disappointment coming out of Saturday.
Had Nebraska found a way to beat Minnesota, which was short 33 players due to its recent COVID-19 issues and optouts, it would likely be looking at a bowl berth after this weekend. Had NU prevailed, the long road trip to New Jersey this week would be to try to level Nebraska's season mark at 4-4, perhaps set up a chance, even, at a winning season.
Instead, the Huskers lost by one score for the 12th time in the past three seasons.
Earlier this fall, NU athletic director Bill Moos was asked about luck and he replied, "You make your own luck."
Nebraska hasn't made much of its own this fall, letting opportunities against Northwestern, against Illinois, against Iowa and against Minnesota slip through its fingers. That's not bad luck, that's something deeper, to time and again in a tossup division come out on the wrong end of the equation.
Where do the answers come from? That will be the focus of the offseason for Frost and company, but they seem resolved to stack up as much data as possible before shifting fully into analysis mode.
"The kids will stay in it. This team's together. They care about each other," Frost said Saturday. "I'm not worried about that, I'm just worried about getting wins at this point. I love how our mentality has changed and how the kids are caring about each other. I love the feel around the building. It's the best it's been.
"But you got to stack those things on top of each other and (stack) practices on top of each other. Even when things are going well, sometimes the breaks don't go your way and you don't play well. The more work we can get, the more practice we can get, the more confidence they can get, the more consistent we'll get. I really don't know what else to say about it other than that."
So, the Huskers will go back to work preparing again. They'll do it on a short week, then head to the East Coast on Thursday.
Barring a win combined with some other series of events that leads to a bowl berth, the season will likely end on a Friday evening in New Jersey, which seems like a conclusion befitting what's already been a bizarre year. NU's players returned to campus in April, mostly, started workouts on the first possible day in June and have been at it virtually every day since.
"As long as it's still football out there, the guys down in that locker room, the coaches upstairs, we are dialing in and we are going to get after it," senior cornerback Dicaprio Bootle said Saturday, before knowing the setup for "Champions Week." "No matter who the opponent is, we're going to attack it the same way each weekend and just work on getting better. Just being better versions of ourselves from the week before, and no matter who we have to face.
"Everybody down there just is ready for the next challenge ahead."