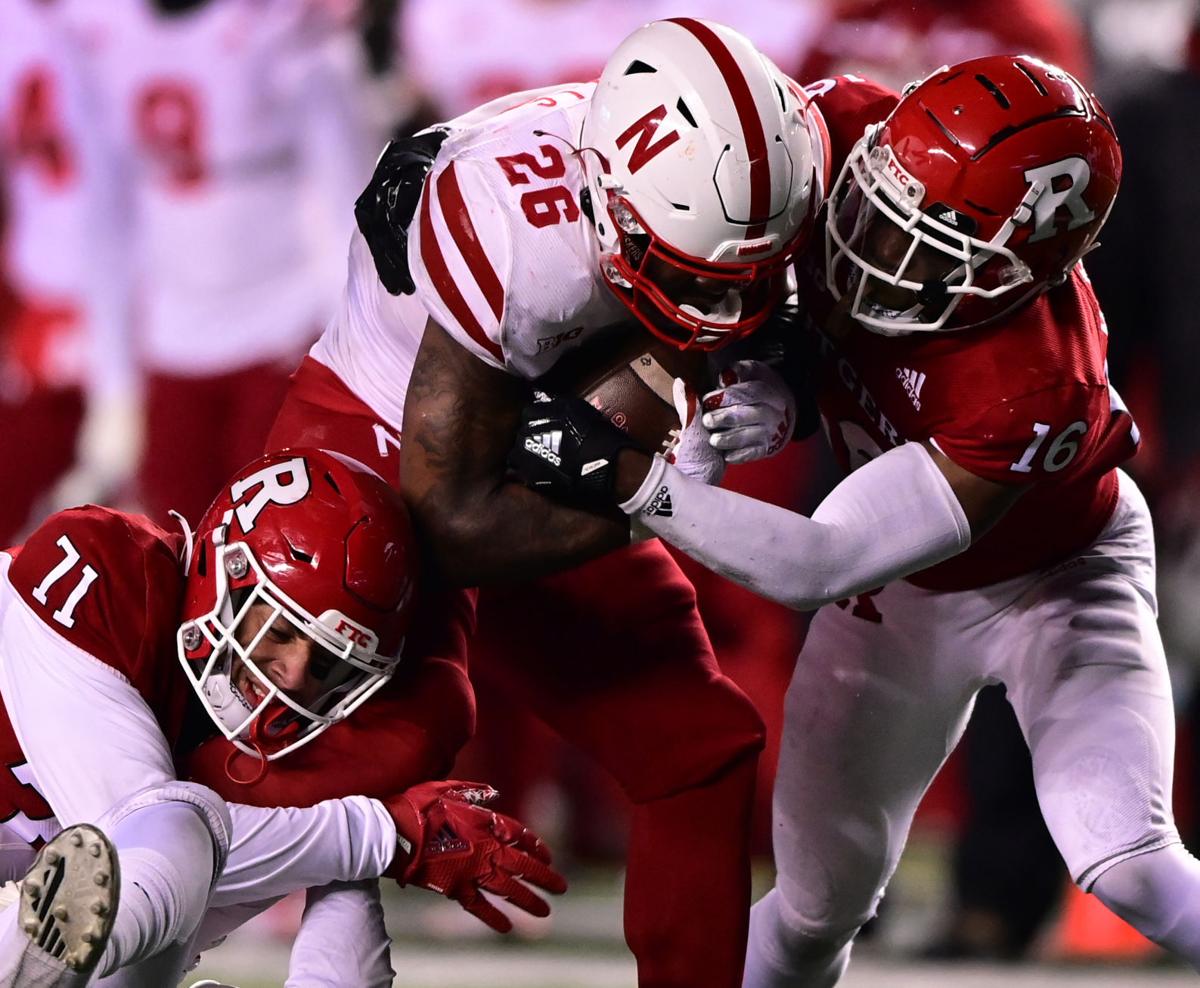 Nebraska senior running back Dedrick Mills sought out Scott Frost right before the regular-season finale at Rutgers. 
There was a sense of urgency in Mills' voice.
"I told Coach Frost, 'I ain't going to lie to you, this game I just need the ball,'" Mills said Tuesday. "He was already talking about the cold and how there wasn't going to be much of a passing game. I knew it was going to be more of a running-type game.
"He even asked me what my favorite play was." 
Mills prefers the inside zone game. He wanted to test the middle of Rutgers' defense. The plan worked extremely well. He rushed 25 times for 191 yards in his team's 28-21 win Dec. 18 in Piscataway, New Jersey. 
It ended up being Mills' final game as a Husker. The 24-year-old Georgia native announced Tuesday that he is turning his sights to professional football rather than returning to Nebraska and using the extra year of eligibility granted by the NCAA. 
The 5-foot-11, 220-pound Mills finished the season with 84 carries for 396 yards (4.7 yards per carry) and three touchdowns. He also had 12 receptions for 85 yards. 
He missed nearly three games in the middle of the season with a knee injury, and said Tuesday he never fully recovered.
He wasn't even 100% at Rutgers. 
However, "The last few games, I got my knee taped up a certain way so it wouldn't bother me as much," he said. "That got my knee right to where I could play in the game well enough that I could actually make it through the whole game." 
Sometimes you have to play through pain, he said. 
"When you're trying to get to where I'm trying to be at, then you have to show that you're strong mentally and physically and you can play through injury and all different types of things," he said. 
Overall in two seasons as a Husker, Mills rushed for 1,141 yards (5.0 per carry) and 13 touchdowns, and added 207 receiving yards on 28 catches.
He said after the win against the Scarlet Knights that he thought he would have a decision on whether to return for 2021 within a couple of days or a week, but he said Tuesday that he actually made his final decision late last week. 
"It was sort of hard, but it sort of wasn't," he said. "I have a family situation and I just know I was getting old and it was my time. There were some younger guys under me that I thought were doing pretty well and probably just need a little more help. 
"They know they can call if they ever need me."
He said he enjoyed immensely his time at Nebraska. He remains in Lincoln, where he works out with Husker teammates. 
"It was the most family-oriented type of program, where they make you feel like you're home," he said. "There are still a lot of people there who love me." 
He paused and thought back to the Rutgers game. 
"I knew I needed to go out with a bang, as the other seniors did," he said. 
He was supportive of Nebraska's decision to skip the bowl season, "but at the end of the day I would've rather played in that game just to get another game in," he said. "Unfortunately everybody wasn't on the same page, we all didn't go. 
"I definitely wouldn't have minded playing one more game." 
Mills was aware of the news that USC running back Markese Stepp (6-foot, 235) plans to join Nebraska as a transfer. In 2020, freshman Marvin Scott and redshirt freshmen Rahmir Johnson and Ronald Thompkins combined for 37 carries and 116 yards plus one touchdown. Freshman Sevion Morrison did not play in a game after battling injuries and missing some time due to COVID-19 protocols.
Briefly
Walk-on Nebraska tight end Jared Bubak is listed in the NCAA's transfer portal as of Tuesday evening, the Journal Star confirmed. 
Bubak spent the first four years of his career at Arizona State before joining the Huskers for the 2020 season as a walk-on graduate transfer. He did not appear in a game this fall, but he was honored along with 16 others on Senior Day and was in uniform for NU's Dec. 5 loss to Minnesota. He also was on the travel roster when Nebraska traveled to Northwestern in early November. 
Bubak is a Lincoln Christian graduate. He appeared in 17 career games at ASU before transferring to NU. Now he has one season left to play at a new school. 
Decision made: Tracking the next step for Husker football upperclassmen
With the NCAA offering seniors an extra year of eligibility, Nebraska football players have choices in front of them. Here's a comprehensive look.