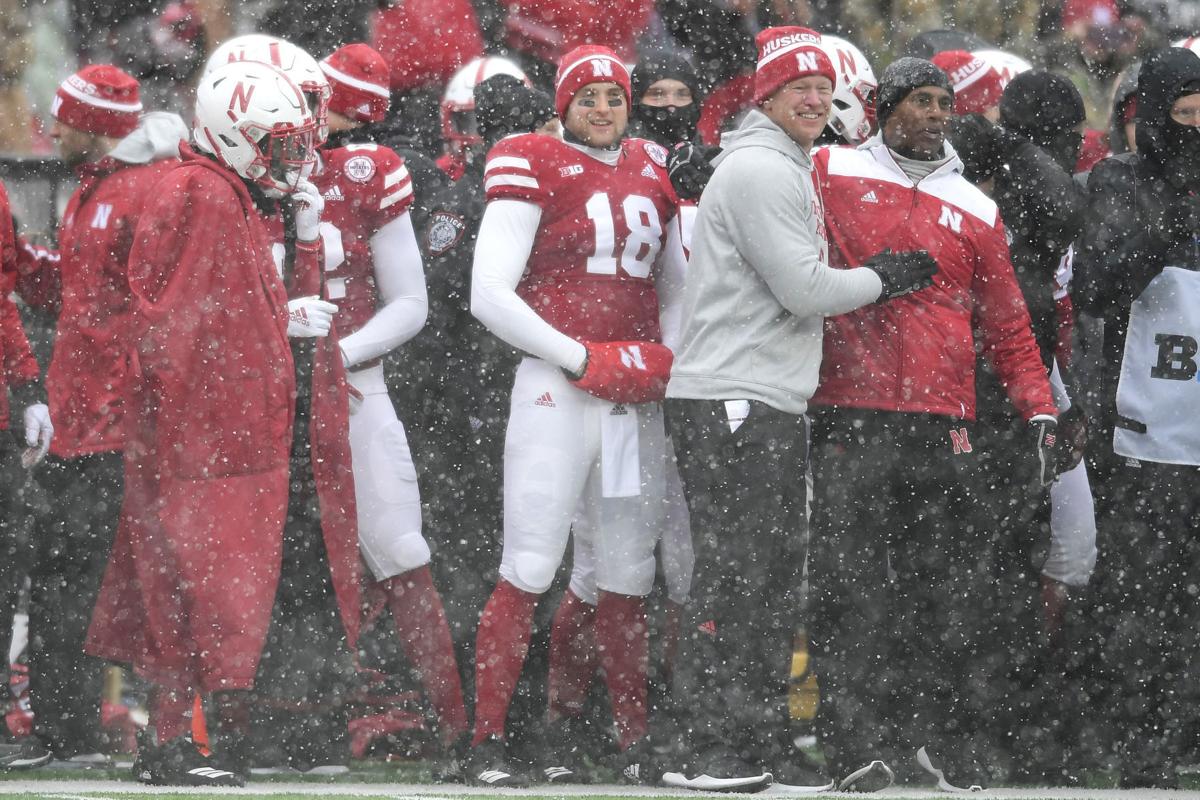 Three weeks ago, a second-semester football season was hardly on the Big Ten's radar screen.
Two weeks ago, it was a worst-case scenario.
Today, it's the only possibility for teams getting on the field competitively in the next year.
There are also, of course, myriad questions about whether a second-semester football calendar is feasible and what it looks like in terms of the ongoing coronavirus pandemic, eligibility issues, workload for the players, implications for players with NFL aspirations this year, affect on the 2021 football season and more.
Nebraska coach Scott Frost laid out his concerns about a spring season Monday, but keep in mind that was before the Big Ten formally decided to postpone.
"I'm not sure the factors that make people want to shut down football right now won't still exist in the spring, so there's no guarantee we're going to have football even if we try to push it to spring," Frost said then. "Also, this is a contact sport, this is a physical sport, I don't know how it would work trying to sandwich two full college football seasons into one calendar year, but I know there's a lot of challenges that would get unpacked if you tried to pull that off, as well."
Shortly after the Big Ten's Tuesday postponement, former Ohio State coach Urban Meyer said there was "no chance" a spring season could work because of the toll it would take on athletes.
"It would just be hard on the bodies, I think," said junior NU quarterback Adrian Martinez. "I don't necessarily know if that's what's best for us as athletes. Now I can't speak for everyone; that's just my personal opinion. But it would be difficult."
It's unclear specifically what led the Big Ten's presidents and commissioner Kevin Warren to decide to postpone. Warren repeatedly mentioned "uncertainty" related to the pandemic, but offered little in the way of details.
The Pac-12, by contrast, issued a 12-page document outlining the medical committee's concerns and recommendations. Central among the concerns: Infection rates in the campus areas around the league, developing information about potential COVID-19 complications (including potential heart issues) and a lack of available, reliable rapid point-of-care testing that could potentially be used before games or even daily. Now, progress on those issues can be tracked in the coming months. That is not the case — at least at this point — in the Big Ten, making it difficult to get a handle on just how realistic a second-semester plan might be to getting the green light at all.
On top of that, would early enrollees from the 2021 class be allowed to participate? They'd be on campus and enrolled college students. Some of them may not have played a high school season this fall, but some may have played well into November or even December. And what of scholarship limits? It will cost schools more to have an expanded roster — a very rough back-of-the-envelope 20% increase to NU's scholarship, equipment and food cost from fiscal 2019 falls somewhere in the $1.5 million range for football alone without considering Title IX factors — and space considerations at NU were already an issue before the pandemic began and physical distancing became a key mitigation technique. Moos also mentioned staffing levels in his administration when considering that it's possible volleyball, basketball, baseball and more would all get played in overlapping seasons.
The doubts and complications and problems are around every corner.
And yet, there's also been a movement in the past few days looking at how it might work. Ohio State coach Ryan Day verbalized a plan to play eight or nine games beginning right after Jan. 1 and getting done by March. Purdue coach Jeff Brohm circulated a nine-page document laying out a 6-8-game season beginning in late January. The Big Ten recently formed a subcommittee to begin formulating plans.
The NCAA recommended this week that any fall sport player who opts out of competition or plays 50% or less of a full season (so six games in college football) can retain his or her eligibility for 2021.
An eight-game season, then, in Day's eyes, cleans up a couple of eligibility questions. Most players get a chance to play more than six games (or use a redshirt if they have one available) and then move on to NFL training or whatever is next. Underclassman eligibility mostly stays on track, too, heading into a "normal" 2021 season.
That length, though, is also why he thinks the Big Ten needs to start as soon as possible.
"I think if you play a full schedule and you play it starting in the spring, like when you're getting into March, then I think now you're asking for trouble," Day told reporters this week. "But I think if you play an eight or maybe nine-game season starting (in) January, then I think that's real.
"If we weren't for whatever reason to play in January and February, that would be a whole other story, but that's why I think we have to play. That's why we have to work really hard and get that done and keep our focus on that."
Still, a winter/early spring season would affect the 2021 preseason and perhaps even the full schedule.
"The first thing you've got to answer is, 'What do you want the fall (of 2021) to look like?'" Wisconsin coach Paul Chryst said to reporters. "I think there's some things you could do in the spring. You could do some games against other opponents, almost like preseason games in the NFL, play against teams you've never played against before and have great matchups."
He suggested the 2021 season might end up having to be shortened, too. Brohm's plan accounts for just that. The Purdue coach outlined an eight-game season running from Feb. 27 through April 17 with a six-week preseason similar to the one halted this week, which would begin Jan. 16.
That would push a 10-game 2021 season back to early October with limited work between April and September outside of a six-week weight training summer period.
Not only that, but after the shortened 2021 season, which would run through mid-December and feature a normal-ish January playoff (and include just one day weekly of padded practice), the beginning of 2022 would be affected as well. Brohm's plan suggests a modified spring ball with no padded work at all.
It's perhaps not surprising that some coaches have jumped right into action in planning. Moos said the meetings he had been in up to the postponement had touched hardly at all on what spring might look like, but he also said the reason NU and other teams couldn't play games this fall is because the league considers it a postponement and not a cancellation of a season. The coaches, clearly, want to force the issue in terms of trying to salvage part of a season.
There's also the roster-management concerns and, of course, cash. Moos said on the radio Thursday night that the athletic department is facing a deficit of "north of $100 million," but noted that perhaps some of that could be covered by a nontraditional football season.
Where might games be played? Maybe not outdoors in late January. Indoor locations might be required early on. How might television work? To be determined. Won't basketball, if the season proceeds, cross over? Yes, one of the many logistical challenges for television, resources and more. Is it possible coronavirus prevents this plan from getting off the ground, too? Indeed, it is.
Even so, Wisconsin left tackle Cole Van Lanen told reporters Friday that if it gives his team a chance of getting on the field, he's all for it.
"They say spring, but in reality it's kind of winter, beginning of spring," he said. "I kind of like the concept and what they're thinking about right now. I know other guys do, too. We're pretty pumped for it."