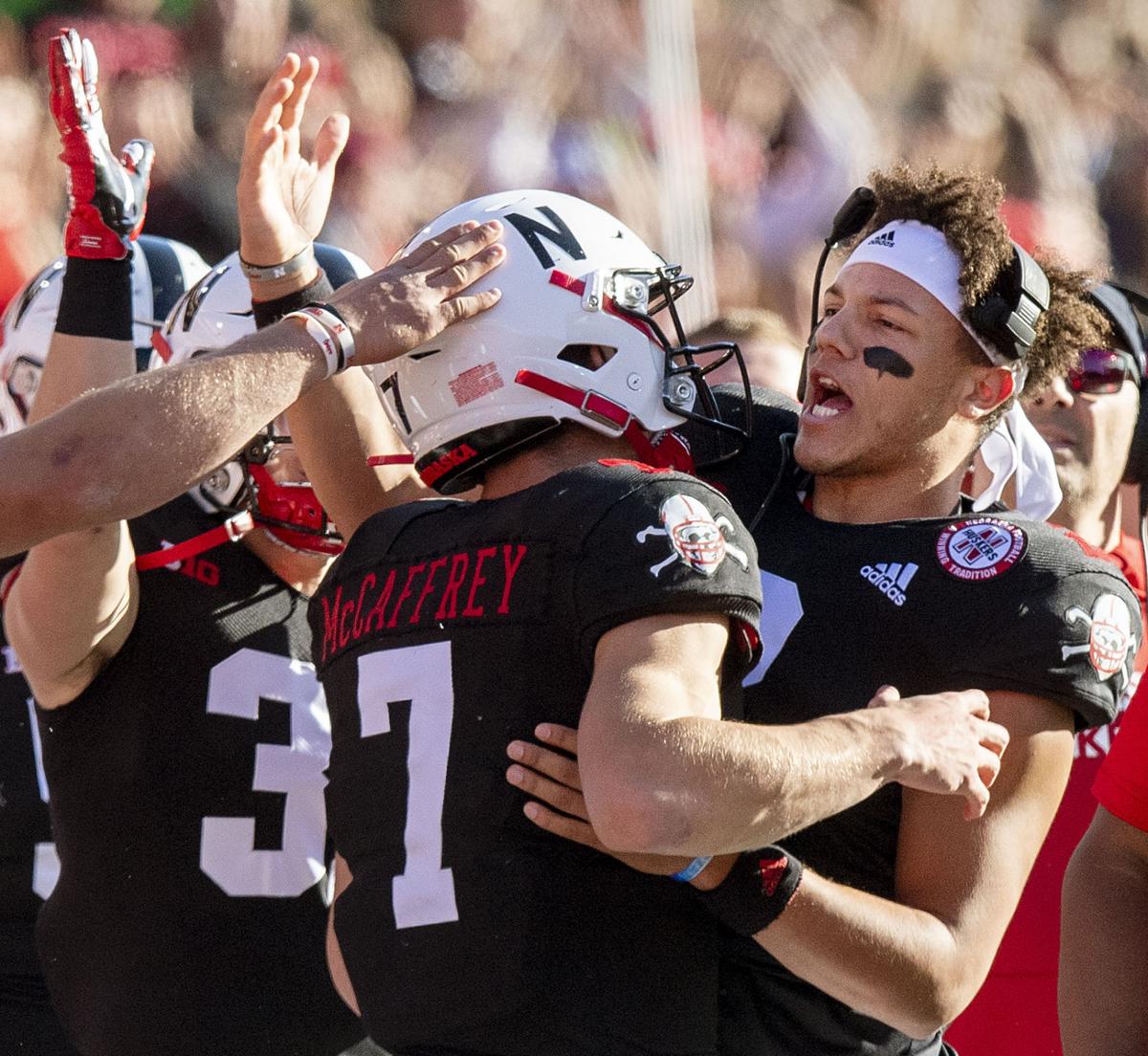 Less than four weeks out from Nebraska's season opener against Ohio State, junior Adrian Martinez is the starting quarterback.
It's been assumed all offseason, and offensive coordinator Matt Lubick confirmed as much during a news conference Thursday.
Still, Martinez is getting a stiff challenge from redshirt freshman Luke McCaffrey.
"They're both playing at a high level. I don't know if I look at it as pressure (that McCaffrey is putting on Martinez)," Lubick said. "I think they're both making each other better. We feel good about both guys right now, we really do. As a matter of fact, (walk-on Matt) Masker and Logan (Smothers), our freshman, are playing really well, too. We feel like we have great depth at that position."
In terms of the top job, though, Martinez and McCaffrey are the contenders.
Martinez has 21 career starts under his belt and McCaffrey saw limited time last year while maintaining his redshirt.
"Adrian is the starter as of today, but Luke has done a great job and it's a friendly competition that makes both guys better," Lubick said. "We've repped both of them with the No. 1s, they've both moved the ball, they've both had great camps so far in non-padded stuff.
"That evaluation is always ongoing, but Adrian has improved. He's going to be a better football player this year."
Husker fans are well-versed in the story by now. Martinez wowed as a freshman in 2018 and then saw his passing numbers fall off in 2019. His completion percentage backslid to 59.4% and he threw just 10 touchdowns against nine interceptions in 10 games. The Fresno, California, native also rushed for 626 yards (4.2 per carry) and seven touchdowns, but at times didn't look as decisive as he did in his first season.
McCaffrey, in a much smaller sample size, completed 9 of 12 passes for 142 yards and a pair of touchdowns and rushed for 166 yards (6.9 per carry) and another score.
"Everyone sees what the quarterback does," Lubick said. "When we watched cutups of last year's season, it's the people around (Martinez). It's the line with protections, being able to run the football to take pressure off the passing game, it's the receivers getting open. It's the running backs blocking. It was a combination of things.
"Adrian did some great things last year, and like everybody, he could have played better. The same goes for our whole offense."
Lubick, though, raved about the work Martinez, McCaffrey and the others have put in since the coronavirus pandemic shut down spring ball more than six months ago.
"Those guys kept learning," he said. "They were on Zoom calls, they kept learning, they were hungry, they were throwing on their own. You could see, when we finally got back in the summer, that those guys have been working their tails off and they've just continued to get better and better and better."
So, a competition? Yes, but you can tell the Huskers' first-year offensive coordinator is mostly just happy to have what he sees as quality depth.
"Their attitude has been great," Lubick said. "They're as humble of guys, humble of quarterbacks as I've been around. They always want to give credit to other people. They're team players and so we feel really good about both of them."
10 Huskers most likely to have fans buzzing this fall
Be the first to know
Get local news delivered to your inbox!