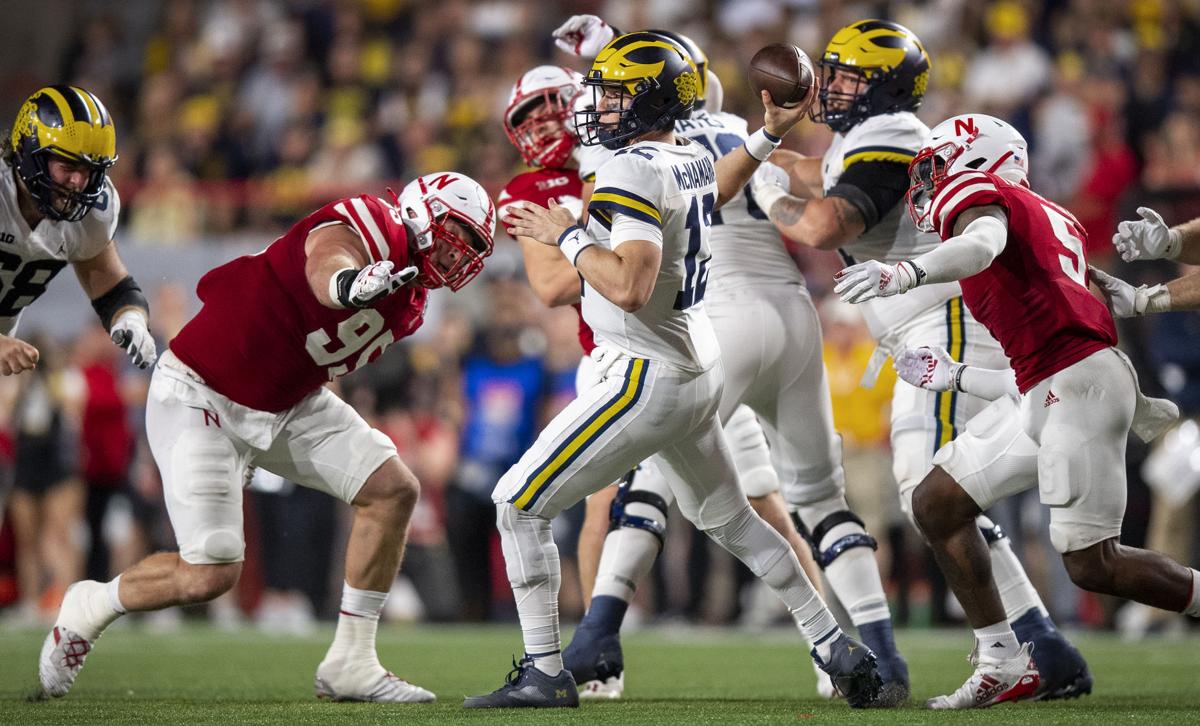 Michigan coach Jim Harbaugh was reveling in his Wolverines' victory over Nebraska after the game Saturday.
"That was a Clint Eastwood win, we're going to enjoy it," Harbaugh said. "It was a tremendous, tremendous game, incredible really. We're enjoying it, we're enjoying the incredible."
The incredible came, to some measure, when defensive back Brad Hawkins forced an Adrian Martinez fumble and returned it to the Nebraska 18 to set up the game-winning field goal.
"We practice pushing out the ball, stripping the ball, hitting the ball," Hawkins said. "That moment just touching the ball, striking the ball came through."
Michigan won the game on the leg of kicker Jake Moody, who hit field goals of 35, 21, 31 and the 39-yard game-winner. Harbaugh, however, praised the whole kicking unit, starting with punter Brad Robbins.
"Brad Robbins is a huge part of (the win), not just because he's the holder, but his mental fortitude," Harbaugh said. "Positive daily, you know, infusion on our entire team especially that snap-hold-kick battery, He's as rock solid of a leader as I've ever been around. Moody's just a straight, calm, cool, collected kind of guy and (long snapper) William Wagner, he's the same way. All three of those guys, just kind of ice water in the veins."
Moody's last two field goals came after Michigan had fallen behind an opponent for the first time this season. The Wolverines scored on three consecutive possessions after Nebraska took a 22-19 lead — the first Michigan has trailed all season — following the first interception of quarterback Cade McNamara's career.
Those scoring drives, McNamara said, were a change from the Wolverines' performances in close games in past seasons.
"I think overall that this team has decided to be different this year," he said. "And I think it's not as much of what you see footballwise. It's the atmosphere that we've created, the mindset that we've rebuilt this offseason I think it showed today. I think we've lost too many games in the last couple years. We're tired of losing. And we chose to be different."
McNamara said Michigan's offense was able to match the effort of its highly touted defense, which gave up a season high in points to the Huskers.
"It's about time, I think, that the offense was able to back the defense up, I think," he said. "Throughout the season, our defense has put us in great positions and we haven't capitalized on it. I think playing complementary football tonight was huge to our victory."
Michigan's resilience in highly charged Memorial Stadium in front of 87,000 screaming Husker fans impressed both the quarterback and the coach.