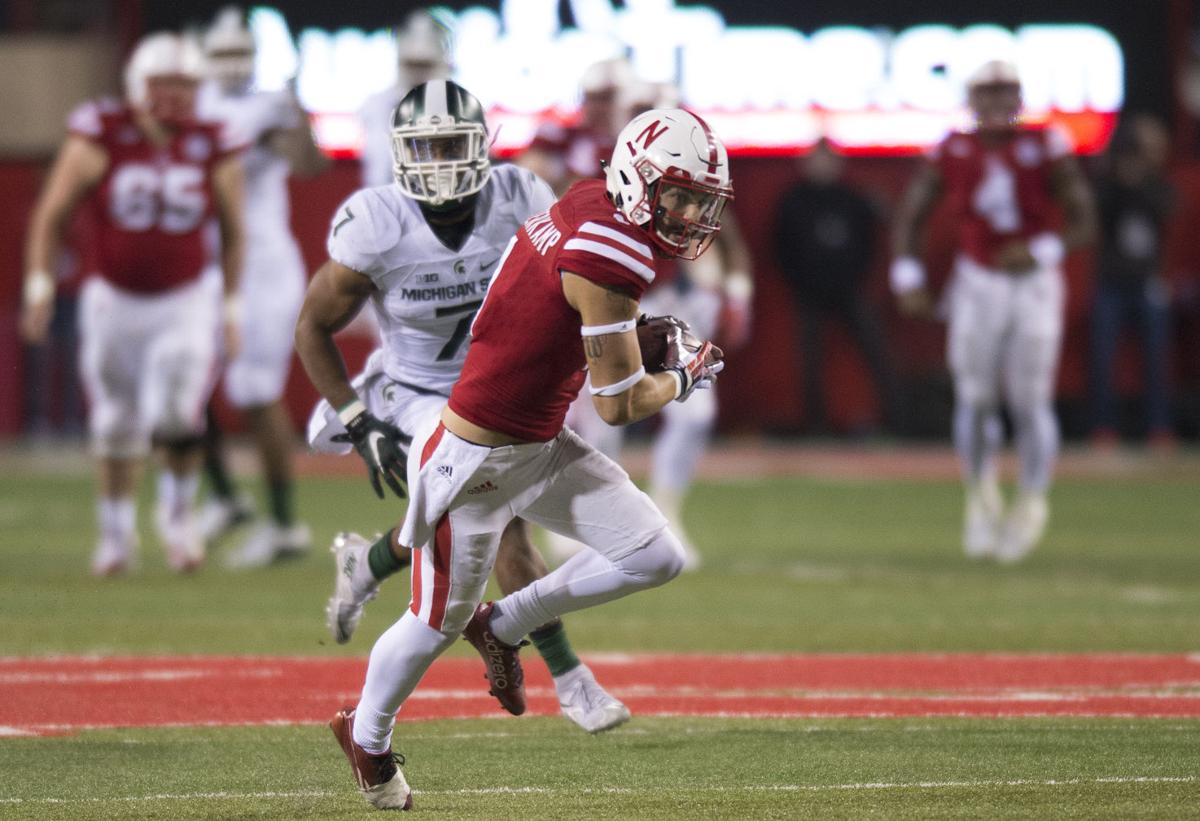 Jordan Westerkamp absorbed blow after blow against Michigan State on Saturday night, and each time, the Nebraska junior wide receiver, although sometimes gingerly, got back up.
Had Westerkamp ever taken that many hits in a game?
"Not that I can remember," he said, "which isn't a good thing."
Westerkamp smiled and laughed, recognizing his unintended humor.
Yes, he went through the concussion protocol — twice, in fact. Once after he'd left the game in the second quarter, and again after the game, a stirring 39-38 come-from-behind victory against the No. 7 Spartans.
"I'm all right, a little banged up, took some pretty good hits, but the win definitely made it feel better," Westerkamp said. "I'm really proud of these guys, really proud of this team. We really fought hard, and it showed out."
Westerkamp left the game for good after consecutive receptions of 28 and 33 yards to advance Nebraska from its 9-yard line to the Michigan State 30 on the game-winning drive. After the second of those receptions, Westerkamp lay on the turf, waving his fingers for medical attention.
"That last one, I got the ball and kind of went helmet-to-helmet with the guy, and I'd already taken a bunch of hits earlier to the head. It was one of those stingers right to the head," Westerkamp said. "I was a little shaken up. I had to sit there for a second and breathe, because I had a little bit of a headache going."
Yet, he still had the wherewithal to raise his arms as he walked off the field in an attempt to rile up the crowd, which had been at a fever pitch before falling silent with Westerkamp down.
"We were getting real close, about to score, so I was real amped up," Westerkamp said. "I was lucky to be able to walk off the field all right."
He acknowledged the play would've been his last of the night, regardless of how long the game may have lasted. Nebraska scored on its next play, of course, and didn't take another snap, aside from the two-point conversion.
"I don't think they would've let me go back in," he said.
Westerkamp finished with nine receptions for 143 yards, including a season-long 38-yard reception for a touchdown in the first quarter. He has four 100-yard receiving games this season, tying a school record held by four others, including Johnny Rodgers.
With 58 receptions, Westerkamp needs five more to match the school record for most in a season, a mark set by Nate Swift in 2008.
Nebraska's top receiver is also now on the Biletnikoff Award Watch List. He was added Monday, perhaps by a committee that saw the efforts of a guy that's never gone underappreciated by his head coach.
"In a lot of years of coaching, he's one of those unique guys that wants back in, and goes in and seems to be unaffected by whatever is happening and makes some plays," Nebraska coach Mike Riley said. "I think that's as much of a mental thing as it is physical.
"He's totally engaged in football, and he's a really easy guy to coach, and he has got some unique talent to make plays."