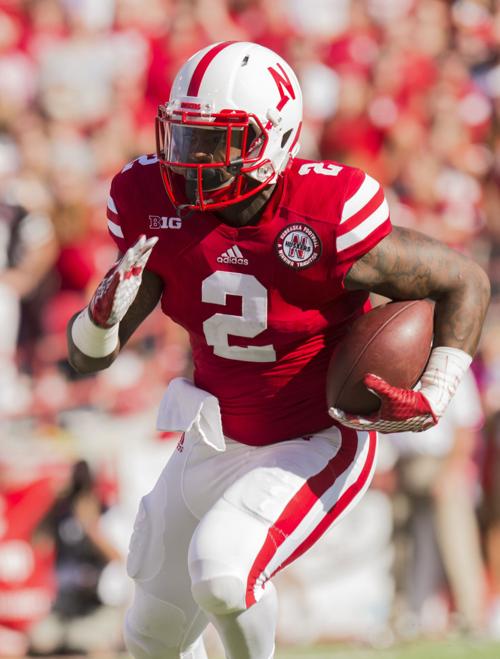 Jordan Stevenson doesn't have to hide his big belly because, well, he doesn't have one anymore.
The Nebraska true freshman running back was, shall we say, noticeably out of shape when he arrived on campus in August.
He's not ashamed to admit the reason.
Stevenson said he was "down and out" during a long summer period that ended with him not meeting academic requirements to be admitted to Wisconsin, where the touted four-star recruit had signed to play football.
"Going through the trials and tribulations I had to overcome before any of this happened, I had a major setback, but it was for a valid reason," Stevenson said. "I thank God for that setback, because I've become wiser with getting myself in better shape, understanding what college is all about."
The 5-foot-9 Stevenson, a Dallas native, had ballooned to 228 pounds. He now weighs 206.
"Man, I'm in fantastic shape now," Stevenson said. "I'm feeling good, more explosive, just keep getting better by the day."
Enough so that Stevenson, after five games of inactivity, shed his redshirt to simply return kickoffs.
When or if he contributes at running back doesn't yet concern Stevenson.
"Right now, I'm just focused on my job. I'm not overwhelming myself about anything," he said. "I know what I bring to the table, and the coaches know as well. So now it's focusing on my duty to help this team on kickoff return.
"When the time comes, if God says it's my time, it's my time. Until then, I'm going to remain doing the things I do."
Not only was Stevenson not in game shape in August, he also was battling a nagging injury that initially slowed him.
"I just dedicated myself and told myself I'm not going to let this make or break me," Stevenson said. "The coaches, they said, 'OK, Jordan, we're going to redshirt you so you can get healthy, get in a groove, learn the playbook, get acclimated to the program.' I took full consideration into that and just went from there. I got mentally strong and physically stronger."
That, Stevenson said, is when coaches came to the conclusion he might be ready to help the team.
"When it all started, everybody really wasn't on the same page," Stevenson said. "But when things took off and things got a lot better, everybody got a better understanding, and the coaching staff kind of got a feel for my parents, and my parents got a feel for them. On from there, everything was good.
"I just stayed humble and kept working. I wasn't nagging the coaches, saying, 'Hey, can you pull my shirt?' I just focused on what I needed to get done and everything took off from there."
Stevenson, who finished his varsity career at South Oak Cliff High School with 4,550 rushing yards, faced the unenviable task of quickly needing to find a new school over the summer. He chose Nebraska over Miami and Alabama.
"I never pressured myself to do anything. It was a very fast transition, because I didn't really have time to just think things through," he said. "It was kind of saying, 'Go with your heart, take chances and make sure you make the right decision, discuss this with your family.' "
He chose Nebraska largely because of the school's football tradition and track record for producing running backs.
His choice wasn't based on relationships with coaches, because he had no time to build any relationships.
Understandably, it's taken time for Stevenson to bond with his position coach, Reggie Davis.
"When I came in, we didn't really see too much eye-to-eye, because we didn't really have a relationship. I just jumped into the crowd with the rest of the players," Stevenson said. "He didn't ever have a chance to develop anything with me.
"We're building by the day. He's a good dude, has a lot of good tips on how to become a better student-athlete as well as a great running back."
Stevenson's debut was against Wisconsin, when he held off the urge to return kicks that sailed deep into the end zone. Each time, he made the wise decision to take a knee.
"I was anxious to take them out, but then again I had to remind myself it's not about Jordan Stevenson, it's about the University of Nebraska," he said, "because one mistake can cost you and it can be a domino effect on everybody."
He returned three kicks against Minnesota, with his longest of 18 yards. Eventually, Stevenson expects to find a crease, let natural instincts take over and make something big happen.
But he doesn't want to force matters, either. Patience is best.
"I don't want to put the team in a situation that's not going to help us be productive on the field, field positionwise or any dumb decisions," Stevenson said. "It's just keep executing the little bit that they do give me, and over time, everything gets to work itself out."