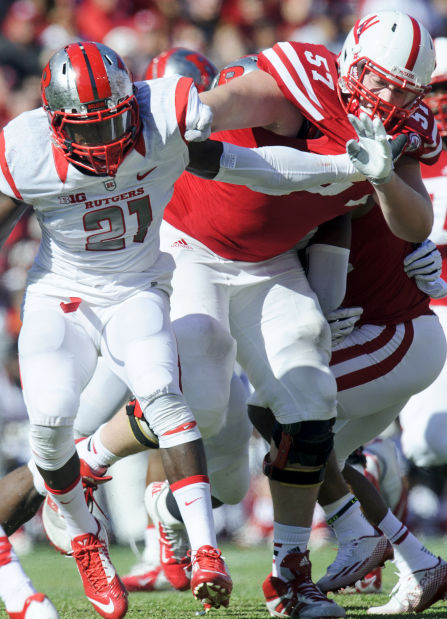 The friends, Nebraska boys, who have in the past spent their Sunday mornings after games smashing a bunch of Sonic burritos in each other's company, found themselves to be popular interview subjects after a Tuesday practice.
Ryne Reeves, with several reporters around him, looked over at Zach Sterup, several reporters around him, and smiled at the scene.
Reeves, of Crete, had gone four years before finally starting his first game as a Husker last year against Iowa. Patience.
Sterup, of Hastings, had gone three years before starting 10 games last year, only to spend this offseason rehabbing from a knee injury. Patience. When he returned in fall camp, he lost the starting right tackle job to redshirt freshman Nick Gates.
Some may have pouted. Sterup did not.
"Nick came out and earned it," Sterup said. "I'm not taking anything away from that kid."
The 6-foot-8, 320-pounder, in fact, considers himself a friend of Gates.
"I was trying to help him all through the first six games with little details I picked up and advice," Sterup said. "It wasn't like I was mad at him because he was playing the spot I was."
But then Gates left Saturday's 23-21 loss to Wisconsin with a high-ankle sprain. Suddenly, Sterup was right back in the middle of it, working on a line along with his buddy Reeves.
Sterup hadn't played a significant snap since last year. But he felt comfortable.
"Zach's a smart guy," Reeves said. "He's always in his (play) book. He knows what he's doing."
Now, with Gates still out, the Huskers need the senior who kept his focus even when he was moved back on the depth chart.
"Within the O-line it's kind of a family," Sterup said. "We all kind of lean on each other and bring each other up when people aren't having a good day. ... That support from the O-line and really the whole team really got me through."
Faith, family and friends.
"My parents kept telling me it'll come around ... and I believed in that."
Even when Sterup wasn't playing much, he was enjoying watching his friend Reeves, who has had injuries bog down previous years, get his chance as a full-time player on that Husker O-line.
Both players came in as part of the 2011 recruiting class, and while part of the rotation in recent years, they've still never started a game at the same time. (Sterup was out for the Iowa game that Reeves started last year.) That figures to change this Saturday at Minnesota.
"We've been best friends pretty much from Day 1 since we got here," Sterup said. We're always together. There's jokes that we're never separated by much. He's my best friend. He's there for me and I'm there for him."
Now the two want to do their part in pushing this Husker football season the right way after a 2-4 start.
Ups and downs, Sterup has seen both during his five years in the program. But a few days before he goes back to assuming a key role on the Husker O-line, he holds nothing but a positive outlook.
"I wouldn't take any of it back," Sterup said. "I don't think I have any regrets with my whole college career. It's been a huge blessing to play for the Cornhuskers."