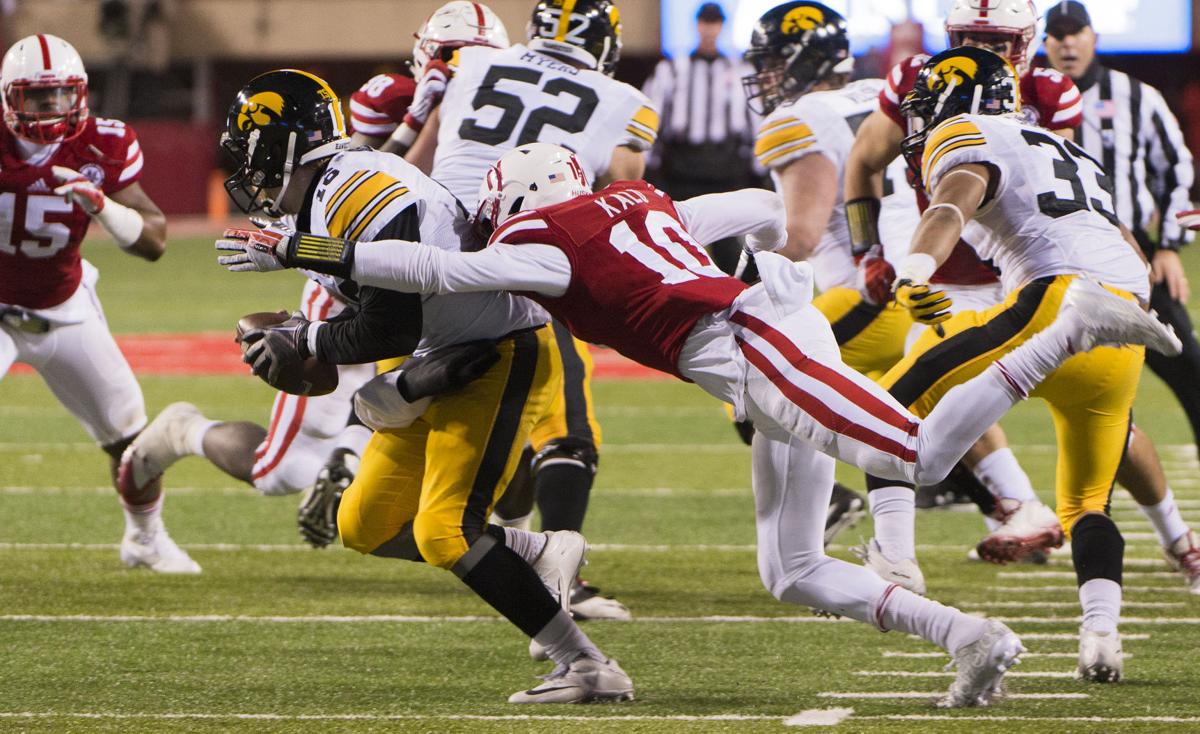 Iowa has a stout run defense, and Nebraska worked for every inch of its 137 rushing yards but simply couldn't break a long run. The Huskers' longest run of the day was 12 yards, and they averaged a mere 3.6 yards per carry. That's tough sledding. "Their defensive line did a good job of creating confusion up front, but our offensive line did a good job with the push," Imani Cross said. "We just kept fighting."
We saw some absolutely horrific decisions by quarterback Tommy Armstrong. Sorry, but there's no other way to put it. Gripe if you want at the play calling — and many of you will — but with a quarterback who makes better reads and fewer errors, Nebraska wins this game. Yes, he had some help — tackle Alex Lewis did little to thwart defensive end Parker Hesse's easy pick of a screen pass for a TD — but Armstrong can't continue like this in this offense. His 16 interceptions (nine in the last three games) are the most in the FBS.
Nebraska did a particularly good job stuffing Iowa's bread-and-butter running play — the stretch play — in the first half. (You're welcome for the Thanksgiving humor.) So it seemed surprising when Iowa not once, but twice and on back-to-back snaps, no less, ran the stretch play for 29 and 68 yards and touchdowns early in the third quarter. Defensive coordinator Mark Banker took the blame for a bad call on the latter, but it should be noted Nebraska was also adjusting without safety Nate Gerry, who was ejected late in the first half for targeting.
You have free articles remaining.
Iowa attempted only 16 passes, completing nine, and for a Nebraska opponent season-low 97 yards. Say what you will about the low number of attempts, but there was a time not long ago anyone in red would've jumped with joy at 9-of-16 passing for 97 yards. Pressure on C.J. Beathard was strong early, and had it not been for a penalty, the Blackshirts would've forced and recovered a Beathard fumble in Iowa territory.
Iowa turned momentum its way on Desmond King's 26-yard punt return (and subsequent penalty) after Nebraska's opening possession of the second half to set up a short field for what turned into a one-play drive. Punter Sam Foltz did have a 51-yard punt to the Iowa 6-yard line with 13:33 remaining that led to a three-and-out and looked to change momentum, but Nebraska couldn't capitalize. Drew Brown booted a solid 39-yard field goal into the wind, his ninth straight make, and first from less than 40 yards in that stretch.
How much of the offensive problems were Danny Langsdorf's play calling and how much were the fault of Armstrong? This can be debated until we're all blue in the face (some of you are after sitting through that game), so let's split the difference on the grade here. Why Armstrong didn't throw to a wide-open Cethan Carter a yard beyond the first-down marker on fourth down is beyond me. Biggest issue with Langsdorf was three straight passing plays with NU needing just 3 yards for a first down not long after Terrell Newby had busted a 12-yard run.
GAME MANAGEMENT/PENALTIES (D)
Instead of going for it on fourth-and-1, why not kick a field goal to get within eight points, or one score? And to end the first half, if you're going to call a timeout after a screen pass to set up a field goal — which was the right decision — then wait until 3 seconds remain, not 7. That allowed for a kickoff. (Of course, it's possible Nebraska was trying to call time out earlier and didn't get it.) Each of the eight penalties loomed large, especially the controversial targeting call on Gerry.
The better disciplined team won this game. Iowa isn't a juggernaut, and Nebraska would have won with better quarterback play, in my opinion. But the Hawkeyes, unlike the Huskers, rarely beat themselves. Hence, a victory despite running 44 plays to the Huskers' 83. Will Nebraska make a bowl game? If invited, it can't afford not to go.