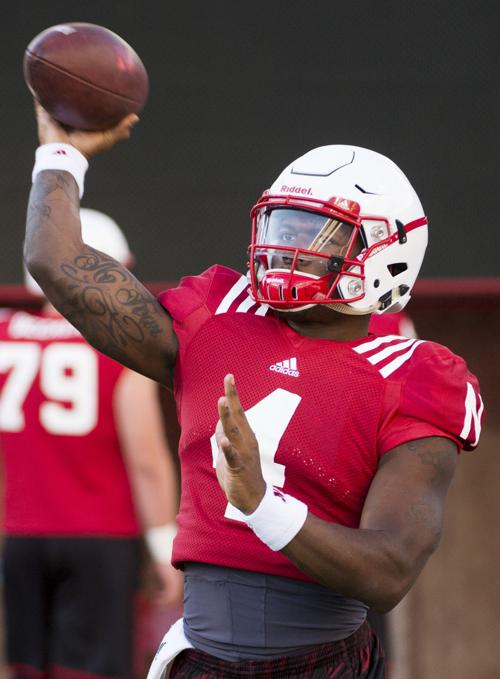 You can't beat a top-10 team on Saturday without putting in the work Monday through Friday.
When Husker coach Mike Riley was asked after Thursday's practice about what has allowed some of his past teams at Oregon State to pull big upsets, he said the key lies in consistency of preparation.
"If you learn to practice week to week, then you have a chance to focus on that week and make that week work," Riley said. "That's why I think you live in a vacuum. Guys learn to do that, and then games don't become, 'Oh, this is a big game, I'm going to really practice hard.' Or, 'This is not so much (a big game).' You can't fall into any of those traps.
"If you want to win a game like this and maybe you're not the favorite in a game, then you have had to set a precedent for how to practice and how to get ready. And maybe through that, even though it hasn't always resulted in a win or a big record, you have the wherewithal to know how to practice during a week and then win a game like this."
Believe you can do it, practice well, and then perform, Riley said of the formula.
"You have to know you can do it, otherwise you're done. I told one team, when we played No. 1 USC, I said the No. 1 thing is, 'Don't be surprised when you're ahead at halftime.' And we were 21-0. So you just have to believe it. But that is not enough. You have to practice, you have to have great work, and then when it comes time, you perform."
Riley said despite the 3-6 record, this team continues to practice well, in his eyes.
"I feel great. I like this team a lot. I said that from the beginning and I have not wavered one bit on that. I like them. They've practiced every week well. And maybe, just maybe, all the work that they've done, maybe now one pays off."
* WHO'S AVAILABLE? Husker junior quarterback Tommy Armstrong is ready to resume his role as starting quarterback. And, for a guy returning from a turf toe injury, his mobility has seemed fine to Riley.
"It looks good to me," Riley said. "I don't see much missing there. Earlier in the week it looked like he might have favored it a little bit, but it might have been just my mind, too. Because I thought he was quick and fast."
Running back Terrell Newby remains questionable. He hasn't practiced all week, but coaches want to see what, if anything, he can do Friday.
But there might be good news for NU at wide receiver. Riley said he is "pretty encouraged" by how Brandon Reilly has moved around after being in a walking boot earlier in the week.
"If he has a good day (Friday) running, he's got a good chance to play," Riley said.
He is also optimistic Alonzo Moore will be able to play after suffering a stinger a couple of weeks back.
On defense, linebacker Chris Weber is available, as well as Michael Rose-Ivey and defensive tackle Kevin Williams, though Riley said the latter two would probably be limited in snaps.
Cornerback Daniel Davie will wear a cast on one hand but is also expected to suit up. "We will use him as a backup in case of emergency."
Riley said Joshua Kalu and Chris Jones would start at the corners. When NU goes to the nickel package, Kalu will slip inside to nickel back and Jonathan Rose will play the corner opposite Jones.
"It's nice to get those guys back," Riley said. "I think looking down watching the defense practice today and seeing almost that original group of Blackshirts that we had for a minute in the first game, seeing them kind of together again, was pretty encouraging."
* STERUP AT GUARD: Redshirt freshman Nick Gates also returns from an ankle injury, and will take back his starting spot at right tackle.
But that isn't knocking senior Zach Sterup out of the starting lineup. NU is going to play him at right guard. Chongo Kondolo has been starting there throughout the season.
"He's been playing well, and he is smart," Riley said of Sterup. "I don't know how much he's played in there in his life, but he looks pretty comfortable. And we think the way he's been playing, he should play. But we also like Nick. Nick's back and that's kind of the way it came down."
* STEVENSON SITUATION: Jordan Stevenson didn't handle kickoff duties last week because of sickness, Riley said.
But Stanley Morgan, who ripped off a season-long return of 42 yards in Stevenson's place, will continue to handle kickoff duties this week, with Reilly serving as his backup.
Stevenson wanted to play this year and burned his redshirt in the sixth game of the year. He has only been featured as a kick returner to this point.
Riley said there are "mixed emotions, for sure" about that decision.
"I think our intentions and his desires were good. Only the future will tell what that really means."
* UNIFORMS: These days, a fan's social-media campaign to have the Huskers wearing all-red uniforms (something they did in 1986 in a 20-17 loss to Oklahoma) can end up as a post-practice fashion question to Riley.
Riley heard three or four players talking about the all-red idea after Thursday's practice. Then he had a reporter ask him about it.
"I was really excited to get back to red and white on the road, and I like the red top at home and the white pants," he said. "If we could just stay consistently like that, that would be great with me."