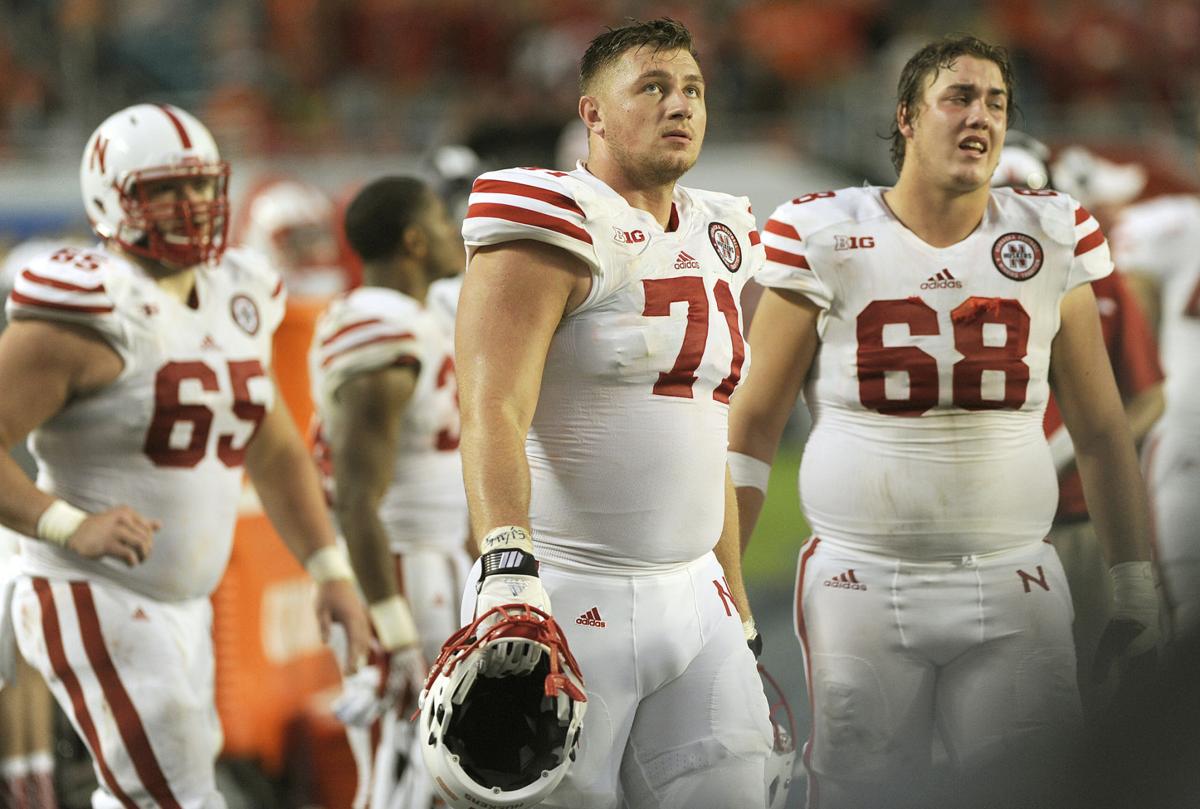 Senior Day hits the Husker offensive line the hardest of any position group.
Consider three of the five O-line starters on Friday — left tackle Alex Lewis, center Ryne Reeves and right guard Zach Sterup — are all playing their final home games. Chongo Kondolo, who started the first nine games at right guard, is also a senior.
Offensive line coach Mike Cavanaugh said Lewis has all the talent to play right tackle in the NFL. After receiving some criticism from fans and media earlier in the year for some of his actions, Lewis has played some of his best football of late.
"(Alex) and I talked a lot, obviously. And obviously I'm pretty direct, and I think he likes that," Cavanaugh said. "We had great conversations. He knows what he needs to do. … He really improved in a lot of areas in his game. At times he reverts back … but I really like the kid. I think he has a great heart. I think he likes football. He made a couple mistakes. But who hasn't?"
Cavanaugh also praised Sterup, who moved from tackle to guard for the first time before the Michigan State game. He's made the most of it.
"I just said to Zach that I admire him," the coach said. "He got beat out. Came to work every day. Got better and better. Got a chance to start. Played well at tackle. Then we said, 'Hey, let's move him to guard.' I like the guy a ton because he has got a great personality. He's funny as hell. Does a funny imitation of me."
When Cavanaugh asked him what he thought about playing guard, he said Sterup responded, "OK."
And the center Reeves? Cavanaugh and offensive coordinator Danny Langsdorf also praised his ability to pick things up fast. Real fast.
"We thought we had something there in the spring, just the way he handled practice early on and the installations," Langsdorf said. "We haven't had a guy in our history together who has picked it up as fast as he has."
* BALL "HAWK": Nebraska's offense will need to constantly track the whereabouts of Iowa cornerback Desmond King, whose eight interceptions match the number accumulated by the Huskers' entire defense.
The 5-foot-11, 200-pound King, a junior from Detroit, "is always in very good position," Langsdorf said.
"We don't want to be careless around someone who's had so many good plays on the ball."
King also is valuable on special teams, averaging 12.7 yards per punt return and 25.6 per kickoff return.
* EMOTIONAL ENDING: It's been a roller coaster, but it's also a ride Jamal Turner said he's going to miss.
"I'm sure I'll cry after the game, honestly," Turner said three days before he'll step on the field for his final home game as a Husker. "I've put a lot of sweat and tears, been at this university five years."
A fascinating prospect to Husker fans ever since his recruitment out of Arlington, Texas, Turner arrived in Lincoln in 2011 as a confident quarterback who could also play receiver. Then he caught a pass and flipped into the end zone during his first Spring Game, and expectations only soared more.
There was a slow period, then a potential breakout moment with a game-winning touchdown catch against Michigan State in 2012, then injuries. A nagging hamstring problem in 2013, a torn Achilles in Week 2 in 2014.
"You never know what to expect when you get out there on Saturday, no matter how much you prepare, the weirdest things happen," Turner said. "I'm blessed I got to come back this year and play."
Granted, it hasn't been the final year he maybe dreamed. Turner has played in every game, but in a limited role, currently with five catches for 67 yards.
"Not playing when I felt like I could help the team, that was the biggest thing for me," he said. "But at the end of the day, I just have to sit back and just look at the big picture. And just get better. For the longest, I was out here … and I wanted to play, but because I couldn't help the team, I felt like I was a wasted talent. But I just got to the point where I was just like, 'Just let me get better for myself.' I do this because I love the game. Because I'm honestly trying to impress no one. So me playing or not, I should just be having fun. I'm in a good place right now."
* STRONG RECEPTION: Langsdorf said he got a very good response while recruiting in Southern California over the bye week.
"I think anytime you're on TV and have a game against Michigan State that is seen by a lot of people. Our brand is widespread anyway. I happened to be in Southern California, and it shows well down there. But being on TV and winning games, anytime you have that exposure, it's good for your program."
* HEALTH WATCH: Nebraska receiver Brandon Reilly and running back Terrell Newby, both slowed by ankle injuries, remain questionable for Friday's game, offensive coordinator Danny Langsdorf said Tuesday.
He said coaches probably won't know their status until Thursday, though both are showing encouraging signs they can play.
Newby leads the team in rushing with 709 yards even though he's seen limited action the past 2½ games.
"We'll give (Newby) another day (Wednesday), a walk-through, then we'll pick up the pace again on Thursday," Langsdorf said. "He looked pretty good today, so we're hoping to get him back. We probably won't make that decision until Thursday."
As for Reilly, the team's second-leading receiver, "He practiced and looked pretty good," Langsdorf said. "I don't think he's 100 percent, but he's getting there."
* TIGHT END THREAT: A week after Mike Riley said the Huskers were perhaps "underusing" the skills of tight end Cethan Carter, the junior tight end caught four passes for 57 yards and a touchdown, and also ran 32 yards for another score against Rutgers.
Offensive coordinator Danny Langsdorf said it's important to keep finding ways to use the tight end.
"I think he's just done better and better learning, and getting comfortable running routes, and finding different ways to get him the ball," Langsdorf said. "He's a great mismatch on linebackers and safeties, and it allows us to use another guy in a little different way than a receiver just because of the matchup problems he can give a defense."
* READY FOR THE ELEMENTS: The Huskers have been tracking the weather forecast closely as they get ready for Friday's game.
It's expected to be around 32 degrees, with winds about 15 mph.
"It's a concern," Langsdorf said. "We've been keeping a close eye. We practiced outdoors the last couple days just to make sure we're all little bit acclimated. It can always be a factor at this time of year. It's important be ready for it, and we will be ready for it, whatever comes our way."
* QUOTABLE: What Husker will probably eat the most when the team gets together for their Thanksgiving dinner? "I can honestly say Tanner Farmer," said Husker quarterback Tommy Armstrong. "I've heard that he ate a Tailgate by himself from (Raising) Canes, so if you can do that, that's nasty."
— Brian Christopherson and Steven M. Sipple