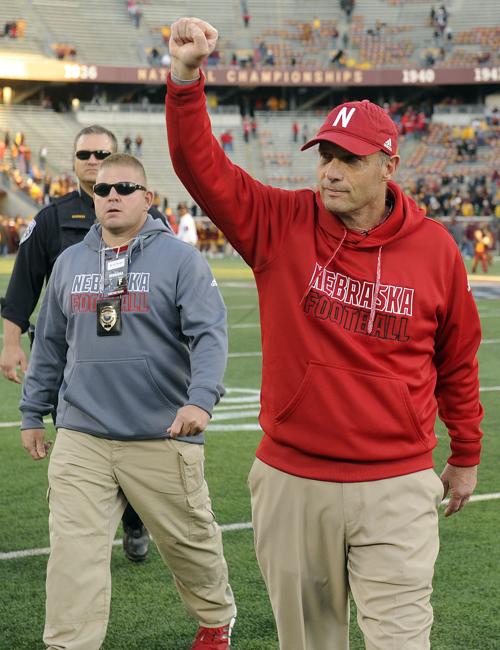 One word sums up what Husker head coach Mike Riley wants to see from his team Saturday.
"I'd be real pleased with an efficient game," Riley said after Thursday's practice at Hawks Championship Center. "Smart game. All those things that go with that word. Procedurally. I think we've had a great week of practice. I've really appreciated this team, and more so this week, with all they've been through."
Riley expects something else from his team when it takes to the road at Purdue on Saturday.
"I think with the investment they've made, we'll play physical, we'll play hard," he said.
* HANDLING THE RAIN: There's a strong chance of rain during Saturday's game. The latest forecast for West Lafayette, Indiana, lists an 80 percent chance of it, calling for a quarter-inch, with a high temperature of 52 degrees.
Riley's teams at Oregon State dealt with precipitation plenty. This week, coaches had players handling cold, wet footballs to get used to the conditions.
"It's funny, because I've always been that team where they're coming to play in the rain. ... It's a tough simulation, there's no doubt about it," Riley said. "I think there's an extra emphasis, obviously, on ball security. You can't let that rain be a crutch. You can't, as far as taking care of the ball, catching the ball, you just got to execute and make plays.
"So whatever little bit of extra concentration and focus, that's what you have to do. There's no extra magic to it, actually. And sometimes, depending on wind, rain doesn't stop you throwing the ball. It's wind and that kind of condition that's bigger."
Forecasts are calling for winds at 10-15 mph.
* BIG ROLE FOR FROSH: With senior safety Byerson Cockrell missing the game because of what Riley said was a tragedy in the family, the Huskers will start true freshman Aaron Williams in his place.
You have free articles remaining.
Williams has played in all eight games, and actually started the first game against BYU, playing in the nickel package. He has 12 tackles this season.
While he's in his first year in the program, the native of Atlanta arrived in January, and got to participate in spring ball. Defensive coordinator Mark Banker said prior to this season that Williams' high football IQ stuck out.
"Like our freshmen that are playing in general, he's been mature beyond his age," Riley said Thursday. "He's a good football player. He's an intelligent player. He's an aware player. And I think as he grows in age playing, he will make a lot of plays, because he will get more comfortable with everything, especially with what we do and how we do it."
* FREEDOM STILL RECOVERING: Redshirt freshman Freedom Akinmoladun is available for the second straight week after having his knee scoped midseason. 
But it's a gradual process back to being 100 percent. He's not all the way back, according to Riley.
"I think that's always a process," he said. "That's a hard thing about injuries. We all suspect that it will be just the same the minute they're back and it rarely is. Not that he did anything terrifically different or bad at all. It's just not the same."
Even while missing both the Wisconsin and Minnesota games, Akinmoladun still leads the team in sacks with 4½. Next closest are Greg McMullen and Vincent Valentine with two apiece.
* ADDED BODY AT 'BACKER: Sophomore walk-on Chris Weber, coming back from a neck stinger, was kept away from contact all week to preserve where he was at in his recovery.
But the plan is to suit him up to add depth at middle linebacker behind Josh Banderas.
"It would be great if we could just spell Josh and let those two guys share the load a little bit in a rotation-type deal," Riley said. "It's great to have him back. We are woefully thin there. There's just a few of them even dressed right now."
Despite not playing in three games this year, Weber is third on the team in tackles with 42.
* QUOTABLE: "We just can't risk him making it worse," Riley said of Tommy Armstrong's turf toe injury that will have him not starting for the first time since the Iowa game in 2013.