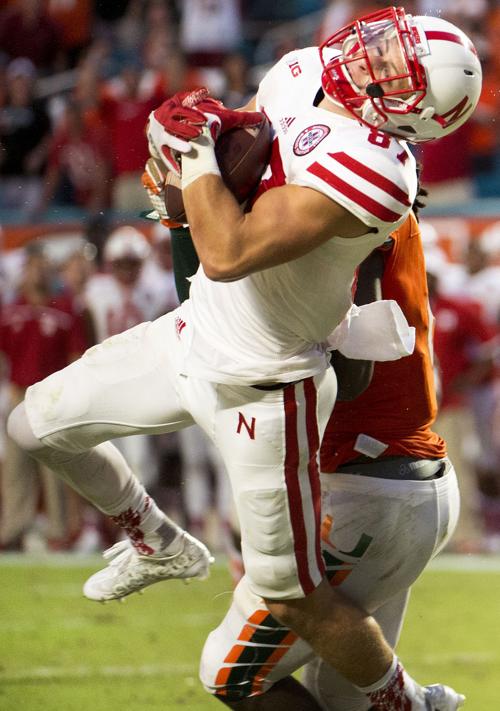 It was not an easy play. Southern Miss was putting the pressure on, and now it was third-and-19 and the ball was underthrown. Brandon Reilly circled back to it, catching it 41 yards down the field just before it hit the ground.
"Just because of the trajectory of the ball … it was a great play, smart," said offensive coordinator Danny Langsdorf. "We really want to teach those guys to stay in the vision of the quarterback, and he did that."
No one is saying Kenny Bell has been replaced just yet, but when talking about deep-threat options to fill the void, Reilly is doing all he can.
The Lincoln Southwest grad's three catches this past Saturday piled up 112 yards. The week before, the junior ran past Miami defensive backs for a 41-yard catch. He also made a leaping 21-yard touchdown catch on fourth down to keep NU's furious fourth-quarter rally going.
As most would have guessed, Jordan Westerkamp left nonconference play with the most receiving yards of any Husker (351 on 26 catches). But Reilly is close behind, with 336 yards on 17 receptions. He's averaging 19.1 every catch.
"He's been great," Langsdorf said. "He's faster than I thought he was. I think he has been an elusive route runner, but he's really stretched the field well. We ran a couple posts with him last week, and he was really running hard and open. He's been a great deep threat for us early in the season."
He'll likely loom large for the Huskers on Saturday at Illinois. As gameday arrives, let's review a few topics from the week that was.
* IMPROVING ON THE MONEY DOWN: "Oh no, it's third-and-1." Mike Riley was joking when he said Monday that's what he thinks when his offense meets such a situation. Well, he was sort of joking.
One good thing is that Nebraska has had a knack for pulling something out of its hat to convert on some third-and-longs. Like that third-and-19 late in the fourth quarter Saturday when Tommy Armstrong hit Brandon Reilly for 41 yards.
But the Husker head coach wants his team to keep improving on third downs, and especially those third-and-shorts. The latter was also apparently an issue for Riley and his staff the past couple of years at Oregon State.
"This has been a three-year deal for us, and we've got to fix it. We have been better on third-and-long than we have been on third-and-short. That doesn't make any sense," Riley said. "That's the reality of it, and I hate that."
The Huskers are in the middle of the pack on third-down conversions right now, ranking 61st nationally, succeeding on 21 of 51 attempts.
Nebraska had been much better on the money down until this past Saturday, when it went 4-of-13 on third downs. On a few third downs around the red zone, receivers caught passes, but short of the sticks. To be fair, there was a third-and-1 conversion when Andy Janovich popped a 28-yard run.
"We just have to become more consistent throughout," Riley said. "We were on a pretty good pace third-downwise, until this week. We want to get back up with that through all the downs, and of course continue with that longer-yardage deal, because that's a pretty good percentage with what we're getting."
* DAVIE STILL IN CORNER MIX: Nebraska senior cornerback Daniel Davie didn't appear in Saturday's game — not even on special teams.
That doesn't mean he's being pushed from the corner rotation permanently.
"I wanted to keep the flow the way it was (Saturday)," Nebraska secondary coach Brian Stewart said Monday.
Jonathan Rose took over Davie's starting role.
As for the long-term approach with Davie, "It's to get him back in the flow of things," Stewart said. "Try to get him 20 plays a game, somewhere around there."
The 6-foot-1, 190-pound Davie, a Beatrice High School graduate, started all 13 games last season and the first three this season, but was benched early in the Miami game because of ongoing coverage issues.
Stewart added, "He needs to see what he's doing, concentrate on how he's supposed to be doing things and get back to basics and show us at practice.
"He did a good job last week in practice. We want to see him put something good on practice tape so we can see what he looks like on the field."
Stewart was surrounded by reporters after Monday's practice, probed about what's gone wrong with a pass defense that ranks last among 127 FBS teams.
What's the biggest issue?
"Situational football," Stewart said. "Understanding when to press, when to play off, where's your help. … Do you have help inside or help outside? It's just a matter of understanding situational football consistently throughout the game."
For example, red-zone defense is situational football.
"You don't want to hard press in the red zone because it turns into a fade game," Stewart said.
H4L asks: "What is up with the coaching staff and being so set in its ways regarding playing (Terrell) Newby over all other options so much? I get you want to get a rhythm and that they're focused on the pass blocking but seriously, a RB's main objective is to run the ball. Newby is not making decisions quick enough which often get him off balance and/or second-guessing which cause him to be easier to tackle and not able to break any tackles. Why not give two other guys, say, 5 carries for the sake of change of pace and maybe a big play? They could adjust to move TE or H-back in the backfield to help pass block and that sounds like the only complaints against Wilbon/Ozigbo. Thoughts?
Brian Christopherson answers: "I think Riley said exactly how they view that running back spot this week. People can choose to like it or not like it, but for an offense throwing the ball upwards of 50 percent of the time, it's clear you better be good at pass pro and be a good receiver out of the backfield to play. Those are things Newby does better than the others right now in the eyes of the coaches.
"I can't say I've seen enough from the others to know if that's right or wrong, but I'll assume coaches want to win more than anybody and are going to put the guy out there they think gives them that best chance. Riley did mention the possibility of a little more Devine Ozigbo going forward, which will be interesting to watch. He moves well for a big man, and showed good hands in camp. I can't speak to his pass protection, but he should be on people's radar. Coaches like him.
"Usually, the backup QB is the most popular guy in town. It appears this year the backup running back has taken that role. Let's just be careful to not act like we know more about each guy's talents than we really do off the limited reps we've seen."
Final word from Riley about Illinois:
"The quarterback (Wes Lunt) is throwing efficiently, he's 60-plus percent, (214) yards per game. They have a good receiving corps that is making plays. (Wide receivers Geronimo Allison, Marchie Murdock), they have a true freshman that's playing (Desmond Cain) that looks good. They have a solid offensive line and they use their running back in multiple ways.
"Probably one of their best ways to run the ball is the draw, because a lot of times they're in four-wide, they're split, so if you're out in coverage and you've expanded your defense, then the draw is a good play for a versatile running back, and they use him in the passing game, too. It's going to be one of those games where you're going to have to be very accountable with what they're doing with the tailback and then being in good shape coveragewise. (Lunt) is an accurate, good-looking passer."