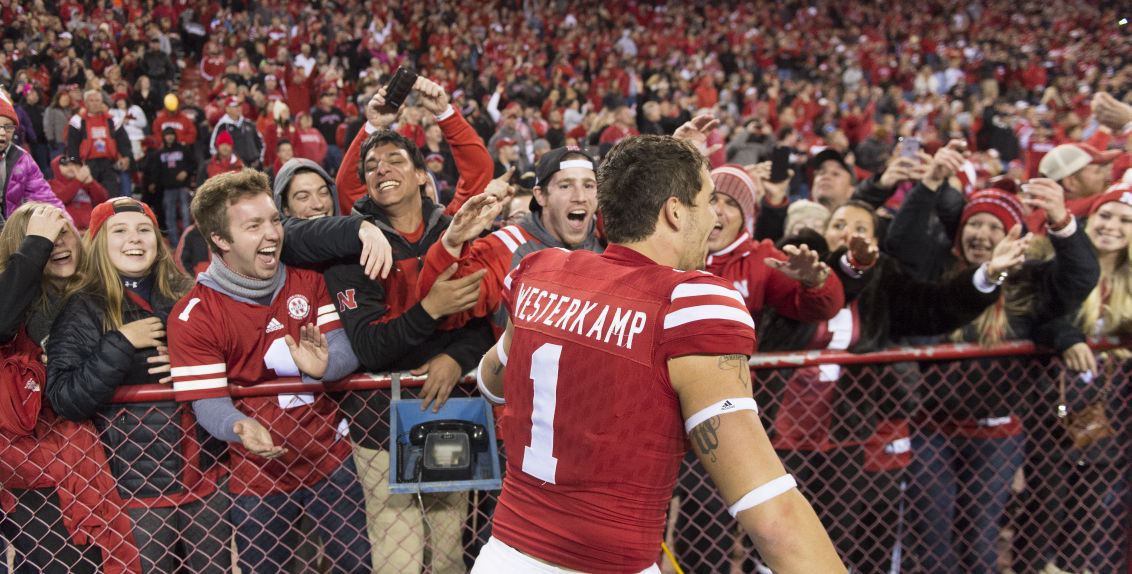 Hank Hughes admitted he felt it the other day as he stood in line for a cup of joe.
You have to get your coffee win or lose, but this visit was decidedly better than ones in previous weeks, the smell of victory still far greater than all the beans in the building.
"It reinforces what you're trying to get done," Nebraska's defensive line coach said. "It makes me feel better when I'm going to get my coffee. Just looking at the girl or guy across the counter handing you your coffee, you feel a little bit better about yourself."
Senior defensive tackle Kevin Williams felt something different himself Monday.
How does a person read confidence? It isn't easy. But as Williams looked around at his teammates, fresh off a 39-38 thrilling win against top-10 Michigan State, he saw something different.
"You could see it in everybody's face just walking around the stadium today, yesterday, just knowing that we still have two games left, we can make something out of the season," Williams said. "Everybody's confident in their abilities and what we can do going forward."
Here's the inserted reminder that just three weeks ago there was also a feel-good vibe hanging around Husker football. Minnesota is not Michigan State, but NU had just taken the Gophers down by 23 points on the road and Northwestern and Purdue were coming up.
Everyone knows what happened. That's why you could say that Nebraska's upcoming meeting Saturday at Rutgers carries every bit as much weight as the game that just had the Huskers dancing.
Nebraska hasn't won back-to-back games since Nov. 1 of last year. The Huskers have to show they can string wins together, otherwise go back to that feeling so many around here had just a week ago.
Williams knows this is no time to lose focus. You don't want to dwell on the past. "But then again, don't forget it," he added. "Don't forget how bad we felt those games. Don't forget how bad we felt last week with Purdue, how bad we felt in the past."
Husker junior quarterback Tommy Armstrong agrees with Williams that Saturday's win was a "confidence boost" to those in the program.
He also knows what happened is not some great momentum changer for a program if you don't go back to work and back it up again the next week.
"We've just got to make sure that we carry it over," Armstrong said. "Coach Riley always tells us (the game last week is) kind of just tools for the following week. We've got to let it go and build off of it. Yeah, we won, but at the same time we've got another game to play."
The Huskers will meet a Rutgers team that is stumbling to the finish line. The Scarlet Knights are 3-6 and have lost their last three games, to Ohio State, Wisconsin and Michigan, by a combined score of 146-33.
Rutgers ranks 84th in total offense and 84th in scoring offense. Defense? Worse yet. Rutgers is 109th in scoring defense and 111th in total defense.
But the Huskers, still not bowl-eligible, are hardly in a position to take anyone lightly. 
It sure is better going to work on Mondays like this one compared to the last one, though.
"Hopefully it's just confirmation for the whole philosophy of what we try to do week to week," said Husker head coach Mike Riley. "You know, I really don't like to all of the sudden change because of the perception of the opponent. You'd like a consistency in what it takes to get ready to play, and this is who we are and this is an identity. And I think that allows you to be at your best all the time.
"Every game is a big game, every game takes the same amount of attention and detail and you basically show respect to the opponent by getting ready and spending time with them so that is the kind of the thing that you want. You hope that a game like this is confirming for you team."
During a season in which there has been so much outside chatter about whether there was "buy in" from players to the new staff, it might be hoped Saturday was the point in which that conversation drifted away.
After the clock hit zeroes, it was a 4-6 football team that was smiling, hugging, dancing, still with opportunity to change a season's narrative in many ways.
"The locker room was crazy," Williams said. "I don't think it can get much better than that."
Before Riley led his team in a string of 10 hip hip hoorays — possibly a new hip hip hooray record for him, he admitted — he gave a brief speech. He talked about belief and preparation. His team had exhibited both.
"That's a great lesson for everybody, great lesson for what this team is going to be about forever right there, right?" Riley said in a speech that went viral in Husker social media world. "Never quit. Let's just go. Let's just go. Put the blinders on and play ball."
In the midst of the speech, the voice of a player dropped in his own line, the words of this week in many ways. "Let's build on it, baby."