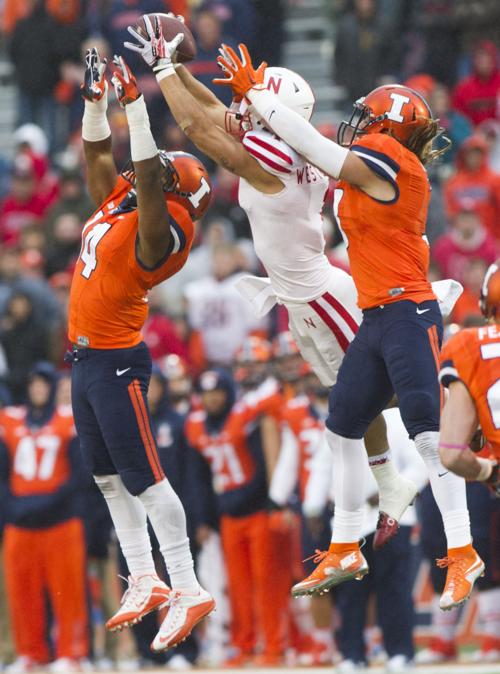 How do the Huskers light up the scoreboard?
1. When those chances for two or three big plays arrive, cash out. Against this defense, the Huskers might have trouble grinding out a lot of those successful, 13-play drives. Nothing wrong with hitting singles on offense, but this might be a day when you need a couple of home runs.
2. Detail football. Use the clock right. Knock away the procedural penalties. Make the Badger defense beat you instead of beating yourself.
3. Patience. Don't try to force that home run play when it's not there. Live for another down. This could be a field-position game. Realize you've got a great weapon in punter Sam Foltz.
4. That confident Tommy Armstrong we saw all nonconference season. He struggled throwing in the wind last week, but that doesn't mean that performance has to carry over. Armstrong keeping a positive outlook in that huddle even in tough moments will be key for this team.
5. A couple of receivers need to have big days. Everyone wants to see the running game charge ahead. But Jordan Westerkamp, Brandon Reilly, Stanley Morgan, De'Mornay Pierson-El, those guys need to make a dent in this game. Perhaps a giant Pierson-El punt return? Oh, that'd get people going.
How do the Blackshirts shut 'em down?
1. Don't get so lulled to sleep by the Wisconsin run game that you get duped by the play-action and some Badger is running uncovered by 15 yards. Make Joel Stave prove he can put throws in a tight space.
2. Maliek Collins picks up where he left off last week. Seriously. When he plays at that level, he changes everything for everybody around him. Oh, and knock on wood for everyone available to stay in good health on that D-line.
3. Be thieves. NU has just six takeaways all season. Wouldn't you like to see how it might go in a game like this where the Huskers go plus-2 in turnovers?
4. Setting the tone on early downs. The Huskers have held their own on third down, but have given up too many big plays on those early downs. Get this Wisconsin offense in third-and-5 or more and you figure it increases those chances for that big defensive turnover that turns a game.
5. What you want to see early and often is guys bouncing around after making a play, having fun. Football is a fun game. You understand why this group's been tight given the criticism, but it'd be something to see a Blackshirts unit that recaptures slapping each other on the helmet after plays. Rowdy.
GREG McMULLEN, DE/DT, NO. 90: The junior could have to slide inside for some snaps because of depth issues. Outside or inside, the Huskers need McMullen to have the game of his season.
DEVINE OZIGBO, RB, NO. 22: Suddenly a major part of the running back rotation. Had a nice debut in a key role last week. Can he bring that extra punch to the Husker running game against a stout defense?
CETHAN CARTER, TE, NO. 11: Caught a career-long pass last week and was a missed block from giant plays on screens. Looks like he's starting to become more of a receiving factor.
NUMBERS TO THROW OUT AT THE TAILGATE
27: Longest kick return by a Husker this year. They've had only 10 returns total. Can Jordan Stevenson give a spark here? Will he get the chance to run one out?
3: Categories Wisconsin outside linebacker Joe Shobert leads the country in: sacks (9), tackles for loss (13) and forced fumbles (4).
7: Years since Nebraska started a season 0-2 in conference play. Yeah, Bo Pelini's first team. Those losses were to two top-10 teams (Missouri and Texas Tech) and dropped NU to 3-3 overall. That team did rebound, finishing 9-4.
There's a Husker party if ...
With NU on its way to a feel-good win, some guy with the power has the guts to hit the button and play "Jump Around." …  You don't feel like a running back is going to score every time he touches the ball like last year. ... A Husker defensive back picking off a pass, or two. … How about a running back breaking a 40-yard-plus TD? Or a fullback. ... A united team and fan base, blowing kisses to each other after a win, and meaning it.
Sunday brunch stinks if …
Jordan Stevenson gets eight or nine opportunities as a kick returner. Think about it. … Coaches start to mill around the student section looking for hefty students that could take reps on the D-line. ... Joel Stave decides he's Russell Wilson and some unknown Wisconsin receiver decides he's Jared Abbrederis. ...  You're still hearing about 1959 (last time NU started 2-4). ... You quickly realize the new week will have more rumors than the last one.
* BC's best guess: Badgers 23, Huskers 20.
How can we possibly know what frame of mind this team has going into this game? Tough week. Lot of skeptics. Lot of armchair coaching. The key on this Saturday: Togetherness. If everyone is rowing the same way, the Huskers very well could push back and grab this season before it slips away. But with all the injuries, and the unknown about this team's mental makeup, the burden of proof remains on Nebraska to show it can win a game like this.