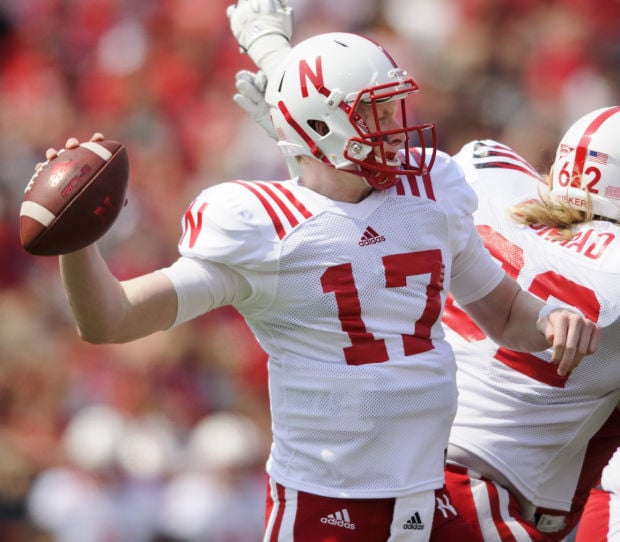 It was just a couple weeks ago when Ryker Fyfe was telling the lone reporter standing next to him about his green cap.
He wears it on the sideline during games. Actually, accuracy demands we switch that to past tense. He wore it on the sideline during games. The green hats sit atop the heads of the backups as they signal in the plays. Makes them easy to spot for the starting quarterback.
"People make fun of my green hat," Fyfe said then. "They say, 'At least I can see you on the sidelines now.' It's good for my parents."
Funny how it goes. One week your relatives are the only ones watching for you on the sidelines. The next week everyone in the state of Nebraska has eyes on you.
With Tommy Armstrong's turf toe injury, Fyfe on Saturday will put down the green cap and join that select club of individuals who can say they started a game at quarterback at Nebraska.
The junior from Grand Island also joins the even smaller company of Ron Kellogg III, Monte Christo and Matt Turman as NU quarterbacks since 1994 who have started at least one game after beginning their careers as walk-ons.
Prior to that, other walk-on quarterbacks who started at least one game in the Tom Osborne era include Travis Turner, Tim Hager and Steve Runty. (Tom Haase was another walk-on QB who played significant snaps in the 1991 Citrus Bowl, but Mike Grant started the game.)
"Not get too high, not get too low," Fyfe said this week of his approach. "Just go out and do what I'm supposed to do."
He was no longer saying this to just a single reporter. Now there were about 15 around him. Camera lights shining brightly on him.
If to some it seems a tough spot to be in, it's also the spot Fyfe wants to be in. Since last year, when he surprised many outside the program walls by pushing ahead of Johnny Stanton to win the No. 2 job, Fyfe has shown he has some fight to him.
During his senior year at Grand Island High School, he threw for 1,921 yards, ran for 746 and had a hand in 34 touchdowns. Yet his only full scholarship offer was from Nebraska-Kearney.
"It does fuel your fire, you know," Fyfe told reporters last August. "Coming out of high school, I thought I was going to have a bunch of offers."
So he walked on at Nebraska, as he once said, because "I just decided I wanted to play at the highest level. I mean, that's what I've been doing my whole life."
At the time Fyfe decided to come to Lincoln, the Huskers were also signing Armstrong to the 2012 class. But the only other scholarship quarterbacks on campus were Taylor Martinez and Brion Carnes. NU had signed Bubba Starling the year before, but lost him to the Kansas City Royals' organization.
Fyfe felt right away he could compete at this level. He saw opportunity.
Former Husker offensive coordinator Tim Beck said last year he considered Fyfe almost like a second scholarship quarterback in that small 2012 recruiting class that featured just 17 signees.
The problem for Fyfe was he didn't actually have a scholarship until last fall. He acknowledged just days prior to receiving one last year that the pursuit of that scholarship gave him "a little bit of an edge" to the way he competed.
But even after receiving that honor and spending the past year as a backup, including leading a touchdown drive at Michigan State, he had to prove himself to an entirely new staff in 2015.
Once again many outsiders speculated that Stanton, who ended up transferring this spring, or even one of the redshirt freshmen such as AJ Bush or Zack Darlington, might push Fyfe to the side and take over the No. 2 job.
And after a tough summer where Fyfe had personal and health issues, it was wondered if he might be the fourth guy in the quarterback line. He wasn't. He showed more fight, and a couple weeks into fall camp, he'd surprised people again, moving back to No. 2.
"I think that probably the little bit of a separator there (is) the consistency Ryker has shown and some attributes that he has that I think are very, very good for a quarterback," Husker head coach Mike Riley said after making that decision.
"He's got a nice, quick release. He makes quick decisions. He's got a good feel for what he's doing."
It's also true that Fyfe has played in just one game this year — against South Alabama — and thrown 18 passes in his career.
So it truly will be a new experience when he takes Nebraska's first snap at Purdue on Saturday for a 3-5 Husker team in desperate need of a win.
Fitting it's Halloween. The last time Nebraska played on Oct. 31, back in 2009, another quarterback wearing No. 17 started his first career game for the Huskers. Cody Green threw a pick six that day, but NU survived Baylor for a 20-10 win before a half-full stadium in Waco, Texas.
Despite his struggles that day, Green credited teammates for the way they hung with him while making that first start. "They just circled around me and pretty much said, 'Hey, don't be afraid to make mistakes. We got your back. Just go out there and play your game. We're going to play ours,'" Green said after the win.
One figures such a support system will be just as critical for Fyfe.
Strangely enough, it was also Halloween in 1998 when Christo, a native of Kearney, started his first game as a Husker. That was the day that year's Heisman Trophy winner Ricky Williams helped Texas to a 20-16 win against the Huskers, ending Nebraska's 47-home game winning streak.
Yeah, the Count lost on Halloween. Figure that.
For his part, Christo was 4-of-4 passing for 58 yards, but ran for minus 3 yards on seven carries, eventually giving way to another in-state quarterback, named Eric Crouch. Christo played in 18 games as a Husker, but that was his only start.
Whether Fyfe will get more chances to start at quarterback beyond Saturday remains to be seen. Part of that is on him. Part of it is how fast Armstrong's foot heals.
But Riley knows what it means for a quarterback who has been waiting in the shadows to get this chance. "I'm excited for him and I think he'll do very well," the coach said.
While there's no shame in wearing that green cap, this is why the kid from Grand Island showed up in Lincoln in the first place.