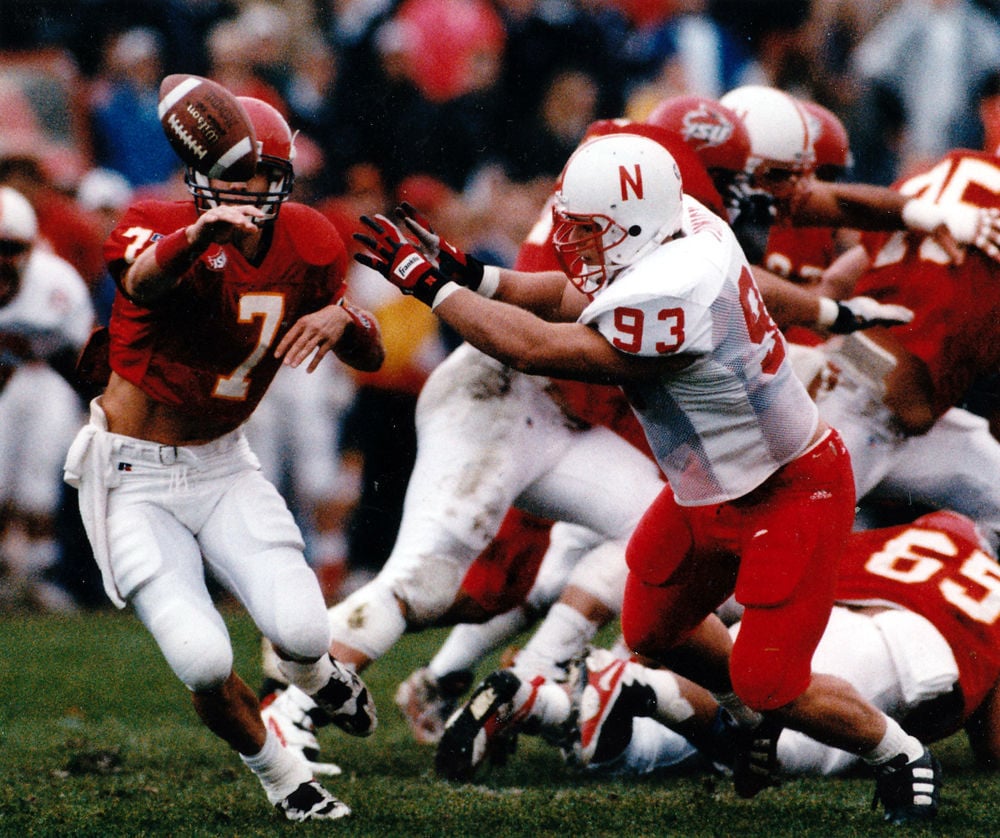 So who's Nebraska's most famous football walk-on? Some would argue I.M. Hipp.
But that's looking past two-time All-America outside linebacker-rush end-defensive end Jared Tomich.
"I still am not sure what you call my position, but I played with the best college team I ever knew," Tomich said of the 1995 national champion Huskers. "There was so much talent, such a close-knit group, a family, such great coaches, I look back and wonder how I even had the opportunity to play with that team.
"Even after nine years in the NFL, I have to pinch myself to realize that I was a part of that team. ESPN called a couple of weeks ago and asked if I thought the 1995 team was the best ever, and to me, sure. Nobody could touch us."
Tomich was not recruited out of Lake Central High School in St. John, Indiana.
"I took about the longest route you could take to get to Nebraska," Tomich said. "A strength coach at East Chicago sent some game films to Nebraska. I visited in April of 1992 and Coach (Charlie) McBride said I could come as a Prop-48 player and have to study, with no football contact at all for a year."
Tomich had to check in with McBride every week to discuss his academic progress.
"He was in the process of stopping chewing tobacco and so I just tapped his door as lightly as I could, because he was kind of ornery for a while," Tomich said the Husker defensive coordinator.
Study halls, tutors (the one thing Nebraska could offer) and no football preceded his redshirt year in 1993.
You have free articles remaining.
As a redshirt, Tomich started learning what he could from Dwayne Harris, Trev Alberts, Donte Jones. He earned his first start in 1995, opposite Grant Wistrom.
"We had pressure on us, but it was good pressure," said Tomich, who lives in Merrillville, Indiana, with his wife Michaline, and sons Jackson, 5, and Jude, 5 months.
"All that we were taught and all we learned applied to the real world," said Tomich, who installs decor designed by his wife in restaurants.
When he visits with former teammates, "we talk football," Tomich said. "I think we all get better every year and probably every game was 120-0."
He tore up opponents in 1995 with 10 sacks, 12 tackles for loss, three forced fumbles, two recovered fumbles, three pass breakups, 24 quarterback hurries and an interception — all to go with 27 tackles.
"I lined up next to Christian or Jason Peter, depending on the call," Tomich said. "Behind me was usually Terrell Farley and further back was Michael Booker.
"I can't even tell you how much fun we had and how hard we practiced and how hard everybody worked for the same goal. I mean we'd beat the snot out of each other and laugh about it at the training table. I don't think anybody understood who we were."
The 1995 team was beset with negative national attention brought on by the arrest and suspension of running back Lawrence Phillips.
"We tried to make everybody understand that we were a team and what you did reflected on everything we did," Tomich said. "We were the ones who begged Coach (Tom) Osborne to bring Lawrence back to the team. We knew he had no other chance.
"Well, that didn't work out in the long run, that's sad. But we were that close as a group and we believed in each other."