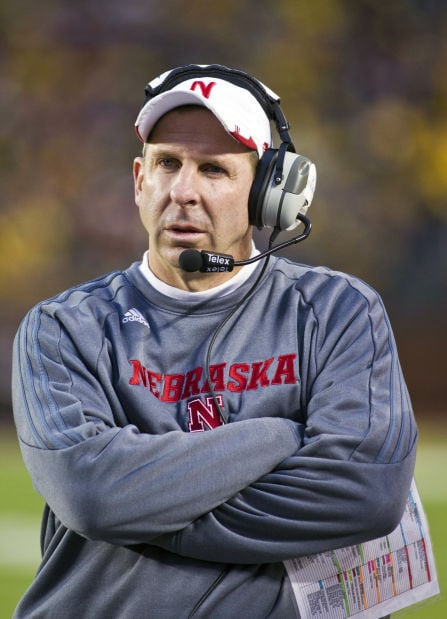 Two days after 16 Huskers received Blackshirts, Bo Pelini said he "felt it was the right time," but also noted the decision wasn't solely based off an impressive second-half showing against Northwestern.
"It's no single thing like that," Nebraska's head coach said following Thursday's workout in the Hawks Championship Center. "It's an accumulation over time. … I don't think there's any perfect time to give them out. Whether you give them out at the beginning of the year, or end of the year, middle of the year. We choose to do it the way we do it and there's a reason behind it.
"What I've found on this is you're not going to make everybody happy. People are going to second-guess you one way or the other. We do it with our players the way we see fit, and I like the way we do it. We try to honor the tradition by making them earn it.
"Do you ever completely earn it? No, you're never perfect. I don't want to sit there and say we've arrived as a defense. Believe me, that isn't the case."
* SAME ROTATION: Pelini said he expects to start the same five on Nebraska's offensive line Saturday against Rutgers — Alex Lewis at left tackle, Jake Cotton at left guard, Mark Pelini at center, Mike Moudy at right guard, Zach Sterup at right tackle.
"I like the rotation the way it's gone," Pelini said.
Nebraska's substitutes performed well in Saturday's win over Northwestern, with Ryne Reeves coming in at center, Chongo Kondolo at right guard and Givens Price at right tackle.
That trio was part of three scoring drives in the 38-17 win.
"It's kind of just going with the hot hand," Pelini said. "They were (in) for two longer drives and that's just kind of how it played out. Right now we feel good about eight, even nine guys that we feel can play on the offensive line. We're going to rotate and keep them fresh. We do the same thing in practice, so it's really nothing new to our guys."
* BEWARE THE LONG BALL: Rutgers has had some success with the deep ball this season. Consider wide receiver Andrew Turzilli is averaging 41.9 yards per catch on his seven receptions, including touchdowns of 80 and 93 yards.
"They're going to run, run, run. They're going to pound the football at you some and then they're going to take their shots down the field," coach Pelini said. "That's where you got to be ready. You can't let them lull you to sleep."
* KICKING AWAY: There isn't a lot you can necessarily do if teams try to punt away from De'Mornay Pierson-El, Pelini said.
But the coach also knows those teams are taking another risk if they attempt to play keep-away — like a shanked punt.
"They're going to do what they do. If you kick away from him, you might be doing yourself a disservice, too, especially if you don't do it the right way," Pelini said. "It's easier said than done to be able to kick away from somebody but still get distance. So we're ready to adjust. We understand that he's a weapon back there and I'm sure people are a little bit nervous about kicking the ball to him. But he's aware of that, we're aware of that. We've just got to execute and make sure that when we get our chances we take advantage of them."
* GOOD HEALTH: For this point in the season, the Huskers enter Saturday's game in relatively good health.
While tight end Cethan Carter will be held out as expected, defensive tackle Vincent Valentine, who hyperextended his elbow against Northwestern, is good to go.
Pelini also said wide receiver Brandon Reilly could "possibly" start to see some game use after suiting up against Northwestern for the first time all year after a nagging hamstring injury.
"We'll see. He's still getting his legs under him a little bit," Pelini said. "He had a good week of practice. It's good to have him back and ready to go."
Pelini said junior linebacker David Santos, who has not played the past three games but suited up for the last one, had a good week of practice.
"I think he's feeling healthier and healthier every day. He'll be ready to go on Saturday. … He was playing at a very high level when he got hurt. Hopefully he doesn't have any rust when he gets back out there."
* TICKETS: A small number of tickets are available for Saturday's game after Rutgers returned some of its allotment. Tickets can be purchased online at Huskers.com or by calling 1-800-8-BIG-RED.
* QUOTABLE: "I told our guys, 'It's going to happen quick on Saturday morning,' so get our rest tonight and get ready to go and make sure we're ready to meet the challenge." — Bo Pelini
Be the first to know
Get local news delivered to your inbox!