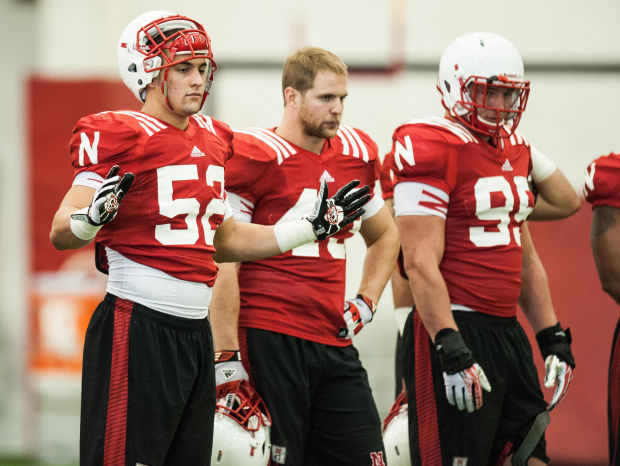 Adversity has a knack of showing up without warning.
For Trevor Roach, it arrived on a lonely high school field last July. The Husker linebacker was getting ready to report for fall camp, and given Nebraska's youth on defense, a leading role seemed entirely possible for him.
The Elkhorn grad was running through blitz assignments back at his old school, testing himself mentally as much as physically.
Somewhere, amid his visualizing, he planted a foot wrong. "Wasn't even going that hard at the time," he says.
Roach thought he just sprained his ankle. He even waited a couple of days before getting it checked by Husker medical personnel.
There was great surprise when Roach was told he's torn a ligament in the middle of his foot. A season that seemed tailor-made for him was over before it began.
With the pain also came a question: Put in the work for one more season as a Husker or hang up his cleats?
"I didn't want to quit playing … but I didn't know if I was physically going to be able to," he says. "I wanted to be here. If I didn't want to be here, I obviously wouldn't be here. But more than anything, I love coming out and playing with my teammates."
And so Roach is still around, backing up sophomore Josh Banderas at MIKE linebacker. At a position that has its share of second-year guys, such as Banderas, Marcus Newby and Courtney Love, Roach, entering his fifth season as a Husker, is the old guy.
There's good give and take in the linebacker room. While Roach has the seniority, he also says: "Some of them have played more than I have, so I learn from them, they learn from me."
However many snaps Roach plays this fall, he wants to make sure to have an impact the same way players such as Will Compton and others left a mark on him.
"Will and those guys, we're reflections of them right now, so when I'm gone, they're going to be reflections of me, kind of," Roach says. "So it's kind of like helping for the future. That's kind of how I look at it. I want Nebraska to be good, obviously, so I'm going to help those younger guys how I can."
While being a mentor to the younger players is an admirable quality, Roach shouldn't be discounted from possibly being a key contributor on the field.
If his return in the spring was challenging — Roach says he felt sore and slow; defensive coordinator John Papuchis says he looked rusty — the 6-foot-2, 235-pounder now feels more like his old self.
He looked like it Saturday when he dropped into a passing lane and picked off a pass, or when he slammed the door on a couple of running plays at the line of scrimmage.
Husker coach Bo Pelini says Roach's play dipped a little during Friday's practice. So he challenged the senior heading into the weekend.
"I told him you can't worry about having to get those young guys (going). You have to do your job first," Pelini says. "And I think he made really good progress."
It seems long ago when Roach last had a starring role for the Huskers, called into action as a redshirt freshman in 2011 opener to fill in for the injured Compton.
He responded with seven tackles, including two for loss. More than half of his career tackles came that day against Chattanooga.
The rush Roach felt that day remained as he rehabbed his foot to come back for one more season. It'd be something to feel that again.
So there's no regrets about taking on one more season, just as there are no regrets about passing up a scholarship from Northwest Missouri State to wear the "N" on his helmet.
"I was a 'what-if' guy," Roach says. "If I didn't go here, what's going to happen? Am I going to regret not trying Division I football? I think I would have, so that's why I had to do it."
That seems a long time ago. Year No. 5 as a Husker begins. And, with the season opener against Florida Atlantic less than two weeks away, it's nice to think that the final chapter could be the best one.
"Every year we've been here we've had the talent," Roach says. "It's just, how much do you want to put in the work?"