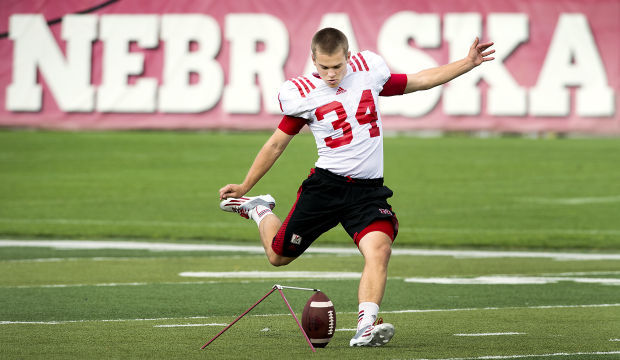 What do you say we end this camping trip? It's over for good for the Husker football team, which now officially says goodbye to fall camp and hello to the adrenaline rush that is game week.
Much was made early in camp about Nebraska's practice changes, which featured shorter practices with quicker tempo. There was also added technology, as NU used Catapult GPS-monitoring systems to track data on each player as he practices.
All said, coach Bo Pelini liked how the new tempo and technology helped his team, which will open its season Saturday against Florida Atlantic.
"I think we had great tempo ... our soft-tissue injuries were way down," Pelini said. "(The GPS devices) gave me a lot of information and we were pretty much able to stay right on track with what we aimed to do going in. For the first time … that isn't real easy to do, but we were disciplined in staying on our time frames. And the type of tempo our guys practiced with allowed us to stay on those time frames."
Pelini called the GPS technology "a tremendous resource" that he expects the Huskers to continue to use.
Husker football strength coach James Dobson said the technology has been around for a while in Europe, but is becoming more commonly used in America. He's been researching the equipment since the fall of 2012 and got serious about using it last winter.
Before each practice, a GPS unit is placed in the middle of a player's upper back. On gamedays, it'll be attached to the shoulder pads, unnoticeable to the player.
"It collects hundreds of metrics per second," Dobson said. "So metrics, as far as what's important to a football player and an athlete in general are: acceleration, deceleration, whether they're cutting off their right or their left, how well they're cutting off their right or their left. Impacts, distance covered, top speed, you name it. It's about 400 metrics per second that they're measuring."
The big goal is to measure a player's workload in a practice to maximize efficiency and limit fatigue, which can lead to injury.
"How much work is a player doing during a practice?" Dobson said. "You want to make sure that you're within a certain load. You want to work the guy hard enough but you don't want to take the guy off a cliff."
* BRINGING THE NOISE: The Huskers have yet to announce captains, but Pelini gave an idea of the players he sees as the biggest vocal leaders on the defense after Saturday's practice at Memorial Stadium.
Pelini named senior cornerback Josh Mitchell and safety Corey Cooper, and sophomore linebacker Josh Banderas. "Just by the nature of his position," Pelini said of the middle linebacker.
"We have good chemistry over there. (Safety) Nate Gerry also does a good job. So we have some guys that have some experience who have kind of been through it that do a nice job of leading that group."
Pelini also likes the approach of junior defensive end Randy Gregory, even though he may not say as much as other guys.
"He's a quiet guy, but he's a leader by how he plays, by his actions on the field," the coach said. "He's not a real vocal guy, but he is when he needs to be."
* INJURY UPDATE: Pelini said senior fullback Andy Janovich is probable and right tackle Zach Sterup and wide receiver Brandon Reilly (hamstring) questionable for the opener against Florida Atlantic.
"But I would think (Sterup) is a lock for the second game," Pelini said.
With Sterup out, junior Givens Price has been seeing the majority of snaps with the top unit.
"He's had a good camp. I feel real confident in Givens," Pelini said. "And Matt Finnin has really played good football over the last couple of weeks. I have a lot of confidence in that group."
* REDSHIRT DECISIONS: Pelini has previously said true freshmen such as safety Kieron Williams and nickel/cornerback Josh Kalu are likely to play this year. But for most new players, it's "still too early to tell" exactly who will play and who will redshirt.
"There's some guys that are definitely going to redshirt, there are some guys that are on the fence a little bit."
* TO BE NAMED: Pelini isn't yet naming who will be the starting punt returner and place-kicker.
The latter has been a close competition between junior Mauro Bondi and true freshman Drew Brown.
After a disappointing spring, including the Red-White Game, where he missed an extra-point kick and an 18-yard field-goal attempt, Bondi has bounced back to give himself a shot at winning the job.
He thinks the competition with Brown has ended up benefiting him as a kicker.
"Coming out of the Spring Game, obviously, I was disappointed, but now, being able to start again ... you just have a different mindset," Bondi said. "Coming out this fall, I just have the mindset that I want to play. This is the year. If it doesn't happen this year, it probably won't happen. I'm kicking the best I have probably in the last four years, so we'll see what happens."
Pelini said NU will announce a full two-deep depth chart "as the week goes on."
* TIGHT END TRACKING: At tight end, Pelini said sophomore Cethan Carter is "definitely 1A."
After that, he named Sam Cotton, David Sutton, Greg Hart and Trey Foster as guys battling for playing time.
"I like that group," he said. "It's a good group."
* THIS AND THAT: As Pelini hinted during Big Ten Media Days, the Huskers are altering their practice routine on Thursday and Friday, with a full workout now occurring the day before the game after a lighter practice on Thursday. ... Among those at Saturday's practice was Kris Brown, former NU kicker and brother of Drew Brown. ... Pelini has not yet announced walk-ons who will receive scholarships this fall.