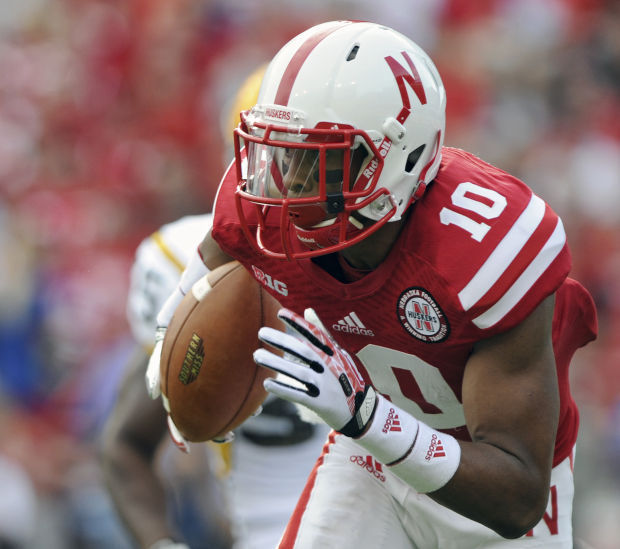 It wasn't the junior year he hoped to have, but wide receiver Jamal Turner is hopeful his last chapter as a Husker is the best. He's one of three receivers atop the official depth chart released Thursday.
Granted, there was an "or" behind his name at his position. Right there with Turner is sophomore Alonzo Moore.
But when it comes to Turner, Husker coach Bo Pelini said there's "no doubt" the receiver has seemed motivated going into his final season.
"He's had a great camp," the coach said. "He's done everything we've asked of him. He's contributed in every area. On special teams. He moves around on offense. He's learned all the positions. I think he's going to have a really good year for us."
Kenny Bell and Jordan Westerkamp are listed as the starters at the other two wide receiver positions.
Taariq Allen, Brandon Reilly and Sam Burtch are all listed as even behind Bell. And true freshman Demornay Pierson-El is listed as even with Reilly behind Westerkamp.
* PRICE IS RIGHT: Whether Zach Sterup plays or doesn't Saturday against Florida Atlantic, Pelini feels right tackle is in good hands.
While Sterup was said to be "possibly" available for the opener as he comes back from injury, junior Givens Price could make his first career start at the position regardless, having worked plenty of reps with the top offensive unit after moving from guard to tackle at the beginning of fall camp.
"He followed up a good spring," Pelini said. "We thought he did well at guard and then we moved him out to tackle, and he looks even more comfortable. … We have a lot of confidence in him."
Price said this week he's just trying to run with the opportunity given him.
"Obviously, I've worked as hard as I can. I'm still working hard," he said. "I look forward to this Saturday and games to come. It's just day-by-day. One game at a time."
Guard? Tackle? Price said he'll do whatever he's called to do.
"I'm adjusting a lot better to tackle, so I'm starting to enjoy it. Obviously, I enjoy playing guard just as much. Wherever I'm needed, I'm willing to do it. I'm pretty equipped for both of them."
* KICKER COMPETITION: Junior Mauro Bondi and freshman Drew Brown have been locked in a tight competition to be Nebraska's place-kicker.
"It's real close," Pelini said. "You'll probably see both guys at some point, but we'll start the game with Drew Brown as the field-goal kicker and Mauro as the kickoff guy."
* DEPTH CHART ITEMS: There were no great surprises on the depth chart.
There is, however, plenty of close competition, with some starting spots not clearly laid out. For instance, it'll either be Mike Moudy "or" Chongo Kondolo starting at right guard, Mark Pelini "or" Ryne Reeves at center, and Daniel Davie "or" Jonathan Rose at cornerback. On Tuesday, defensive coordinator John Papuchis said Davie would likely start.
All four true freshmen who Papuchis said could possibly play Saturday appeared on the depth chart: safety Kieron Williams, nickel back Josh Kalu, defensive tackle Jerald Foster and cornerback Chris Jones.
Pelini's message to true freshmen suiting up for their first college game?
"They've played a lot of good football up to this point against good competition," Pelini said. "A lot of good on good. They're ready to go. Just execute their football."
* RETURNERS: Though Ameer Abdullah has expressed an interest in playing on special teams and has practiced some there, his name didn't appear as one of the returners on the depth chart, though that may not mean much.
Kickoff returners are listed as Moore, Bell, Turner and Pierson-El. Punt returners are listed as Westerkamp, Pierson-El, Bell and Turner.
* QB CHALLENGE: Florida Atlantic junior quarterback Jaquez Johnson completed 58 percent of his passes last year, but was just as much a threat with his feet, running for 772 yards.
Pelini said his defense should be prepared for the test of a dual-threat QB by now.
"They've seen a dual-threat quarterback, they've seen that type of offense all of camp. But you've got to handle your responsibility, you have to be disciplined and do your job."
* FLIPPING DAYS: The Huskers had a lighter walk-through practice Thursday, with a heavier workout planned Friday. That's a change from past years under Pelini.
The coach was upbeat about where his team is heading into its first game.
"Come Saturday, it will give us a starting point to see where we are, but I like where we are heading in," he said. "I'm looking for great execution in all phases of the game."