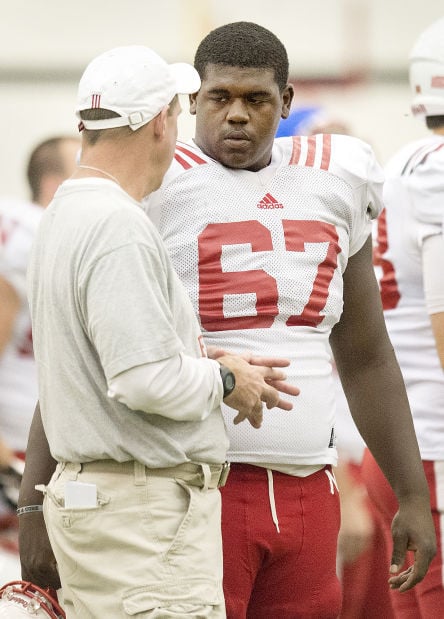 DJ Foster may have been recruited as a four-star offensive guard, but when Bo Pelini approached him this week about playing some defense in 2014, the Lincoln Southeast grad was all for it.
So there was the 6-foot-3, 310-pound Foster on Wednesday, spending his second straight day at defensive tackle. Not only that, he was working with the second-team defense alongside Kevin Maurice, even recording a sack that had defensive coordinator John Papuchis whooping and hollering.
It's a move that came about after Aaron Curry requested a scholarship release — "He didn't like the fact that he was the fifth tackle. There you go," Pelini said of that — and junior Kevin Williams went down with an ankle injury.
It's a move that Pelini does not expect to be permanent for Foster's Husker career.
"He was playing well at guard, but when Kevin Williams went down, it got me to thinking, to build our depth over there, I talked to DJ and he was all for it," Pelini said. "So we put him in there (Tuesday) and he looked really good. … Long-term wise, he's going to be an offensive lineman unless he chooses not to be, but I know in the short term he can help us on the defensive side of the ball."
Pelini pointed out that Nebraska doesn't graduate any of its defensive tackles and has some promising recruits, Khalil and Carlos Davis, on the commit list.
"But I'm not worried about next year, I'm worried about this year, that's why we made the move."
* NOTHING SERIOUS: Williams sat out Wednesday's practice with a boot on his right foot.
The good news is that the injury is not as serious as it initially looked, or as Williams may have thought, when he was carted off the field during Monday's practice. Pelini put a "day-to-day" timetable on the recovery for Williams, who previously had two serious knee injuries.
"He's fine. … It's more of an ankle than anything else, but it's a very mild one," the coach said. "I think it just scared him more than anything, and when you've been through what he's been through, I can see why it would."
* HOW MUCH WORK? Pelini said coaches haven't yet discussed the workloads they want to have for sophomore defensive tackles Vincent Valentine and Maliek Collins during games, but he believes NU is more than equipped to keep them fresh enough.
"I know one thing: They've been out there for seven-, eight-, nine-play drives when we've asked them to," Pelini said. "We have a lot of options on third down. We have a lot of options to get them off the field when we need to. That will work itself out over time."
* SNAPPING CONTEST: While he didn't seem optimistic scholarship long-snapper Gabe Miller (back) would return this fall, Pelini said he feels fine about his replacement options, which include Josh Faulkenberry, Nate Gerry and Josh Banderas.
All three have tried their hand at the position this fall camp, with varying degrees of success.
Any chance Miller comes back in 2014? "If I had a crystal ball I could tell you, but right now I'd say we're not counting on him."
* MIXING IT UP: Senior safety Corey Cooper sat out the practice, but there's no concern there.
"We gave (Cooper) the day off because we wanted to shift our personnel around back there, and really we gave Josh Mitchell the day off, too," Pelini said. "We wanted to get some specific information on certain guys. Kind of 'what ifs.' So on both sides of the football we did that and there was a reason behind why we did it. At the same time it gave some of our more older experienced guys a rest today."
The Huskers worked out inside the Hawks Championship Center after spending the past two days practicing in steamy weather.
Said Pelini: "This isn't the time of year to beat your team down."
* SANTOS' ROLE: Junior David Santos, who's played every linebacker position, including four starts last season at middle linebacker, is playing the BUCK and WILL positions, depending on the offense's personnel, he said.
"I like the outside linebacker spot," Santos said. "I like coming off the edge. I feel comfortable with where I'm at right now."
Michael Rose-Ivey is out for the season because of a knee injury, meaning sophomore Josh Banderas is Nebraska's top middle linebacker.
"He played a lot last year, played all spring ball, all fall camp there," Santos said, "so I think he's come a long way. He'll be good for us."
* YOUNG BUCK: Santos is also delving into his role in helping bring along the young linebackers. He's been most impressed with redshirt freshman Marcus Newby, who, Santos points out, wasn't here last fall camp.
The 6-foot-1, 220-pound Newby has excelled in his role coming off the edge in obvious passing situations.
"Me and Bando call him a little hamster, just on his wheel. He just keeps going," Santos said. "He's got a strong motor. He's a fast guy."
Santos said Newby has made significant strides, especially at the BUCK position.
"This is a team game. Everybody has a job on the defense. We have to play as a unit and come together and we have all be on the same page and understand what our goals are and what we're trying to accomplish."
* INTERCHANGEABLE PARTS: Mike Moudy, preparing for his final season at NU, is locked in a battle with junior Chongo Kondolo for the starting job at right guard.
Kondolo sat out last season after transferring from Fresno City (California) College.
Moudy played in the first nine games, including three starts, before missing the rest of the season with a shoulder injury.
"I honestly don't think of it much as a 'battle,'" Moudy said. "We're interchangeable, pretty much. We've got backups all along the line. We're set. I'm not too worried about it.
"We're just coming out each day and making each other better. The cards will fall where they fall."
* MOTTOS: You can't enter a football season without a good motto to put on a T-shirt, right?
Nebraska's motto on offense is "Red Storm." As in: Come wreak havoc and leave, Moudy said.
The offensive line, however, has its own motto: "Hell in a helmet."
Explained Moudy: "You're making people pay for stepping into your stadium."
— Brian Christopherson, Brian Rosenthal and Steven M. Sipple