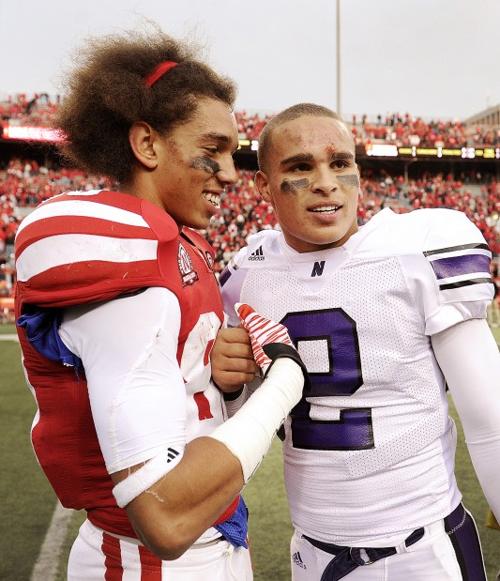 CHICAGO -- Nebraska senior wide receiver Kenny Bell proved a popular man to discuss the ever-changing landscape of college athletics as Big Ten Media Days wound to a close Tuesday.
For one, he's friends with Kain Colter, who has led the charge for a union for Northwestern football. For another, Bell is never shy to wade into such big-picture discussions.
Bell said it's first important to stress how blessed he is to get a free education and experience some of the things he has as a Husker football player, like traveling to Chicago for Big Ten Media Days.
He also said he didn't think "exploited" was the right word to use when one reporter asked him if that's how he felt as a college athlete.
"But when you talk about capitalism … people use the word exploited because we're athletes, and I'm not trying to sound pompous, but people don't come to games to watch the coaches on the sideline or see the fancy stadium. They come to watch the players play the game," Bell said. "And the fact that guys barely have enough money to pay their bills, rent, gas, and can't really take their girlfriends out to a movie often, that's a tough thing, man, when you talk about multi-billion dollar TV contracts and stuff.
"So do I believe in paying players? I don't know if contracts and monthly income is a good idea … but a stipend? I think that's reasonable."
Bell stressed, as he did when topic came up during spring ball, that the most important thing is to give student-athletes a voice at the table.
"That's ridiculous, making rules about people that they have no say in?" Bell said.
The receiver said he receives a scholarship check each month for a little more than $800. By the time living costs are added up, the slice that's left to live off is very small.
He knows there are those who would counter with the fact that he's receiving a free education, and bowl gifts and various perks that come with being a student-athlete, such as having access to the athletic department's training table.
"That's not bad. But that's not very good hourly wages for the guys who play college football," Bell said. "Guys that play college football work just as hard, if not a lot harder, than kids in college who have jobs. People don't realize that we wake up every day at 5:30 in the morning just to work out."
And it can't just be all about football in the summer, Bell said, because he wouldn't have any money if he didn't take on a job during those months. Last summer he worked four days a week at The Bar in Lincoln. He said he would sometimes get home from work at 3 a.m. and then show up at the Husker football complex at 6.
"I didn't have a choice," Bell said. "I needed that income. I had to pay bills."
* BACKING THE BIG TEN: Bo Pelini seemed relaxed during his two-hour session with media Tuesday in Chicago.
At least one question bothered him, however.
Very late in his roundtable session, Pelini was asked about a perception that, with the arrival of a four-team playoff, the Big Ten "can't hang with the big boys" in college football.
"Perception by who?" the Nebraska coach asked the reporter.
It's a media perception, the reporter said.
"That's a clueless perception," Pelini said. "Just look. What would make you say we can't hang?"
The perception comes from the Southeastern Conference's seven-year run of national championships, which was ended last season by Florida State.
Alabama, of course, was responsible for three of the past four titles.
Nebraska defeated Georgia of the SEC in last season's Gator Bowl.
"Like I said, that's a clueless perception," Pelini said.
He sees a fundamental problem in sports -- a wide gap between perception and reality.
"Because of the ESPNs of the world and all these other people out there, the difference between perception and reality in sports is so great," he said. "Unfortunately, the general public doesn't understand."
"Don't get me wrong, I'm not saying the SEC's not a great conference," he said. "They have won a bunch of national championships."
You have free articles remaining.
"I wouldn't be afraid of playing any SEC school, not one. And I guarantee Ohio State isn't scared. Oklahoma's not scared. You go right down the line. Florida State ain't scared.
"There is football played outside the SEC, contrary to popular belief."
* LEWIS PUTS INCIDENT BEHIND HIM: Husker offensive lineman Alex Lewis is ready to roll for fall camp after serving a jail sentence this summer after pleading guilty to a misdemeanor assault for an incident that occurred prior to his joining NU's program.
Pelini said Lewis, the favorite to start at left tackle, is "a heck of a addition" to Nebraska's roster.
"I like his mindset. I like the way he competes. I think he'll be even better now that he has that other situation behind him. Let me tell you: He went through a difficult time personally. It was hard for him to handle. It was very emotional for him. He was going through a lot of that during spring practice and the winter. A lot of ups and downs for him personally. I think now he can just settle down and be a kid, a student-athlete, and I think he'll be that much better because of it."
* TOMMY FAN: Kenny Bell is true believer in sophomore quarterback Tommy Armstrong.
The senior wide receiver said he thinks people need to understand how well Armstrong did in his first year playing college football. While Armstrong's touchdown-to-interception ratio was almost even, Nebraska also was 7-1 in games the quarterback started as he learned on the job.
"You talk about a guy that got a raw deal? You have any idea what it takes to play Division I quarterback at a place like Nebraska?" Bell said. "The starter had been the starter for four years and was arguably one of the best quarterbacks to ever play the position at our university. He gets hurt and then you have to come in and play our first conference game. Dude, I don't think people appreciate how difficult that is. And then the kid wins nine games and beats Georgia. I don't care who you are, you should be impressed by that."
With Armstrong in his third year in the program, Bell is a firm believer the quarterback's experience is going to eliminate a lot of the mistakes that bogged him down last year.
"The No. 1 thing you're going to see this year is he's not wide-eyed … You're going to see a guy where it's slowed down. Every year that you keep playing, reps and reps, you see the same thing over and over again. Because the game of football doesn't change. There's always something to learn, but if you've seen one defense, you've seen a lot. … I think his decision-making is going to be better. I'm looking forward to watching Tommy play. He had an awesome summer."
* ALEXANDER'S CLIMB: Sophomore LeRoy Alexander has all the talent, Pelini says. Now it's just up to the safety to not let up stride.
"I think with LeRoy, it's out there for him to be as good as he wants to be," Pelini said. "He's shown the potential to be a pretty special safety, but he has to stay on the track he's on."
Alexander emerged as an up-and-comer near the end of last fall and worked with the top-unit defense all spring, showing a knack for finding the ball.
He's a long way from a year ago, according to his coach.
"I think the more he goes out there, the more confidence he gains, the better he's going to be," Pelini said. "It's kind of what drew us to him when we were recruiting him. He was playing more corner, but you saw he was a playmaker. He had very good instincts for the game and was always around the ball. At that point, he kind of reminded me of DeJon Gomes. I wasn't sure how big he was going to get. Was he going to be big enough to be an every-down safety in the Big Ten, and boy, he has."
* TALKING PLAYOFFS: Pelini didn't have much to say about the new College Football Playoff system that will go in place, but it's clear the Husker coach has his reservations about it.
"My concerns are if they can't pick two, why can they pick four? What's the difference?" Pelini said. "But it's the system they came up with and we'll all embrace it. We'll just kind of see how it works out."
Pelini said there hasn't been great discussion within the Husker program about what scheduling approach is best to help the cause at being one of the four.
"The way I look at it, if we can win the Big Ten championship, you're going to be in the mix," he said. "You're going to at least be a heavy part of the conversation. You win all your games, they're not going to be able to keep you out. That's the best formula to get in."
* NIGHT OWLS IN FRESNO: It was clear that Pelini had plenty of respect for the challenge facing Nebraska on its first road trip, when it travels to play Fresno State in a night game that starts at 9:30 CST.
"Playing at 9:30 on our kids' clock is probably the biggest concern I have about it," Pelini said. "It is what it is. We'll be ready to play when the time comes."
Will Nebraska change its travel routine for that game? "If anything, we'll fly out later."
* LINE EXPERIENCE: If last year's injury epidemic on the offense line was a pain in the backside then, there might be some benefits that come with that experience now.
Because of the injuries, extra game/practice time was accumulated by players such as Mike Moudy, David Knevel and Givens Price, among others.
"It definitely helped us," Pelini said. "I remember a week when David Knevel was taking all the snaps with the 1s. Obviously that wasn't good for us last year but it sure helped his development. We have a lot of guys who, even if they didn't get as many game reps, they really spent a lot of time getting reps in practice. It hindered us last year. Our continuity wasn't quite what we wanted it to be but going into this year it sure helps."
* RETURNS: Jordan Westerkamp, Jamal Turner, Terrell Newby and Ameer Abdullah are leading punt return candidates going into fall camp, Pelini said. Potential kick returners include Kenny Bell, Alonzo Moore and, perhaps, some incoming true freshmen such as Glenn Irons.