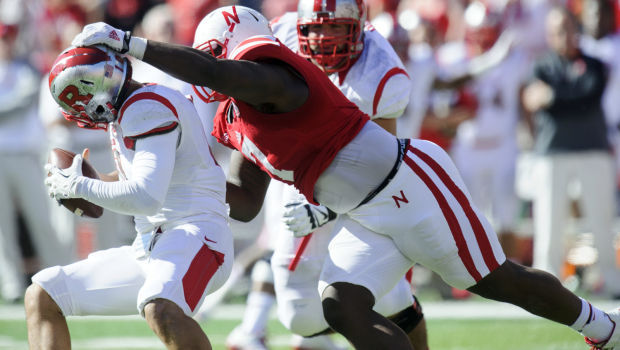 Husker defensive tackle Maliek Collins may not have been on some people's radar as an all-conference candidate prior to the season.
But Bo Pelini, who in the spring compared Collins' skill set to Glenn Dorsey, the highly decorated defensive lineman he coached at LSU, believes the sophomore should be right in the mix when it comes to all-conference honors.
"I think so," Pelini said. "I'll take him. And I think Vincent (Valentine), and I think Kevin Williams, have come in and played well. Kevin Maurice has played well. Our inside guys have really developed and played at a high level."
Getting back to Collins, Pelini said the 6-foot-2, 300-pounder from Kansas City, Missouri, "reminds me of a guy I coached at LSU big-time, and that's high praise. Because Glenn Dorsey was a helluva player. Maliek reminds me a lot of Dorsey, except (Collins) is bigger."
Dorsey won the Lombardi, Nagurski and Lott awards and Outland Trophy while helping the Tigers to a national championship in 2007.
Collins has 24 tackles this season, and is tied for the team lead in tackles for loss with eight. He also has a sack and nine quarterback hurries despite, at times, beging double-teamed.
"All our inside guys have been a force in there. They're hard to block," Pelini said. "They've played physical and I think they're getting better as the year goes on, which is a good thing, because they've played at a pretty high level."
* INJURIES: The Huskers will be without linebacker Marcus Newby, tight end Cethan Carter and kicker Mauro Bondi this week.
Newby had a walking boot on his left foot this week.
Carter, meanwhile, has been out the past three games. Pelini is optimistic the sophomore will be back by the Wisconsin game.
"He'll be running next week," the coach said. "I anticipate he'll be back after the bye week."
While Bondi remains out, the Huskers plan to use Drew Brown and Spencer Lindsay on kickoffs Saturday against Purdue, just as they did against Rutgers.
"You'll see them both," Pelini said.
* READY FOR ANYTHING: For the second straight year, the Huskers will play a Purdue team coming off a bye week.
A year ago, the Boilermakers surprised the Huskers by coming out in an odd-man defensive front they hadn't shown all season.
"It's been interesting to watch their evolution. ... This year, they've had a lot of different looks," Pelini said. "A little bit of a flavor-of-the-week-type of defense from what we've seen from these guys. So how they decide to come out and play us, your guess is as good as mine to a certain extent. We have to be ready to adjust to what they do."
Pelini said he feels his players have a good understanding of the plan heading into Saturday.
"I think we had a good week of practice," Pelini said after Thursday's workout. "We got a lot done here today as far as cleaning up some things we went through earlier in the week.
"Knowing that this football team had two weeks to prepare, (we) threw a lot at our guys. And our challenge is to make sure across the board we understand our game plan and are ready to execute."
* YOUNG BACKERS: Purdue's defense has struggled, ranking 84th in total defense and 90th in scoring defense.
It doesn't help that the Boilermakers are thin at linebacker, now starting two freshmen and a sophomore.
"They've had a couple injuries in there," Pelini said. "The one guy who looked like he was kind of the quarterback of their defense went out in the middle (of the season). Maybe that's a reason why they've kind of adjusted a bit.
"Their coaches have been around a long time and had a lot of success. It's never easy (with injuries), but it's part of the deal. Everybody kind of loses guys as the season goes at times. It will be interesting to see how they come out and play us."
* WHAT POLL?: What does Pelini think of the No. 15 ranking Nebraska received in the College Football Playoff committee's first poll, which came out Tuesday?
He has no opinion at the moment.
"I haven't even seen the poll," he said. "It's probably the least thing I'm interested in right now."