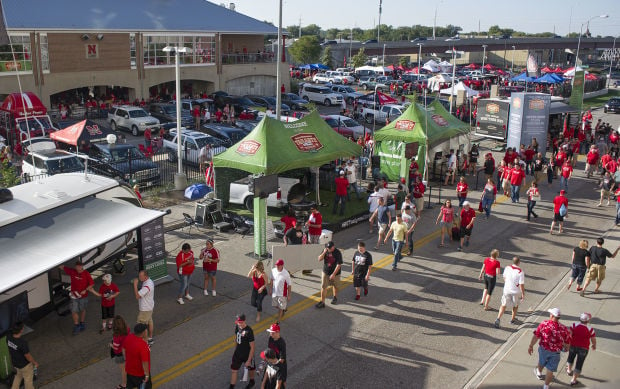 Shawna Kaiser describes herself as an amateur photographer, somebody who enjoys capturing moments as a hobby.
Her family pheasant hunts around its home in the small town of Winner, South Dakota, and Kaiser will typically walk with the hunters and take action shots in the field.
So Kaiser, 37, relied on natural instincts when she saw a moment in the making at last season's South Dakota State-Nebraska football game in Lincoln.
"This little boy walked up to the glass," Kaiser said, "and I grabbed my phone quick and took a picture."
Standing on the other side of the window to the Hawks Championship Center, connected to Memorial Stadium, was Husker walk-on defensive end Jack Gangwish. With only the glass separating them, Gangwish and the boy bumped fists.
"The lady standing next to me, I said, 'Is that your son?' " Kaiser said, "and she said, 'Yeah.' And I said, 'Didn't you get a picture of that?' And she didn't, so I got her cell phone number and texted it to her so she would have it."
Kaiser had no idea that, a year later, her stirring, heartwarming photo would become an Internet sensation.
You may have seen it in this column two weeks ago. Or on Twitter, Facebook or one of several national news Web sites.
"It's kind of all over now," Kaiser said.
"I really thought it was a cool picture the day I took it, and my boss's kids go to school down there in Lincoln," Kaiser said. "And so he sent the picture to his daughter, and she Tweeted it that day, and nobody really picked up on it."
Kaiser kept the photo on her Facebook page, but hadn't given it much more thought until one of her high school classmates, a retired Marine named Todd Herman, asked a couple of weeks ago if he could send it to Gangwish, who had played for the first time in Nebraska's opener and was preparing to make his first career start the next week.
Kaiser obliged, and Herman shared the photo to the Gangwish family through Facebook. This time, it gained traction.
"It kind of just snowballed from there," Kaiser said. "I was kind of shocked."
What about the boy in the photo? Kaiser doesn't know who he is, and didn't save the cell phone number of the mother. She even searched through her old phone bills, unsuccessfully, to find the number.
Meanwhile, Kaiser is thinking about having her photo framed, perhaps with a jersey autographed by Gangwish.
The Sports Illustrated College Football Tailgate Tour stopped in Lincoln on Saturday afternoon, setting up its festivities off Stadium Drive along the west side of Memorial Stadium.
The tour, which featured former Nebraska football All-American Will Shields signing autographs, will be at the Utah-UCLA game next Saturday.
I'm guessing it won't encounter a polka band in Los Angeles.
Some 70 members of the Wilber Alumni Band Pep from Wilber — the Czech Capital of the U.S.A. — marched outside the stadium, playing favorites like "In Heaven There Is No Beer" and "Apple Peaches Pumpkin Pie."
One fan of the band said it's the first time the group has played outside Memorial Stadium on a football Saturday. I'm all for a return appearance.
* Was wonderful to see former Channels 10/11 sportscaster and HuskerVision specialist Jeff Schmahl visiting in the press box. Schmahl, in a battle with pancreatic cancer, looked great and offered this encouraging report: "I think I'm going to be one of the lucky ones." You can follow his blog, www.the-last-train.com.
* Schmahl, by the way, deserves a copy of that infamous Wahoo-Pius X Class B boys state basketball championship game from 1989. He called the play-by-play, and said he's not sure he's seen the game since.
* Any Nebraska fan who didn't get goosebumps during that Tunnel Walk needs a pulse check.