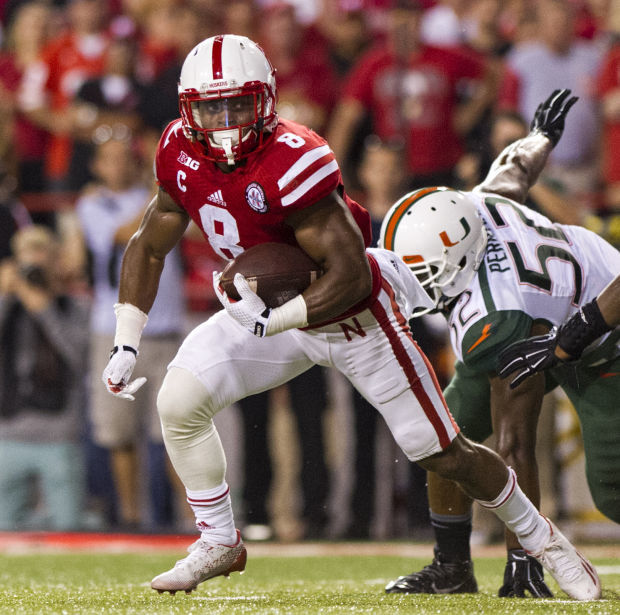 Jake Cotton didn't hear precisely the words Ameer Abdullah used earlier in the week in talking about Nebraska's offensive line needing improvement.
The Huskers' starting left guard, Cotton merely knew the gist of Abdullah's general message at the team's weekly news conference.
The guys blocking for Nebraska's senior running back needed to have a good week of practice.
"And I thought we had a great week of preparation," Cotton said. "We came out and didn't try to do anything special individually. We all just kind of played within ourselves and did our job. I liked the result."
The result was No. 24 Nebraska's 41-31 victory against Miami on Saturday night before a record Memorial Stadium crowd that included members of NU's 1994 national championship team.
The Huskers' offensive line coach from that famed Nebraska Pipeline, Milt Tenopir, battling leukemia and riding a scooter, helped lead the former players and coaches on the field in a memorable Tunnel Walk.
"It helps you realize you play at an institution where there's such great history and tradition," Cotton said. "Those guys are an inspiration, especially with the offensive line they honored tonight, with Coach Tenopir. Those guys were savages. That's kind of what you aim to be like."
Just as important as impressing the past players and coaches was gaining the favor of Nebraska's current team captain.
Abdullah, who'd struggled to gain consistent yards in Nebraska's last two games, particularly between the tackles, said Monday the offensive line had to get better.
"We lose our technique and our fundamentals sometimes," Abdullah said then. "The guys are trying really hard sometimes, but when you are in the game setting, the most important things are your first step, keeping your face up on blocks and just the fundamentals we work on every day in practice."
Abdullah rushed for 229 yards on a career-high 35 carries, an average of 6.5 yards per rush, and Nebraska rushed for 343 yards.
"We know as an O-line we just have to get hats on guys and he's going to take care of a lot of it for us," Cotton said. "We just get in the right spots and block the guys we're responsible for, he's gone. He's going to make people miss, and he did it tonight."
Abdullah did his damage in a variety of ways, gaining yardage on zone-read, stretch plays and even a couple of runs out of the wildcat formation. At times, he made something out of nothing, and other times dazzled even when he didn't gain yardage.
"Sometimes we're like, 'Oh, shoot, I don't know if we blocked that very well,' and then all of the sudden, you hear the crowd roar, and you see the little guy running all the way down," Cotton said. "And then sometimes you look on the video board between plays, and you're like, 'Oh, wow.' The dude's a savage."
And, yes, Cotton agrees with Abdullah that the offensive line needed to step up its play.
"I think we might have had a few jitters earlier in the season, and that's to be expected, somewhat, because we were a young group," Cotton said. "I think we took those three games in stride and learned from our mistakes.
"Today we just really tried to go out there and play within ourselves and not try to do anything special, just do our jobs, use our footwork, use our technique and let it take us to the guys that we need to get hats on."