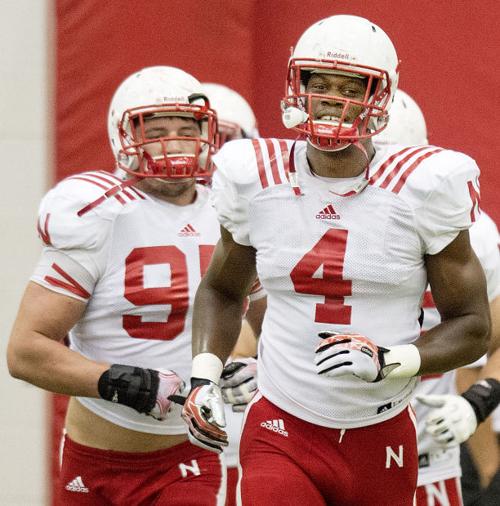 Husker junior defensive end Randy Gregory is doubtful for Saturday's game against McNeese State after undergoing minor surgery Sunday, but is "probable" for the following week's road trip to Fresno State, Bo Pelini said Monday.
Last season's Big Ten sacks leader played in only the first series of Nebraska's season-opening 55-7 win against Florida Atlantic. He was bothered by an old left knee injury that Pelini said "flared up on him."
The coach said it's similar to the injury suffered in fall camp by fullback Andy Janovich, who had knee soreness in mid-August but healed in time for the opener.
Pelini believes Gregory could probably play against McNeese State if he had to, but "we're not looking to rush him back right now.
"Make sure he's 100 percent, feels good. When that time frame is, we'll see," Pelini said. "I can say this ... we've had a couple guys who have had something very similar and they came back very quickly."
Gregory had an arthroscopic procedure done Sunday morning to clean up his knee.
"It's something he did in basketball years ago that just flared up on him," Pelini said. "The MRI clearly showed it was an old injury. ... (Gregory) just heard some clicking in there."
You have free articles remaining.
With Gregory likely out, it could mean a starting assignment for junior Jack Gangwish, who hadn't played a snap in his first three years in the program, but came into this season the top backup behind Gregory and Greg McMullen.
"Coming in, I was hoping to be a guy who could contribute on special teams, maybe a backup position. But I really would never even think I could have an opportunity to start a game," Gangwish said. "But if I get to start on Saturday, that's pretty incredible. That's something I didn't expect."
Gangwish had one tackle and a quarterback hurry against Florida Atlantic. A.J. Natter, Joe Keels and Marcus Newby, a third-down pass-rushing threat, will also be important going forward.
"Jack did some good things, he did some things that he'd want back, that we'd want back, but he played hard. I think Jack's going to help us, there's no question," Pelini said. "He's really worked hard. He is getting better.
"Having Newby to go out there and put him in there in third down is obviously a real plus for us. I thought A.J. Natter, for his first extended playing time, did some good things out there."
Pelini also said Keels is just now coming back from being slowed by an ankle injury.
"It's probably the first time in weeks that he feels like 100 percent, so that's a good thing for us too."
As for the 6-foot-1, 220-pound redshirt freshman Newby, he's proven tough to block all offseason despite going against linemen sometimes 100 pounds heavier.
"It's not really a mind game," Newby said. "It's just every play, I tell myself I got to get to the quarterback, got to get a sack and try to make a play for my team."