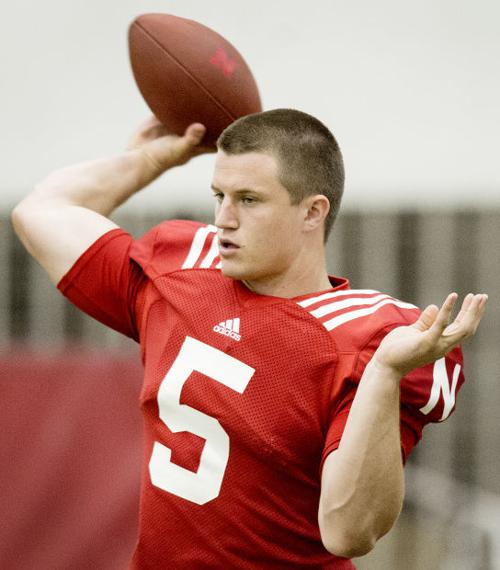 Fans had been filing out for much of the fourth quarter of Nebraska's blowout of Florida Atlantic on Saturday, but there was still one announcement that generated a significant roar: "Now in at quarterback for the Huskers, No. 5, Johnny Stanton."
Fans know the third-string quarterback's name well. The hype machine has been set on turbo regarding the redshirt freshman billed as a dual-threat quarterback. But it had been 708 days since the Rancho Santa Margarita, California, native had seen time in a meaningful game after suffering a torn ACL and missing the final half of his senior high school season. 
And although it wasn't much — he completed his only pass attempt for 6 yards in just one series Saturday — Stanton said it was a relief to finally get an opportunity to compete again.
"I was nervous, but I wasn't as nervous as I thought I would be," he said. "All I was thinking about was getting out there on the field and just how fun it was to be back out there again."
You have free articles remaining.
There has been a benefit in the long wait, though. Stanton, 6-foot-2 and 230 pounds, said he's been able to step back and learn from those ahead of him.
Last season, it was four-year starter Taylor Martinez. This year it's Tommy Armstrong, who is built similarly (6-1, 220) and is also a running threat, and No. 2 quarterback Ryker Fyfe.
"Throughout the whole camp, you could tell how all three of us quarterbacks really improved," Stanton said. "The coaches noticed it, and they told all of us that they noticed it. So it was a good competition in the fall camp. I know I got better from it and that's all I really wanted."
Nebraska coach Bo Pelini has said Stanton has the potential to be just as good as Armstrong and at times can look like the best quarterback of the three. But a lack of consistency has been the limiting factor, something Stanton said he has recognizes as well.
"The older guys have their experience and I'm learning from them, absolutely," Stanton said. "I know I'll get my chance at some point, and until then I'm supporting Tommy and supporting Ryker.
"I've got to be a good teammate right now and help the team in any way I can."