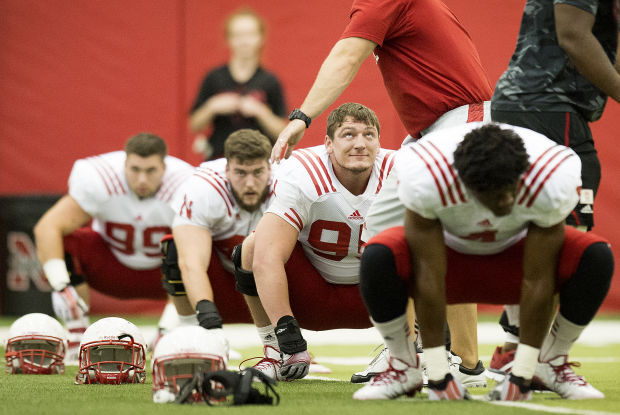 It was one of those sweltering practices of August, the sweat stinging and jersey sticking as Jack Gangwish came off the field to catch a breath and a swig of water. He had just worked a series with the second-team defense and was revved up. That, you must know off the bat, is pretty much his general state of being.
Gangwish noticed that one of his fellow defensive ends, waiting his turn for reps, had his head down. He thumped his line mate on the pads. A quick inspirational sermon flowed out of the walk-on from Wood River. "Hey, man, ask yourself: Are you going to go harder on your first rep than me on my 10th rep?" he said to his teammate. "We've got to play the best guys, right? Right?"
He wasn't bragging. He was sparking a fire. The teammate nodded. Gangwish buckled his chin strap, ready to go again.
Tell this to the old coach in Wood River and it'd come as no surprise. Even when Gangwish was a lanky high school kid who early in his career looked awkward as a Class C-1 linebacker, the son of a former Husker walk-on always carried that passion.
"You could always tell he had the frame, he was going to be big, but he had no coordination yet, he'd trip over his own feet," says Darin Waddington, Gangwish's position coach and head wrestling coach at Wood River High. "But he had a motor that just wouldn't quit. Yeah. He had one speed. Game speed all the time."
His Husker teammates quickly came to the same realization. "Every play he's going, running to the ball," says sophomore defensive tackle Maliek Collins. "He doesn't care who's in front of him, he's going to run through them."
Now just look what might come next.
The fourth-year junior has never played one snap for Nebraska — not one — but that seems about to change. Gangwish enters the opening week of the 2014 season as the Huskers' third option at defensive end, behind Randy Gregory and Greg McMullen, ahead of several scholarship players.
He's following in the footsteps of his dad, Paul Gangwish, who was a walk-on and letterwinner for Tom Osborne's team in 1985.
"Obviously, being a scholarship guy would be pretty cool, but my father was a walk-on, I think it's a cool thing," Gangwish says. "In a way, a scholarship, it's a ride, that's what it is. Being a walk-on, you have to work for everything, and being a walk-on, nothing is given to you at all. And I always thought that was really cool."
Truth told, Gangwish probably received more interest as a wrestler than a football player coming out of high school, though there was an offer from Chadron State.
Recalls Waddington: "I remember when we sat down and talked about it, he said, 'Coach, nothing against Chadron or that division of football, but I would rather wear the uniform and stand on the sideline my whole career at Nebraska.' … I think what he really wanted to do is show his dad he could do it."
But patience was required. Three years of practicing without playing. Would he ever get on the field?
The 6-foot-2, 260-pound Gangwish realized soon after NU's bowl win against Georgia, with Jason Ankrah graduated and Avery Moss off the team for the year, that this offseason was his chance to make that big move.
Defensive coordinator John Papuchis and D-line coach Rick Kaczenski flat out told him in January, "We're going to need you."
It was time to get to work … after one phone call, if you don't mind.
"I was ecstatic," Gangwish says. "Pretty sure I called my mom right away."
By early spring, with most people in the state still having never heard of Gangwish, Husker senior running back Ameer Abdullah name-dropped him as someone who leads despite never having played a down. "I'm a guy that guys look up to," Gangwish says. "I try to lead the pack."
"If you could with one sentence sum him up, he's an all-in guy," Papuchis says. "Whatever it is, whether it's a weight-room workout, it's a walk-through, it's an individual period, it's a team period, he's all-in all the time, 100 percent. And I think that's what has allowed him to have a chance to play for us."
By late spring, Gangwish's name was starting to pop up as a possible useful option, though it usually came after mention of scholarship players such as Joe Keels and A.J. Natter, among others.
All the while, Gangwish's in-state pride in the program was hard to miss. McMullen still remembers a conversation he had with Gangwish a couple of years ago. McMullen was redshirting that year, which isn't unusual but can still be difficult for a player who was high-profile in high school. But listening to Gangwish provided plenty of perspective.
McMullen: "He would say things like, 'I would love to just make it to fall camp roster. I would love to because I'm a walk-on. I have offers from little schools, but you know what? I'm going to keep working my butt off to keep getting to where I need to go.' And, voila! He made it. Now he just has to stay humble and prepare himself for the long haul. Because now his number can be called any moment."
Of course, you bring up Gangwish's hometown and many who follow the Nebraska program first think of Scott Frost, who came through the town and was a star at the high school while his parents coached there.
Through no fault of Frost, whose parents moved from the town to coach elsewhere, the former Husker quarterback's time in Wood River was not much beyond his high school years.
So it's understood why Waddington is so excited about the rise of Gangwish, who has told him he's interested in coming back to Wood River after his Husker career, maybe even running a youth wrestling club or something.
Time will tell on all that, but Waddington knows something for sure: "I can't wait to put his Nebraska picture in the trophy case."
Once a stumbling high school linebacker, then a Husker long shot who just hoped to one day make a fall camp roster, now on the second line of the depth chart?
Yeah, that's a worthy story to tell, whether it's over a cup of coffee in Wood River or anywhere else in a state that loves nothing more than a walk-on beating the odds.
"It's been a long road," Gangwish says, "but I loved every moment of it."