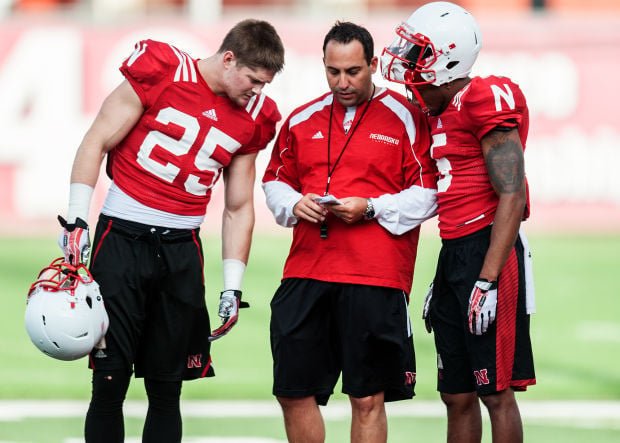 Whether Nebraska was minus Corey Cooper in the spring or LeRoy Alexander in the fall, Nate Gerry has grown used to playing safety with the No. 1 defense.
Therefore, he perceives himself as a starter, no matter what's happening around him on the depth chart these days.
Cooper, a senior, has returned after missing spring practice with an injury, but Alexander will sit out the 2014 season while serving a suspension, leaving Gerry not only as a No. 1 safety, but also feeling like a veteran.
That's right. A sophomore who's yet to make a collegiate start at safety says he feels like an old-timer at the position.
Gerry is confident to make that claim because he said he now has a deeper understanding of Nebraska's defense as a whole. And that's partly because he played a position last season that didn't fit his comfort zone.
Gerry, who played safety in high school and regards it as his natural position, played in all 13 games last season, including three starts, as a linebacker.
For that, he's now thankful.
"I really wasn't much of a linebacker," Gerry said. "I wasn't much of a guy to play 3, 4, 5 yards off the ball. I'm kind of a guy to read things from deep and come down and make plays. I feel like it helps me be more of an athlete than playing in the box more."
But in playing closer to the line of scrimmage, Gerry learned a better understanding of what stunts the defensive line is running. Now when he comes down to fill the run as a safety, he knows what's going on ahead of him.
"Of all the young safeties that we have — and he's just a sophomore — his feel for run-fits is ahead of where any young safety would be," Nebraska defensive coordinator John Papuchis said. "His knowledge of what (the linebacker's) job is helps him, because he knows what the underneath coverage is doing, so that translates to what his responsibilities are. I think experience at 'backer helped him as much as anything in a year."
Papuchis calls Gerry a "pretty solid all-around player" in both stopping the run and defending the pass.
"I hate to give out gold stars before he ever actually lines up and plays the game," Papuchis said, "but he's done a nice job for us."
Gerry isn't the only player who feels more comfortable at his position. A year ago, many young players, including Gerry, were learning on the fly, each understandably more concerned about his job than about how it affected the defense as a whole.
"We were all kind of worried about messing up our own responsibility, where we weren't really worrying about picking others up," Gerry said. "We were always just worrying about what we had to do as individuals. But now we have to worry about it as a whole, which I think is going to make our defense a lot better.
"One thing that I think the defense this year is different than last year is everybody's kind of a brother to each other, the way everybody plays for each other. I know a lot of people, like Maliek Collins, I can always count on him, that he's going to give it his all, and Corey Cooper … people like that who I can always count on, just because the type of person they are. It's a brotherhood we have on defense."
Gerry, one of the more vocal, excitable "rah-rah" guys on the defense, is taking it upon himself to extend that brotherhood to this year's true freshmen, including safeties Kieron Williams and Luke Gifford.
Coach Bo Pelini already has labeled Williams as a player who likely won't redshirt.
"Kieron, he runs to the football, he plays hard," Gerry said. "That's one thing that you can't really teach, is effort. Somebody you want on the field is somebody who's going 100 percent. He's a young guy right now where he doesn't really know the defense as well as some other people, but you can't really dog on his effort, going 100 percent each play."