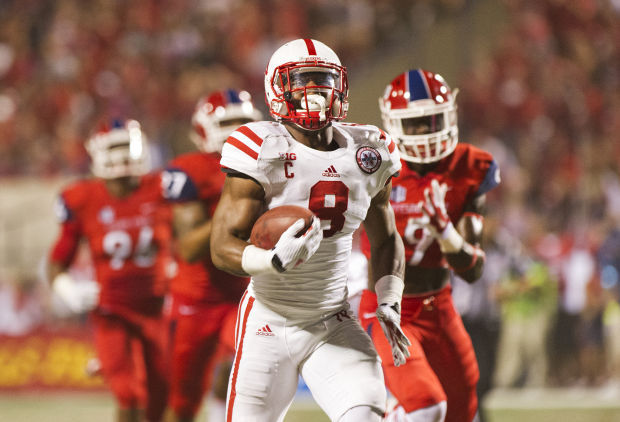 FRESNO, Calif. — As they sat around all day, the rest of the Big Ten crumbling around them, the Huskers were apparently eager to be released from the cage.
If last week required Pepto-Bismol, this one was just an old-fashioned mashing, with the Huskers the bulldozer to Fresno State's pavement in a 55-19 win Saturday night that was, in all fashion, a yawner.
Nebraska was up by two touchdowns in less than 3 minutes, and never bothered to look back.
"I thought it was a good team effort, and, obviously, starting out well helps," said Husker coach Bo Pelini. "The crowd was pretty into the game and it kind of took the wind out of their sails a little bit."
It was a long game. Very long. It started at 9:41 p.m. on Saturday back in Nebraska and ended at 1:21 a.m. on Sunday. Pelini jokingly asked if Fresno State ran 110 plays. Close enough – 87.
"I'm ready to move onto the next football game and I'm sure you guys are too," he said.
The Huskers were not going to arrive back home until at least 6 a.m. That isn't ideal, but it's a whole lot worse if Nebraska had laid an egg. It did not.
By the time De'Mornay Pierson-El made an entire state's population momentarily forget it was sleepy, becoming a blur of beauty and returning a punt  — yes, a darn punt return! — 86 yards for a second-quarter touchdown, it was clear Nebraska was going to have a satisfying flight home.
"He's fearless back there," Pelini said.
It was 24-2 after that touchdown. The demolition was on.
Still, there weren't any victory shouts coming out of Nebraska's locker room, with bigger tests soon coming.
"We need to keep getting better," Pelini said. "What happened to us last week, happens a lot. We won the football game. We're 3-0. Our next goal is to be 4-0."
It didn't take long for it to be obvious the Huskers were going to walk away with win No. 3.
Before the game was 2 minutes old, and before Nebraskans even had the game appear on their television sets, Jordan Westerkamp was running wide-open for a 70-yard touchdown catch. And before the game was 3 minutes old, Ameer Abdullah was bursting untouched for a 57-yard touchdown.
Add in the true freshman Pierson-El's fleet journey to six points, and it was 27-5 Huskers at halftime, a bizarre score that stemmed from a bizarre play in which Husker linebacker David Santos, apparently thinking the ball was dead, batted a punt that was bouncing inside the 10-yard line out of the Husker end zone.
"I don't know (what happened)," Pelini joked. "I think he thought (it was incomplete). I don't know. I thought I'd seen it all but that one took the cake."
Nebraska held the lead despite the fact Fresno State snapped the ball 53 times in the first half, compared with the Huskers' 29.
"I kind of looked up in the second quarter, and I kind of felt like it was the third or fourth," said linebacker Josh Banderas. "I was like, 'We haven't been in the locker room again yet.'"
"It was crazy, the tempo was crazy," said defensive tackle Vincent Valentine. "That's their thing … but, obviously, we came out with the win. We got four or five sacks. We feel good about that and it's just something to build on."
The Huskers lived off the big play to build the lead, accumulating 127 of their 260 first-half yards on Westerkamp's catch and Abdullah's run. Nebraska's first two touchdowns came on a total of five plays.
The second half started much the same, with the Huskers forcing a three-and-out, then going 75 yards in four plays, with a 20-yard touchdown pass from Tommy Armstrong to Cethan Carter widening the gap.
Even though the majority of their fans had hit the exits by the third quarter, the Bulldogs (0-3) attempted to keep Nebraskans from going to bed, when quarterback Brian Burrell ripped off a 66-yard touchdown run to make it 34-12.
On the ensuing kickoff, Pierson-El had his only blemish of the day, mishandling the ball out of bounds at the NU 2 and, uh oh, trouble?
No. Armstrong converted a 29-yard pass on third down to Lane Hovey, and Imani Cross ran 62 yards for a touchdown one play later. And that was that.
"I said we needed to come out with energy (in the second half), which is hard to do," Pelini said. "It's hard to keep your stinger in this game. That was the longest football game I've ever been a part of."
The fourth quarter was an exercise in requirement. Sam Cotton and Christian Baily caught touchdowns, Terrell Newby fumbled and Fresno State got a score back, and Abdullah surpassed 100 yards in the final quarter, finishing the game with 19 carries for 110 yards.
Halfway through the final quarter, the Huskers had 12 plays of 15 yards or more.
All this was done against a Fresno State team that was two-time defending Mountain West champ, but also a team that is a shell of itself a year ago, already having lost 52-13 on the road to USC and 59-27 at Utah.
Still, a week after a 31-24 scare against FCS foe McNeese State, the Huskers left California feeling better than about any team in the league.
An odd day? Sure. "I'm going to see the sun rising when I get home," said defensive end Greg McMullen.
Better to greet it with a victory.
After three weeks, the Huskers and Penn State are the only undefeated teams in the Big Ten. But the pats on the back can wait.
Next up: The Canes. In Lincoln.
"We wanted to make a statement," Valentine said. "I don't know how big of a statement this was, but next week we will definitely be able to make a better statement. Time to get ready, prepare, and give it our all next weekend."