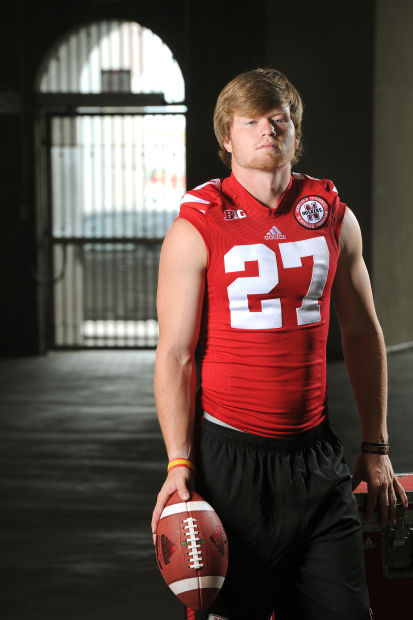 Sam Foltz needn't think long about the first phone call he would make to deliver the good news of his Nebraska football scholarship.
The clear-cut, obvious answer was to call his father.
It's always been his father.
"That was kind of a big deal," Foltz said. "We always talked in high school that he would be the first person to know if I got a scholarship. He's always been there, so I thought I would call him first."
That phone call occurred earlier this summer, after Foltz, a sophomore punter from Grand Island, learned on the first day of summer classes he'd been placed on scholarship. Foltz joined the program in 2012 as a walk-on from Grand Island High School, redshirted, and then earned a starting job last season.
"Obviously, every kid's dream is to walk on at Nebraska, get on the field and earn a scholarship," Foltz said. "I've checked off those two goals, so it's a good feeling."
Now, it's on to other goals.
Like, for instance, improving consistency.
Foltz started all 13 games last season, averaging 41.6 yards per punt, with 16 punts covering at least 50 yards.
The problem, though, was one word Foltz doesn't like to utter.
Yes, he knows he had a few, which probably shouldn't come as a surprise, given the inexperience factor.
That's where following the likes of Alex Henery and Big Ten punter of the year Brett Maher probably worked against Foltz. Those guys rarely, if ever, hit a punt of the side of his foot that traveled a short distance.
Foltz doesn't want that either, of course, and said he feels consistency is just around the corner.
"I'm a lot more comfortable this year," Foltz said. "Last year, I had some big shoes to fill right away, and I kind of felt a little bit of pressure with that. I had some ups and some downs and had some things happen throughout the season, but obviously, I came away from it strong. I feel better about myself and I'm ready to have a big year."
Remember Foltz's first punt of his career? He certainly does.
Nebraska began the 2013 season against Wyoming with a three-and-out on a series that started at its 2-yard line — something that became a familiar refrain for a team that struggled with field position throughout the season.
"Last year, going out there for that first punt, backed up to my own end zone, I was like, 'Wow,'" Foltz said. "And this year, I'm just a lot more comfortable with everything. I know what's coming, I know what to expect. I'm just ready to get out there and have some fun."
Foltz said developing consistency requires many repetitions at practice — and meaningful repetitions, at that.
"It's not like just going out there and punting the football," he said. "You've got to have little keys that you're going to work on every single day, and that's what I kind of paid more attention to this offseason, is more little details.
"Instead of just walking out and punting a football like I did as a redshirt, when I was tired and just had to walk over to the practice field and hit balls, I wanted to be more consistent, so I worked on little keys throughout this offseason."
It's a strategy Foltz believes is setting him up to have a good season, and it's one the head coach has noticed, too.
"He's really come along fast. I think he's exceeded expectations," Nebraska coach Bo Pelini said. "I'll tell you what, I've got a tremendous amount of confidence in him. I think he's only going to get better with time. He worked very hard in the offseason, and I think he'll have a big year for us."
Before coming to Nebraska, Foltz had other options to continue his playing career. But they wouldn't have allowed him to meet his ultimate goal, or have resulted in that long-awaited phone call to his father, Gerald.
"I always knew deep down that I wanted to be a Husker," Foltz said. "I wanted to come here and play in front of this fan base, play for my state. I didn't have a problem with knowing I would have to do it the hard way, obviously being a walk-on and trying to earn a scholarship, trying to earn a spot. But it's been worth it."