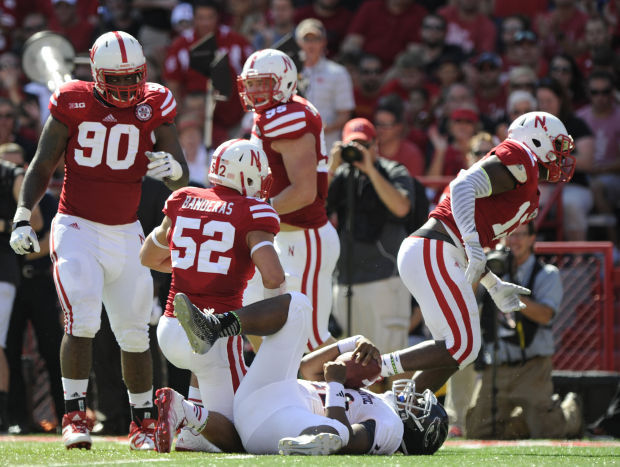 That's all it took Saturday for those offseason questions and concerns about Nebraska's lack of depth at defensive end to come to panicked fruition.
And while you were cursing the fates or holding your breath when Randy Gregory was limping along the Nebraska sideline, Jack Gangwish had a distinctly different reaction.
"I was chomping at the bit. I was ready to go," said Gangwish, the junior walk-on from Wood River. "I wanted to get out there and make tackles and sack quarterbacks."
So much for concern, huh?
"I'm not going to say I was happy that Randy got hurt," Gangwish said. "But I was pretty excited that it was my time."
Gangwish, who made an unexpected rise to No. 3 on the depth chart in fall camp — unexpected outside the walls of North Stadium, mind you — played almost every snap after Gregory left the game in the first quarter with what appeared to be a leg injury.
Nebraska coach Bo Pelini wouldn't specify, only to say that Gregory, a junior All-America candidate and last year's sack leader in the Big Ten, probably could've returned, if needed, and is listed as day-to-day.
But after it was apparent that Gangwish was doing his duty, and after Nebraska bolted to an early lead in its 55-7 pounding of Florida Atlantic, the need for Gregory to play wasn't quite as pressing.
"By the time I realized he probably wasn't coming back today, I didn't have a ton of concern," Nebraska defensive coordinator John Papuchis said. "I didn't know that for sure until right before the end of the first half. At that point, I kind of felt good about where we were."
Nebraska was in the middle of a stretch of holding Florida Atlantic to seven straight three-and-outs, a streak that lasted until early in the fourth quarter.
The Owls increased the tempo and kept the Huskers off-balance and off-kilter on an opening drive that covered 75 yards, 11 plays and resulted in a touchdown. Nebraska was short on personnel and had its linebackers too close to the box, Papuchis said, on the quick 20-yard screen pass for the score. Throw in a missed tackle, for good measure.
But unlike last year's young defense, this group rebounded and regrouped quickly, something that Papuchis was more proud of than holding FAU to 200 total yards or not allowing another score.
"That could've rattled this group a year ago. I think that showed maturity," he said. "We learned from it, got everything corrected on the sideline that we wanted to get corrected, and from there it was pretty much a lockdown defense."
Without Gregory, Nebraska simply stuck with the third guy on the depth chart, which was Gangwish. He earned that role in fall camp mostly because of his consistency, Papuchis said.
"He does the right things, he's assignment-sound, he plays with physicality and he's relentless in terms of his toughness and pursuit of the ball and the way he plays the game," Papuchis said.
"I like the way Jack plays in a lot of ways. To me, he's a guy that I look at, and because he walked on to our program, I think people kind of see him like a wild card that kind of came out of nowhere. But, really, the way he's performed, I think he's every bit as good as a lot of the defensive ends we've played with."
Gangwish finished with a tackle and credit for a quarterback hurry, narrowly missing credit for a sack that was instead split between Greg McMullen and Kevin Maurice.
"I hit the guy, but they were already there. He was going down," Gangwish said. "I was just stoked that we got a sack. You've got to celebrate with your boys."
Gangwish admitted to nerves early, and referred to Saturday as "baptism by fire." But he was prepared, and he credited his position coach, Rick Kaczenski, for that.
"He worked me out a lot to get me prepared for this game, and I feel like I fell right in. It was pretty seamless," Gangwish said.
"I did a lot of work with the coaches, did a lot of work in the meeting room (in fall camp). There were some long days there, but they did a lot of work with me, put in some extra time, molded me into a football player. I'm pretty happy about it."