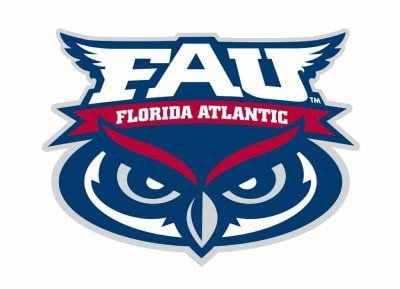 Location: Boca Raton, Florida
Series with Nebraska: Nebraska leads 1-0
Last game: Defeated Florida International, 21-7, on Nov. 29.
First-year FAU coach Charlie Partridge needs no introduction to Nebraska, or to Memorial Stadium. Partridge was associate head coach and co-defensive coordinator at Wisconsin from 2008-12, during which the Badgers played Nebraska three times, including once in Lincoln. Partridge also came to Memorial Stadium in 2005, when he was defensive line coach with Pittsburgh, and made trips to Lincoln from 1998-2001 while serving as a graduate assistant and director of operations for Iowa State. "It's a team that needs no introduction," Partridge said of Nebraska. "I respect their history, I respect what they've been. I've been in that stadium as a young coach when they were fighting for the national title, and they have talent right now that can be in the hunt for the Big Ten title, no question about that."
Florida Atlantic defensive lineman Brandin Bryant, who wears No. 2, returns to his home state, and will play in a stadium where his grandfather also once played. Charles Bryant was a 1987 Nebraska Hall of Fame inductee who played for the Huskers from 1951-54, and was the first African-American to letter for Nebraska in the modern era. He died in 2004. Brandin Bryant, who played at Omaha North, then Fort Scott (Kan.) Community College, has played in every game for FAU since arriving in 2012. He had six sacks last season.
Since last playing Nebraska in 2009 — a 49-3 loss in Lincoln — the Owls have played 10 games against Power 5 conference schools — Miami, Auburn (twice), Georgia, Alabama, Florida, Michigan State (twice), Texas and South Carolina. The Owls lost all by an average score of 41-11. In 13 years of having a program, FAU has produced four winning seasons, and is 0-11 all-time against ranked teams. Next week, the Owls play at Alabama, and next season, FAU hosts Miami, its first home game against a Power 5 Conference team since defeating Minnesota 42-39 in Miami in 2007.
Third-year FAU offensive coordinator Brian Wright, who was 4-0 last season as the Owls' interim coach after Carl Pelini was fired, has an experienced and established quarterback in junior Jaquez Johnson, a dual threat who's among six returning starters on offense.
"He has a full understanding of the offense," Wright told the Palm Beach (Fla.) Post early in fall camp. "He's already done some things out there — checking (pass) routes, checking protections — that we haven't had done in a long time this early in practice. So he's really advanced."
Johnson rushed for 772 yards last season, averaging 5.7 yards per carry, and Nebraska defenders feel like they've gotten plenty of practice in August going against a running quarterback in Tommy Armstrong.
The Owls prefer to run the football, and they could utilize as many as three different running backs, along with Johnson as a running threat at quarterback. A big concern, though, is along the offensive line, where Braden Lyons is the only returning starter — and he's switching positions, from right tackle to center.
That could mean a big day for the likes of Randy Gregory when the Owls attempt to pass. Johnson threw 12 TDs and eight interceptions last season and completed 58 percent of his passes. Senior Williams Dukes, who caught 35 passes last season, is the top returner on a rather inexperienced receiving corps.
Offensive averages / national rank (2013)
Charlie Partridge has coached at Wisconsin and Arkansas, and the new FAU coach firmly believes his cornerback tandem of D'Joun Smith and Cre'Von LeBlanc would have no problem finding the field at bigger schools.
"They would certainly have significant playing time, if not starting, at the places I've been," Partridge said during FAU's media day.
Smith was first-team All-Conference USA last season when he defended 20 passes and had seven interceptions. He's among three returning starters in a stout secondary that helped FAU rank No. 11 in the nation last year in total yards allowed.
"We were young last year, we were playing free," Smith told the Palm Beach Post. "Now the coaches are saying, 'You can play free, but you need to play with technique, because technique will carry you further than your talent will.'"
The team's top tackler, linebacker Andrae Kirk, returns, as does the interior of the defensive line. While starters do return on each level of the defense, the Owls need to replace both defensive ends, and are lacking depth at the position.
Defensive averages / national rank (2013)
The Owls must replace last year's top punt returner, Robert Lohnes, and Freedom Whitfield and Lucky Whitehead are the only returning players who've returned a punt (one apiece). Reggie Brown and Cre'Von LeBlanc are the top kickoff-return men; Brown averaged 20.9 yards on six returns, with a long return of 33 yards, and LeBlanc averaged 24.8 yards on six returns, with a long of 46. Freshman Landon Scheer is only the second scholarship kicker in FAU's 13-year history; he replaces Mitch Anderson.
Jaquez Johnson, QB, jr., 6-1, 225 pounds
Johnson assumed the starting quarterback job as last season progressed and averaged 5.7 yards per carry, with a team-leading 10 rushing touchdowns. Johnson completed 58.2 percent of his passes for 1,876 yards and 12 touchdowns.
D'Joun Smith, CB, sr., 5-11, 190 pounds
The Huskers may not throw Smith's way very much. The senior cornerback defended 20 passes last season and had seven interceptions (including three in one game, against Tulane.) Both marks ranked No. 2 nationally.
Damian Parms, S, sr., 6-2, 210 pounds
The senior safety is strong in run support. He had 78 tackles last season, including 5½ for loss, and has since moved to the strong side. The Miami native also returned an interception 28 yards and forced a fumble last season.