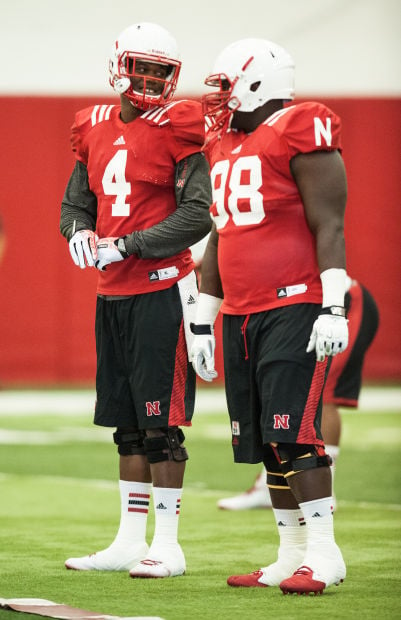 Hype, at a time like this, in a place like this, isn't that much different than a defensive line running downhill at a quarterback on third-and-15. Try to stop it. Just don't expect to succeed.
You can say you're going to look away, pay it no mind, but you always know when it's just outside your window, the noise building, some TV talking head saying you just might be part of the best defensive line in the Big Ten.
Here's the thing: You also know you haven't done a darn thing yet. Not, at least, when it comes to being some great D-line demolition unit that the locals are still talking about when you're an old man.
And so it's best to leave out the bold proclamations and imposing nicknames for now. On the day Nebraska opens its season with plenty to prove, Randy Gregory, Maliek Collins, Vincent Valentine and Greg McMullen are just names.
"We know what we can do ... but we know we still have to prove everything that we can do," Valentine says. "We're just not buying into it, closing your ears and walking away from all the hype, and just putting your hand on the ground and going."
"We just want to be the best D-line in the Big Ten, if not the nation," Collins says.
If Nebraska is going to return to playing dominating defensive football, it begins with those four players. Potential stacked on potential stacked on potential stacked on a defensive end freak who had 10½ sacks and earned first-team all-conference honors in his first year of big-time college football. That's enough to make Husker fans' imaginations run wild during a long offseason, visions of plays being blown up before they begin, of quarterbacks slowly getting off the ground.
It's a thought emboldened by the talents of Gregory, who was a mesmerizing figure in his first season as a Husker, the type of talent who in just four months in a Husker uniform has been projected to be a top-five NFL draft pick next year.
Add to that a prospect like the 6-foot-2, 300-pound Collins, his high ceiling visible to even a football layman this offseason. Even Nebraska head coach Bo Pelini, not the quickest to offer comparisons, said this spring Collins has some traits that bring to mind former Outland Trophy and Lombardi Award winner Glenn Dorsey of LSU. Husker senior running back Ameer Abdullah said Collins will be an All-American.
Add to that McMullen and Valentine — Big V, they call him — who is actually a slimmer V, having lost 25 pounds since he arrived on campus, in the best playing shape of his career.
"The biggest thing with V is making sure he's in shape. When he's in shape at the right weight, he gives all that effort," Gregory says. "And Maliek, he's a playmaker already."
Here's where it must be noted Collins has started just one game and has 12 career tackles. And Valentine has just six starts and 21 tackles. McMullen has no starts and 16 tackles.
"We don't really pat ourselves on the back," Collins says. "We grade ourselves hard every day."
Believe it or not, Collins says he doesn't hear much talk about Nebraska's D-line anyway.
"We hear a lot of people talking about Michigan State, really. That's who we hear a lot of people talking about."
Practice this spring and fall suggests the Huskers, if healthy, are more than capable of holding their own among the conference's best front fours.
Abdullah said this week it's fortunate the Husker offense doesn't have to play weekly against NU's defense.
And senior left guard Jake Cotton, having knocked heads with that D-line all offseason, was just as complimentary.
"I think they have a chance to be pretty special," Cotton says. "They're hard workers, they're very talented, and they have chemistry that they play really well together, and it's not just the top four. Guys like Jack Gangwish. I'm as confident with the guys just coming off the bench as the guys we're putting in there to start the game."
But for all the good vibes, there are things that need improving, with game film from a bad game at Minnesota still fresh in their mind. The Gophers ran the ball right at the Huskers to the tune of 271 yards.
To put that all on the defensive line would miss the mark, but it certainly was not a day to remember for Nebraska's front four.
Throughout last season, NU finished in the middle of the pack when it came to rushing defense, ranking 54th nationally after giving up an average of 156 yards per game. Michigan State was second, giving up just 86.5 yards per game.
So there is still room for growth for the D-line, and defensive coordinator John Papuchis is the first to say it, doing his best this week to remind people that a front four with a combined 17 starts has hardly arrived just because there are some flattering preseason headlines.
"I've seen a tremendous amount of growth, which you would have obviously hoped for from the first year to the second year," Papuchis says. "But in terms of all the preseason accolades and stuff, we still have to go and prove it on the field. … I don't think they're near their ceiling, nor should they be. We still need to prove it on the field before we go handing out any awards or anything like that."
"I think we know what we can do," Gregory says. "As far as me, I don't do a lot of the talking, I just go out there and do it. Everyone else can talk about it."
And that's the beautiful thing about the final Saturday in August: Talking season is over.
Gregory, Collins, Valentine, McMullen. That's more than 1,100 pounds of hurt if delivered right. That's promise on paper. Time to see if it's much more than that.
Time to put a hand to the ground and go.