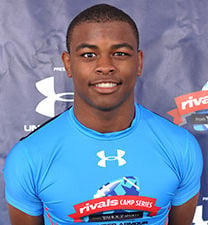 My school: Valor Christian (Highlands Ranch, Colorado).
Positions: Cornerback, running back, wide receiver and kick returner.
Last week: Valor Christian beat Bonneville of Idaho Falls, Idaho, 61-20 in the season opener. Lee had a 55-yard TD run, along with a 28-yard reception and a 60-yard kick return. Valor has won a state championship each of the past five seasons.
Rankings: Rivals.com ranks Lee as a four-star prospect, the No. 1 prospect in Colorado and the No. 16 cornerback in the country.
Other sports: Track (Lee finished second at the state meet in both the long jump and 400-meter relay last season).
Projected position at NU: Cornerback.
First contact with the Huskers: "We were just sending a bunch of schools all my highlights and a profile sheet, and Nebraska was one of the top three schools to respond."
My final schools: Nebraska, Arizona State and Oregon State.
The moment I knew I wanted to be a Husker … : "I have history there because my dad, (Dr. Eric Lee), used to work at the university (as director of educational access and opportunity), so I'm pretty familiar with the campus, and two of the kids I grew up with when I lived there, DJ Foster and Trey Foster, were both there. Then being able to see who the defensive backs coach was (Charlton Warren) and see the schemes they ran, I could see myself being a part of it."
If I wrote my recruiting profile
Mel Kiper would say: "Technical. Has very good technique and is fundamentally sound."
On the decision to enroll early at Nebraska following this semester: "I just felt like it would be the best opportunity for me to get ahead of the kids that will be getting there later in the summer. Also, I wanted to get acclimated to the school before the season."
Childhood hero: "My mom and my dad, because they sacrificed a lot to get me in the position I am today."
On his two state championship rings: "I usually just wear them when I got to social events when I have to dress really nice. Or I wear them when I go on recruiting visits."
When other colleges contact me: "I just say that I'm 100 percent committed. Then schools either back off, or they say, 'Well, if Nebraska ever doesn't work out, you have a spot here.'"