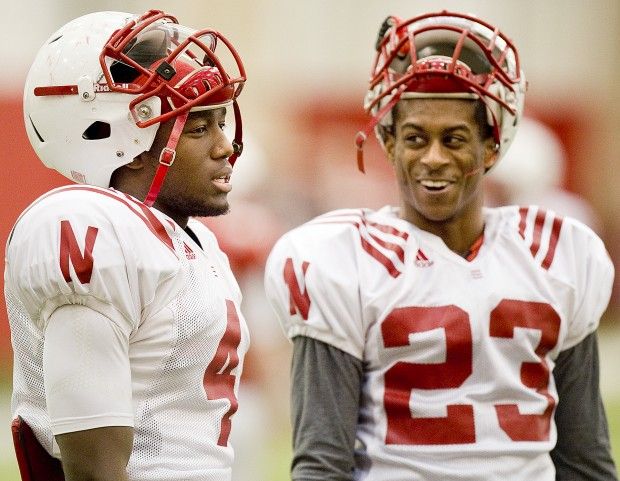 It was a summer day, fine as they come, when Daniel Davie woke up and suddenly felt like nothing had happened.
It'd been about eight months since he lay on the Memorial Stadium turf, a torn ligament the result of covering a punt against Michigan State. The game is beautiful until there are trainers circled around you, all eyes on a knee that everyone knows isn't going to work as it should for the rest of the season.
Davie rose from bed on the late June day and … "and it was kind of weird." He felt nothing. He felt normal.
He tested the knee some more. Jogged around the stadium. Nothing. Normal. "My knee was just like, 'I'm ready to go.'"
Rehab was over. Now it was time for Daniel Davie to fight for his spot.
That's what the junior cornerback from Beatrice is doing this fall, part of the mix that includes Josh Mitchell, Jonathan Rose, Boaz Joseph, Byerson Cockrell and talented newcomers such as Trai Mosley and Chris Jones.
If the competition sounds steep, it's a welcome arena to step into for someone who spent the first part of this year just trying to run without pain.
Davie wouldn't wish that experience on anyone, but it does build mental strength.
"It was extremely challenging, probably one of the roughest things I've ever been through in my life," Davie said. "But it's paying off. I feel great out here. I actually feel like myself again. To be honest, the most I thought about it was when you just asked me just now."
His mother, who lives in Lincoln, was one of his greatest motivators. Every day, Ruthanne Davie would tell her son to keep his head up. Everything was going to be OK.
Just as constant was new defensive backs coach Charlton Warren. Warren would stop on the sideline en route to the practice field during the spring, reminding Davie that he'd be out there soon enough to compete, a coach reminding a player he hadn't forgotten about him.
"Coach Warren, he hadn't coached me, but he'd watched the film, and he knew I could help the team when I got back," Davie said.
The 6-foot-1, 190-pound Davie was taking part in 7-on-7 drills by midsummer, surrounded by a bunch of defensive backs all chasing the same thing.
A few practices in, Davie soon realized his knee was behaving. He was moving just as well as they were.
"It's a lot of competition, but at the same time, I feel like that's a good problem to have, because we all have the ability to play and make plays. … I feel like the best guys are going to start at the end of the day, but I feel like we're all ready to contribute," Davie said.
He also wants to be on special teams, just as he was before. There's no hesitation to go back to it even though the injury came from such duty.
You know what they say about defensive backs needing to have short memories. It's as true with injuries as it is after giving up a long pass play.
"If you're out there thinking about that, you're going to leave a lot of plays on the field."
Davie, who ran for 1,556 yards as a running back his senior year of high school, is ready to do whatever it takes to earn a bigger role in his fourth year in the program.
Fourth year. One of the old guys now, huh? He smiles at the thought.
"I feel like I just got here, but kind of, a little bit," Davie said. "I feel old, just because I look at the recruiting class that came in this year and I was almost four years ago. It's kind of crazy."
No matter. You're as young as those knees feel. And they feel fine.