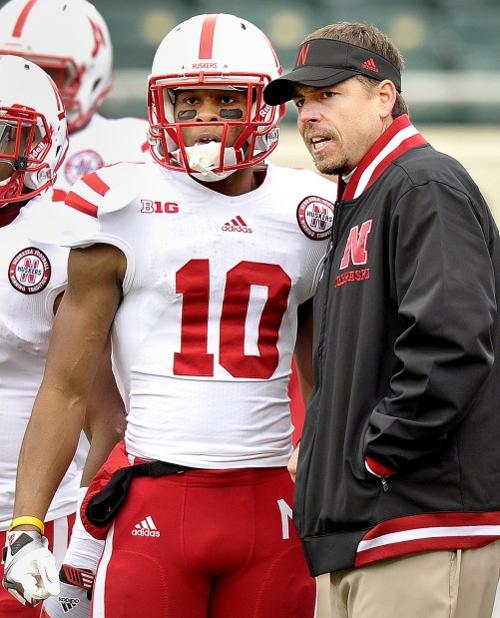 Kenny Bell's been listening to the same message from Rich Fisher that he heard throughout his high school career:
As a player, you're in complete control of your attitude and effort. Buy into the program 100 percent, listen to what the coach says, and you'll be successful.
Hey, it worked for Bell at Fairview High School in Boulder, Colo., where Tom McCartney was his head coach.
And it's working for Bell at Nebraska, where he's on pace to become the Huskers' all-time receiving yardage leader after only his sophomore season.
Bell credits much of his success to Fisher, who played at Colorado under coach Bill McCartney, Tom's father, from 1989-92.
Hence, the same coaching approach Bell's become accustomed to.
"I love Coach Fish," Bell said. "He brings intensity, and that's something we take pride in, being wide receivers. We want to bring intensity to the football game, and that's not just when we're throwing it, it's when we're running it, too."
Fisher, in only two seasons of coaching Nebraska's wide receivers, has developed the position into one of the most consistent and deepest units on either side of the football. He's done it with a relatively young group, too; a freshman or sophomore has led the Huskers in receptions and receiving yards in each of his two years.
No, Fisher won't soon forget the raised eyebrows on those folks questioning Bo Pelini's hire of a two-year high school coach who, prior to that, hadn't been a part of any coaching staff since 2002.
"I know it was pretty funny when I got hired here," Fisher said, smiling. "But, obviously, at the end of the day, great players make great coaches. I couldn't ask for a better group of guys in terms of how hard they work, and the harder they work and the smarter they work, the more success they have. That's kind of how you draw it up."
Bell says running back and quarterback will always be the spotlight positions in Nebraska's offense.
But wide receiver, given what Fisher and offensive coordinator Tim Beck have added, can't be far behind.
"If you just see what we've done the last two years, how we've progressed, I can only imagine how receivers would want to come here, and get more and more athletes here," said sophomore Tyler Wullenwaber, among a slew of young receivers bidding for a spot in Fisher's deep rotation.
"Coach Beck's an offensive genius, and Coach Fisher is a fantastic coach. I wouldn't want to play with anyone else."
Wullenwaber appreciates the faith Fisher shows in every player, walk-ons included.
"He doesn't scream at us if we do something bad," he said. "He points out what we do wrong, and he always says, 'First mistake, it's OK, but if you make the same mistake twice, that's on you.' I think we really try not to make the same mistakes, and that goes a long way."
Senior receiver Quincy Enunwa remembered Nebraska being a "ground-and-pound" offense when he arrived. When Fisher joined the staff and Beck implemented a more open, up-tempo offense, he knew that would soon change.
Enunwa, who last season had a career-high 42 catches for 470 yards, is confident that after he leaves, Nebraska's receivers will continue to evolve, because he knows Fisher is willing to do the same.
"He's gone out and gotten drills from NFL teams, gotten drills from guys he knows, and he's brought them back here and helped us become better receivers," Enunwa said. "The drills he knew in the beginning are almost elementary compared to the ones he knows now.
"He's really honed his craft, and that's why we love him as a coach, because he's always learning just as much as we are every day."
Selling Nebraska's product on the recruiting trail, Fisher said, has become easier with the plays that not just one, but many wide receivers have been making in key situations.
"You turn on the TV last year and Jamal (Turner)'s making a touchdown catch to win a game, Kenny's taking reverses for touchdowns, Quincy stepped up in the Northwestern game," Fisher said. "Everybody's had their turn."
Any number of players could add to that this season: Wullenwaber, Taariq Allen, Alonzo Moore, Jordan Westerkamp, Sam Burtch, Tyler Evans ... all who've had the opportunity to heed that familiar refrain:
You control your attitude and effort.
"That's what I love about the group – the unselfishness of them," Fisher said. "They go out, they work hard, and you just never know when you're going to be the one to turn it up."