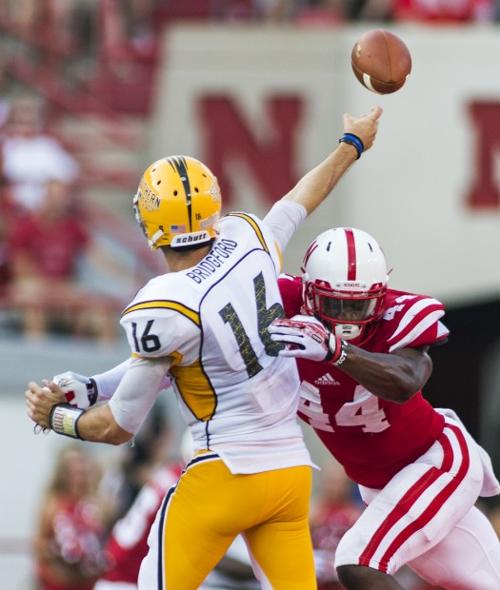 It's in the details, according to Randy Gregory.
Or rather, fewer details.
"Last week, we had a lot more details for plays and checks and things like that compared to this week," the Husker sophomore defensive end said. "Plays this week weren't that different than fall camp and I think that helps us out a lot more.
"I know it helped me out. I wasn't thinking as much as last week. I just got to play."
Gregory was credited with four quarterback hurries, one pass breakup, one tackle for loss and another tackle. Gregory and company were getting into Southern Miss quarterback Allan Bridgford's face and into his thoughts, contributing to four interceptions, two of them returned for scores.
"I thought I was going to get a sack eventually, only I didn't. Just like anybody, those hits are going to take a toll," Gregory said. "He did a good job staying in there taking the hits, but eventually, I think the hits played into it."
D-line coach Rick Kaczenski said as Gregory, a junior-college transfer who arrived on campus just before the opening of fall camp, becomes more familiar with the system, the better he'll be.
"Things come easy for him. Now it's teaching him to become a student of the game, studying the opponents and learning the defense and have the confidence in his assignments and his ability so he can play at that speed every single snap," he said. "Let's cut out the thinking. Let's know 100 percent what we're doing. He's a heck of a football player. Randy has that length that's going to help him at this level and the next."
Why they're defensive backs
Four interceptions had defensive backs coach Terry Joseph smiling, but he took a little dig at his charges.
"When you play against teams that throw it a lot, you're going to have some opportunities to get your hands on balls," he said. "The tough thing about last week was that we were in position sometimes, we just didn't finish the play the way we wanted to. Tonight it was good to see those guys in position, make the play and then catch the ball.
"You know that's why they're defensive backs and not wide receivers -- because they can't catch."
Joseph said Stanley Jean-Baptiste, whose 43-yard interception return for a touchdown on the third play of the game showed his true colors on that play.
"He knew the route that was coming and we told them all week you still have to bait them into throwing it. Don't overplay it," Joseph said. "He knew it was coming and he played it absolutely perfect and he got the guy to throw it, stepped in front of it and you know nobody's going to catch him when he gets it.
Ron Kellogg was a man with a mission and stripes got in his way. On a third-and-10 play, Kellogg took off up the middle, running over an official.
"I have to go apologize to the ref. I'd have run over him again, though," he said. "I yelled at him to move, but he didn't listen. Worst came to worst and he got run over. It prevented me from getting a first down. That made me mad, but it's OK."
The touchdown that wasn't
It was about to be Cethan Carter's first touchdown. A defender was not within 15 yards of him. Wide-open.
Alas, quarterback Taylor Martinez put too much on his pass. Carter couldn't track it down. The first touchdown would have to wait for the true freshman. At least the youngster has good humor.
"Me and Taylor, he joked about it, saying I'm slow, and I said he should've put the ball on me," Carter said. "Me and Taylor have a good relationship."
Sometimes what seem the simplest plays can be the hardest.
"The ball looks so small in the air," Carter said.
Carter did haul in the first catch of his career, though, snagging a 12-yard pass.
Nebraska's two interception returns for touchdowns marked the first time the Blackshirts had two returns for scores since the Idaho game in 2010. Jean-Baptiste returned his pick 43 yards and Ciante Evans had a 22-yard return for a score. Evans got another pick to set up another NU touchdown. ... Martinez accounted for 204 yards of total offense, pushing his school-record mark to 9,888. He can become the ninth quarterback in Big Ten history with 10,000 yards of total offense.