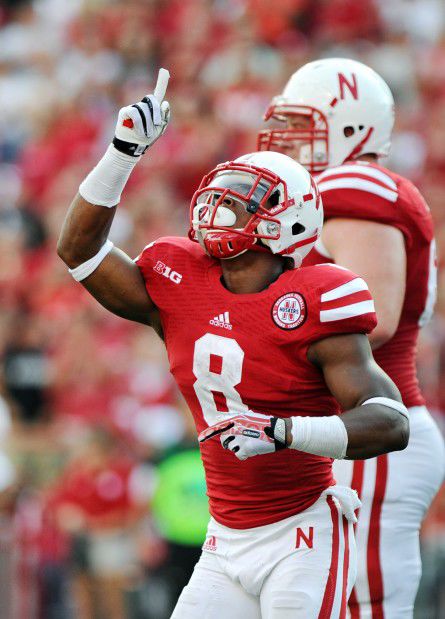 Nebraska wore down Southern Miss in the second half, when it ran the ball 26 times for 189 yards, compared with 20 times for 96 yards in the first half. Holes were more noticeable up the middle, although Ameer Abdullah still looks best on those toss sweeps. Good to see backup QB Tommy Armstrong, who looks like a natural running the option.
That's two games for Nebraska without allowing a sack, and while Taylor Martinez avoided some pressure with his feet, there were also times Saturday he had all day to throw. His receivers continue to impress, as evidenced by Kenny Bell's juggling TD catch with 12 seconds remaining before halftime. Backup Ron Kellogg seems to have a strong command of the offense, and a strong, accurate arm to lead it when needed.
Much improved from last week, but here are two factors to consider: Nebraska was facing a stationary quarterback and an offense that doesn't focus on the running game, as we saw last week when Southern Miss ran 24 times for 23 yards against Texas State. Nebraska wasn't perfect, either, allowing some fourth-quarter yards. Assistant coach Ross Els said his linebackers didn't play with great run fits, no matter what the numbers -- 62 rushing yards -- say.
Randy Gregory was a beast. He's a ferocious pass rusher this defense has desperately needed and will continue to need. Granted, Gregory and other linemen were able to pin their ears back against a drop-back passer, unlike last week's foe at quarterback, but to see someone punish the quarterback and disrupt throws was a good sign. The interceptions were obviously big, but Nebraska still had busts -- a couple of big, glaring ones -- and for the second week in a row, surrendered a big play off a wheel route.
Mauro Bondi displayed his strong leg on kickoffs, particularly in the first half, when he was booting kicks beyond the end line. Coaches obviously saw something they liked in order to try the pooch kick, but all it did was give Southern Miss strong field position, setting up a field goal. Punter Sam Foltz, who's been quite impressive, went rugby-style a couple of times, and finished with a 46-yard average.
Fewer penalties, improved communication. Both areas in which you'd expect to see significant improvement from Week One to Week Two, and Nebraska delivered. Kudos to the staff for getting Kellogg and Armstrong some needed game action. The Huskers look to be in good shape at quarterback if they're needed with the game on the line.
Things looked more in sync than last week, with more downfield throws, more toss-sweep plays. The option is obviously something that suits Armstrong. Here's surmising that a sore shoulder is one reason Martinez isn't running more often, or being asked to run more often.
That's the type of game Nebraska (and its fan base?) needed after last week's close call. The Huskers seemed more tuned in, more energized, more focused. The defense performed better, albeit against a less-potent offense. Busts in coverage and big plays are still a concern, and will remain a concern with UCLA coming to town. But we saw strong flashes, commitment to some young players, and, in general, hope.