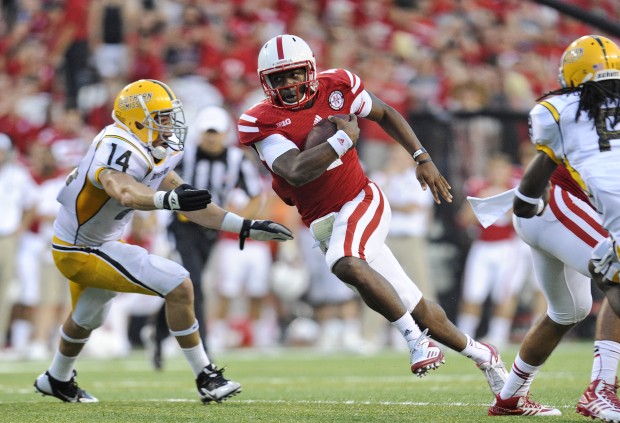 A Nebraska quarterback named Tommy running the option?
Longtime Husker fans have seen that before.
They saw it again Saturday – at least for a series – when redshirt freshman Tommy Armstrong made his debut near the end of the third quarter of Saturday's 56-13 blowout of Southern Miss.
The Huskers led 49-13 when Armstrong trotted onto the field, and the player who may be the future at quarterback led NU on a nine-play, 64-yard scoring drive.
"After Coach (Tim) Beck told me to think about and get prepared for the game plan, I was thinking about everything we went over this week," Armstrong said. "It really hit me and I was real nervous, but after that first snap, I just got into the way I always used to play. It just felt right. The O-line got some good wedges down, got a good push and opened up the holes for me."
Armstrong – like Husker legend Tommie Frazier before him – looked comfortable running the option. He carried the ball four times for 23 yards, and sophomore Imani Cross capped the drive with a 1-yard run.
"Tommy played really well," said Beck, NU's offensive coordinator. "His first play ever in college, I gave him the ball and said, "Run the option with it.' He did a good job."
Armstrong, who starred at Steele High School in Texas, chose Nebraska over Southern Miss when he was recruiting two years ago.
"I have a few friends on the team," Armstrong said of the Golden Eagles. "I grew up with Brandon Farmer, one of their offensive linemen, and the kicker (Corey Acosta). I grew up in Mississippi for 14 years, so it was pretty awesome playing against them the first game."
Senior Ron Kellogg also saw his first action of 2013 at quarterback, moving the Huskers on a 10-play drive earlier in the third quarter that ended with Terrell Newby's fumble. Kellogg completed 4 of 5 passes for 24 yards and also scrambled for 9 yards.
"I was pretty comfortable," Kellogg said. "I treat it just like the spring game. The fans are there, but in general, it was still just like practice. I have a cool demeanor, because I need to show the team I know what I'm doing. That really helps the offense. The better I keep my nerve, the better the offense will be."
Beck said he's comfortable with either quarterback as the backup. Who would play if starter Taylor Martinez went down? Depends on game situation and opponent, Beck said.
"I went with Ronny first because he's a senior," Beck said. "With both of those guys, it's one of those situations where they are neck-and-neck. Both of them manage it well and we moved it pretty well with those guys at quarterback. On the surface, I really like what they both did."
Whoever is the backup to Martinez, both Kellogg and Armstrong feel they would be ready to step in if called upon.
"Being the backup, you are basically one play away," Kellogg said. "It comes down to principle. Whether it's the running game, passing game, whoever goes in needs to be ready to run the offense. We both want to help him (Armstrong) because we're leaving next year. That's the reality. If he has any questions or concerns, we want him to ask us so we can help him.
"What he did, he did in the Spring Game and he does in practice, so it didn't really come as a surprise to me that his running was so successful tonight. I thought he managed the offense very well."