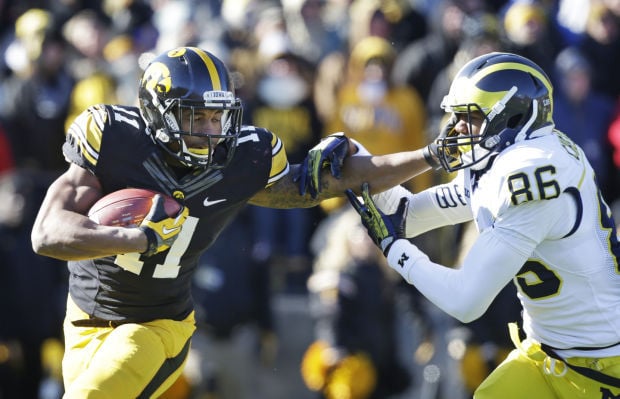 Location: Iowa City, Iowa
Record: 7-4 (4-3 Big Ten)
Series with Nebraska: Nebraska leads 28-12-3
Last game: Defeated Michigan 24-21
In true Big Ten Conference form, Nebraska has a trophy game. The Huskers and Iowa are playing for the Heroes Trophy, the only such trophy game for Nebraska. The Hawkeyes, meanwhile, also play for the Cy-Hawk Trophy (Iowa State), Floyd of Rosedale (Minnesota) and Heartland Trophy (Wisconsin). One hero from both Iowa and Nebraska – Mike Klemmensen of Sioux City and 18-year-old Caleb Amundson from Fairbury, both firefighters – will be honored during halftime of Friday's game
When Mike Meyer kicked the go-ahead field goal in the fourth quarter of Iowa's 24-21 victory against Michigan last Saturday, it marked the Hawkeyes' 10th fourth-quarter comeback victory since 2009. Last season, Iowa led the country in games decided by three points or fewer, and three of Iowa's losses in the last two seasons have come on the last offensive play of the game. Iowa has played 19 games decided by three points or fewer since 2009, and are 1-1 in such games this season. That doesn't include an overtime victory against Northwestern, which Iowa won 17-10.
Iowa coach Kirk Ferentz has two sons involved in the Iowa program. Brian, a former letterman, is in his second season as Iowa's offensive line coach, and Steven is an offensive lineman who's a redshirt freshman. Also, Iowa has seven players on the 2013 roster whose father also played for the Hawkeyes, and one player whose grandfather played for Iowa.
Watch Nebraska's game last week against Penn State, and you'll see a similar offense to what Iowa will run Friday.
That means some physical, downhill running, led by stout running back Mark Weisman, and a strong-armed, accurate quarterback, Jake Rudock, rolling out on some bootleg plays to help negate Nebraska's pass rush.
And like Penn State, the Hawkeyes will also involve an accomplished tight end. C.J. Fiedorowicz has had at least one reception in 29 consecutive games, a streak that ranks second among active FBS tight ends. He has 23 receptions for 230 yards and a team-leading five touchdowns this season.
Weisman, who made headlines last season as a walk-on, is Iowa's leading rusher, averaging 78.4 yards per game, and his 184 rushing attempts are sixth-most in the Big Ten. His 1,680 career yards are No. 17 in Iowa history.
Rudock, a redshirt sophomore, has completed 60.1 percent of his passes for 2,155 yards and 16 touchdowns, and has also run 55 times for 210 yards and a team-leading five touchdowns.
Rudock has connected with 18 different receivers on 186 completions – 96 to wide receivers, 51 to tight ends and 33 to running backs. His top receiver is Kevonte Martin-Manley (37 receptions, 324 yards), although in Big Ten games only, Tevaun Smith is Iowa's top receiver (21 receptions, 276 yards)
Offensive averages / national rank
Iowa has one of the nation's strongest yet most obscure defenses. Perhaps because of four losses, the fact the Hawkeyes boast a national top-10 defense goes unnoticed by many – but not likely by Nebraska's offensive coaching staff this week.
The Hawkeyes are allowing 304.5 yards of total offense and holding opponents to 15.6 first downs per game, a mark that ranks second in the Big Ten and No. 5 in the nation. Iowa has forced 54 three-and-outs on 132 drives, or 40.9 percent, and has allowed a mere 11 red-zone touchdowns.
Four teams, including three Big Ten teams, haven't scored in the first half against Iowa, and not since the opening week, against Northern Illinois, has any team scored an offensive touchdown against Iowa in the first quarter.
Iowa's linebacker corps is particularly stout. Middle linebacker James Morris, weakside linebacker Anthony Hutchins and strongside linebacker Christian Kirksey all rank among the top 10 tacklers in the Big Ten. Combined, they've accounted for eight turnovers this season, and all three were under consideration for the Butkus Award.
In the secondary, freshman cornerback Desmond King has started the last 10 games and has 55 tackles and two fumble recoveries. Two of his six pass breakups came last week against Michigan.
Iowa has intercepted 10 passes this season, returning two for touchdowns.
Defensive averages / national rank
Hawkeyes on special teams
Unlike Nebraska, the Hawkeyes have been a dangerous team on punt returns. Wide receiver Kevonte Martin-Manley is second in the Big Ten and eighth in the nation in punt-return yardage (16.2 yards per return), and as a team, Iowa averages 15 yards per return, tops in the Big Ten.
Senior kicker Mike Meyer, a former walk-on, is 15-for-20 on field-goal attempts and perfect on 34 PATs this season. His misses on field goals have come from 33, 39, 50, 42 and 36 yards.
James Morris, LB, sr., 6-2, 240 pounds
The Hawkeyes' middle linebacker is the only Big Ten player this season to record at least 80 tackles, four sacks and three interceptions. His five sacks lead Iowa, and three of his five career interceptions have come this season.
Kevonte Martin-Manley, WR/PR, jr., 6-0, 205 pounds
He returned two punts for touchdowns against Western Michigan, the first Big Ten player since 1983 to have two in a game. Also, his 119 career receptions put him No. 19 in Iowa history.
Anthony Hitchens, LB, sr., 6-1, 233 pounds
The weakside linebacker is Iowa's top playmaker and leading tackler. He leads Iowa with 95 tackles, including 13 for loss and two sacks. He's forced two fumbles and has one fumble recovery, with a pass breakup.
Be the first to know
Get local news delivered to your inbox!